North Plainfield Gyms and Fitness
---
Gym, Exercise, Weightloss Deals
---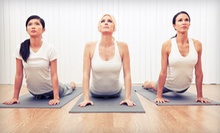 Use Saturday 6:00am - 9:00am
---
Recommended Gym, Exercise, Weightloss by Groupon Customers
---
Exercising can be frustrating if you don't see results. In addition to a slimmer physique, guests at Endure Cycling can see the numerical breakdown of their workout—from the amount of pedal strokes to the number of calories burned to their heart rate throughout their stationary journey. Here, the stationary bicycles use internal sensors to monitor each individual's performance, allowing students to track their progress over time. After saddling up on one of the studio's M3+ indoor cycles, cyclers join a certified instructor on a simulated joyride through a pre-programmed series of climbs, restorative plateaus, and thrilling loop-de-loops while high-energy music helps to keep them motivated. Smart sensors track the RPMs of each bike as well as the rider's heart rate, transmitting data to the room's flat-screen television in real time and storing it for future review. This allows students to keep an eye on their numbers throughout each workout, or go online after class and chart their improvement across multiple sessions to print out and put on their fridge.
95 Page Ave.
Staten Island
New York
US
646-298-0400
Koko FitClub's automated personal-training system rockets both men and women toward fitness goals with 30-minute custom workouts that incorporate cardio and strength training. An initial consultation determines fitness level and baseline measurements, which Koko's computerized equipment uses to design a tailored workout plan that precisely measures the weight, pace, and rest time appropriate for each exerciser.
The Koko machines guide exercisers through each workout and adapt as the user's fitness needs change, to constantly challenge the body. Designed by professional trainers, workouts maximize the body's lean-muscle mass, which can boost metabolism and help fight off disease by challenging viruses to kickboxing matches. Exercisers can track their shrinking waistlines and swelling muscles online by analyzing workout scores and comparing individual fitness levels to the Koko FitClub community.
438 Rte. 206
Hillsborough
New Jersey
908-829-3624
In June 2010, all four Gencarelli family members—parents Lou Sr. and Susan, daughter Stephanie, and brother and head personal trainer Lou Jr.—came together to open Hardbodyz Fitness. Today, visitors to the gym will always find at least one Gencarelli chatting with guests, giving out complimentary eye contact, and making sure everything's running smoothly.
The Gencarellis and their red-shirted staff help members navigate a 7,500-square-foot facility to take advantage of a score of strength-building and cardio classes, free-weights, a sunlit spin studio, and a cardio area equipped with individual TVs and iPod hookups at each of about 40 machines. Nationally certified personal trainers, instructors, and nutritionists work throughout the open floor plan to help patrons achieve specific wellness goals or simply blow off steam.
129 Bloomfield Ave.
Verona
New Jersey
US
973-433-7237
Intoxx Fitness's trainers push groups of students to their limits in search of better fitness and stronger bodies during classes such as kickboxing, spinning, and Zumba. Though the gyms' schedules vary by location, each hosts classes for all skill levels seven days a week, both in the morning and evening. The gym floor includes a large free-weight and machine lifting area for ample opportunity to supplement in-class workouts with more targeted exercises, for which personal trainers can assist with tips, tricks, and advice on chatting up that single weight machine.
236 Richmond Valley Rd.
Staten island
New York
US
718-605-1010
---