Things to Do in North Plainfield
---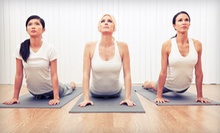 Use Saturday 6:00am - 9:00am
---
Recommended Things to Do by Groupon Customers
---
Miles of trails snake through the verdant woods surrounding Seaton Hackney Stables, beckoning riders and their stallions to showcase skills learned from the full-service facility's multitude of equine activities. A staff of seasoned equestrians imparts English- and Western-style horsemanship techniques during frequent camps and lessons, introducing pupils of all ages to Seaton's stable of more than 35 resident horses. Mounted atop the valiant steeds, the staff also shepherds guests on guided trail rides through nearby environs or leads offsite excursions that explore area parks and horse-only dance halls.
440 South St.
Morristown
New Jersey
973-644-3355
The experienced trainers at European Soccer Academy believe that positivity and commitment are key ingredients for inspiring their players, who range from three-year-olds to teens. Through a medley of individual and team services, they strive to plant the seeds of a lifelong love for the game. They practice with all comers, regardless of initial ability, and motivate kickers with safe and constructive teachings that are meant to hone motor skills while building muscle.
During 10-week team-training programs, academy experts work with coaches to tackle collective weaknesses and augment strengths. Employees personalize their exercises for one-on-one practice sessions, while summer camps instill goal-scoring skills with themed activities. Trainers can even attend matches and compose a game day evaluation, which suggests future team strategies such as painting the ball black to recruit muscly bowlers.
PO Box 530
Flanders
New Jersey
973-527-3624
Yoga Desha's founder, Rebecca Bergstrom, is no stranger to struggle, and has long turned to yoga whenever she finds herself in need of physical and spiritual uplifting. Her interest in the mind-body connection began when she was just a teen and fueled her studies in human biology and psychology at Stanford University, as well as her time spent dancing at the Martha Graham School. Her search for spiritual healing took an entirely new direction, however, when she suddenly lost her young husband while expecting their first child. Finding her prenatal yoga practice to play an integral part in healing her emotional ails, she soon decided to become a yoga teacher herself and dedicate her life to helping people from all walks of life heal from their own mental, physical, or spiritual traumas.
She has since earned the 500-hour teaching certification from the Yoga Alliance––the highest possible certification from the program––and compiled a team of instructors that leads classes seven days a week. Classes range from pre- or postnatal yoga and beginner's Vinyasa to more strenuous sessions such as tri-level Vinyasa––a class that invites students to attempt challenging postures such as arm balances and inversions while learning ancient Sanskrit chants.
25 Watchung Plz.
Montclair
New Jersey
973-707-7726
The brainchild of Ivan Ruiz—a sommelier who's perfected mealtime pairings at restaurants across New York City—the Summit Wine & Food Festival celebrates the intersection between great wine and great food while simultaneously raising funds for the Community FoodBank of New Jersey. Celebrity chefs from Bravo and the Food Network and local guest chefs share their knowledge during events including lectures on California's undiscovered cult wines, a crash course in peppers from James Beard Foundation Award–winner Maricel Presilla, and a tasting seminar exploring the flavors and nuances of cognac. Sommeliers also share the spotlight at the summit—showcasing varietals from domestic and international vineyards such as the Spanish Campo Viejo, the Argentinean Graffigna, and Californian Alex Sotelo—and clear up the misconception that grapes are just confident blueberries.
417 Springfield Ave.
Summit
New Jersey
908-277-6565
---