Shopping in North Potomac
---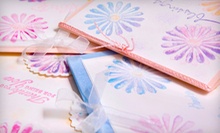 Stationery and invitations adorned with thermography, engraving, foil stamps, and letterpress herald parties and personal messages.
Use Tuesday 10:00am - 5:00pm
---
Recommended Shopping by Groupon Customers
---
When Randy McCoy's father-in-law started his hydroseeding business in 1968, he likely didn't imagine the sprawling outdoors empire it is today. With help from his wife, Wanda, their children, and a team of staffers in colorful, logo-emblazoned shirts, McCoy keeps Garden World of Virginia's small stone house and sunny greenhouse brimming with more than a thousand plants, such as begonias, impatiens, and tropicals. Paths meander throughout the 2-acre facility, past garden accessories such as birdhouses, paver stones, and patio furniture, as well as artfully arranged vignettes that pair plants with their ideal pots. Garden World's expert landscapers also travel to unruly lawns, taming them with retaining walls, mulches, and topsoils to seat shrubs, trees, and wanderlust-stricken gnomes.
11343 Lee Hwy.
Fairfax
Virginia
US
Curtsies & Petals fills the shelves of its intimate boutique with original gifts fashioned by American artisans and craftspeople. Shopkeepers stock unique items, from handcrafted jewelry and frames to elegant stationery, candles, and soaps. They also maintain a selection of accessories and dresses for special occasions, such as weddings and the purse-toss portion of debutante balls.
527 Maple Ave. W
Vienna
Virginia
US
703-938-1220
Just a tiny repair shop at its inception, Rollin' Cycles has since blossomed into a full-service store offering quality bikes and maintenance services. From Fuji road bikes and hybrids to Breezer and SE cycles, their inventory contains fits for all riders. In addition, technicians keep bikes in tiptop shape by providing regular tune-ups, performing cleanings, and playing lullabies with brass bike bells.
1314 14th St. NW, Suite A
Washington
District of Columbia
US
202-525-3712
As an AT&T authorized retailer, Wireless Outlet of course can equip customers with smartphones packed with apps and features. But the shop is also big on accessories: car chargers and ear buds make devices easier to use, and cases keep gadgets off of E!'s list of 500,000 Worst-Dressed Phones.
2050-B Clarendon Blvd
Arlington
Virginia
US
703-636-0232
---