North Reading, MA Health and Fitness
---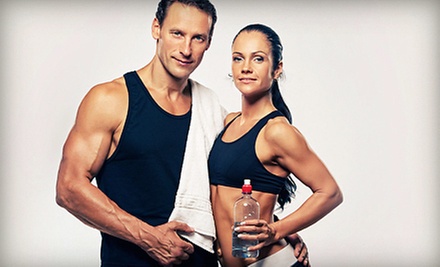 ---
Recommended Health & Fitness by Groupon Customers
---
Owners Brian and Teena Veth call on their skills as former gymnasts and cheerleaders as well as current parents to safely introduce kids to the world of gymnastics and circus arts. Their energetic instructors help children to learn social and listening skills while teaching them coordination, strength, and flexibility. Instructors encourage students to move at their own pace while bouncing atop trampolines, deftly crossing balance beams, and somersaulting across cushy floor mats. Parents look on from an open seating area, offering words of encouragement or quotes on spiritual balance from Confucius.
Fall, winter, and spring classes are organized by age group and often feature seasonally themed lesson plans. In addition to summer camps, where kids stay busy with creative games and activities, the center also hosts birthday parties and special events.
595 Chickering Rd.
North Andover
Massachusetts
978-683-8493
Power Yoga Evolution welcomes first-time guests and experienced practitioners alike with hot power yoga classes that take place on the hardwood floor of rooms heated to 95 degrees. Experienced instructors lead students through postures that can be easily modified based on each person's level of flexibility or subconscious urge to do handstands. Each teacher maintains a daily yoga practice and has training in yoga philosophy, anatomy, and physiology to provide personal care and guidance during every class.
1060 Osgood Street
North Andover
Massachusetts
978-794-2500
After the surgeries and treatments that helped her overcome breast cancer, Kathy Jannino-Faino lost some of the range of motion she had cultivated as a part-time fitness instructor. Rehabilitating on the Reformer—Pilates's signature resistance apparatus—she discovered a workout that she loved enough to turn into a full-time career. She now helms her own intimate fitness studio, Passport Pilates, where she and her team teach Reformer and mat classes that strengthen core muscles and tone physiques.
Beyond Pilates, the studio's staff members also teach interval-format Fit Barre classes that fuse Pilates with yoga and sports conditioning to firm specific problem areas, such as abs and thighs. For a class that incorporates more intensive cardio, students can participate in fast-paced Booty Camp workouts that jet from Reformer work to barre exercise to TRX suspension training inspired by Hitchcock films.
1820 Turnpike St. Rte. 114
North Andover
Massachusetts
At Dental Bright Advanced Family Dentistry, a team of seven dentists keeps teeth looking and feeling their best with a full spectrum of services, from general dentistry to periodontics to orthodontia. Using digital x-rays and oral sedation, they help dramatically reduce both radiation and anxiety. Their treatment rooms' chair-side flat screens also keep restless uvulas entertained during services. It's important to the dental crew that kids grasp the importance of dental health, so the Dental Bright Kids Club periodically plies tykes with helpful tips along with ice cream, pizza, or sugar-spun dental floss at bowling parties.
The office itself lives up to the practice's name with sweeping, airy spaces that are tied together with huge windows, curved blue walls, and orange accents. Even the kids' section of the waiting room is chic, with round neon stools and mod murals adding pops of color to the toothbrush-scrubbed interior.
488 Essex St.
Lawrence
Massachusetts
978-975-8888
MG Fitness' instructors summon sweat during fun group workouts while solo students try out more than 75 pieces of exercise equipment at two convenient studio locations. Workers-out looking to go it alone can bask in the glow of personal TV screens on Precor treadmills or opt for elliptical machines to help arms and legs build strength by repeatedly tracing low-impact ovals and hand turkeys. Men and women alike can tone up, using the sprawling selection of dumbbells and plate-loaded machines by Icarian and Hammer Strength to press, curl, and ripple. Fitness seekers in need of butt-busting camaraderie can drop in on classes that range from calorie-torching step aerobics to limbering power-yoga sessions, where students melt stress with stretches, poses, and deep-breathing exercises. To push clients toward fitness goals, certified personal trainers employ one-on-one coaching, exercise instruction, and the motivating growls of monster trucks.
10 Broadway
Wakefield
Massachusetts
781-246-2252
Inside Evolutions Fitness Training's 3,000-square-foot fitness facility, patrons craft well-rounded health regimens amid mirror-lined walls, Nautilus weight machines, TV-clad cardio equipment, and a variety of free weights. Led by motivational instructors, boot-camp and Zumba classes prevent stagnation with energetic music and challenging routines that spice up traditional workouts without replacing barbells with live mountain lions. The gym's certified personal trainers push clients through plateaus or jump-start training, elucidating proper form and the necessary nutrition to build a strong, healthy body.
1830 Main St.
Tewksbury
Massachusetts
978-863-9761
---