Restaurants in North Reading
---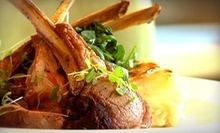 Light seafood appetizers precede herbed pastas & tender steaks atop white linen table cloths or marble bar space flanked by crimson stools
Use Today 5:00pm - 6:00pm
---
Recommended Restaurants by Groupon Customers
---
Wrapini's Houdinis work meal-making magic with a menu of wraps, paninis, pizzas, subs, and more—all prepared with the best meats and the freshest vegetables. Consolidate Thanksgiving into a single serving with the Mayflower wrap ($6.55)—containing real roasted turkey, herb stuffing, and cranberry sauce—or slip on your supping spurs for the Cranberry Bog Wrap ($6.55) and its patter call of chicken salad, cheddar, walnuts, craisins, greens and honey mustard on a spinach wrap. All wraps can also be grilled to create "wrapinis." Traditionalists can stick to classic "ini"-ism with Wrapini's paninis, such as the chicken-parm panini ($6.55)—served on focaccia bread and topped with marinara sauce and provolone cheese—or the Wild West panini ($7.95), a culinary Conestoga wagon of chicken cutlet, provolone, bacon, red onion, lettuce, tomato, barbecue sauce, and ranch dressing. Everyone can buy up to four Groupons, so give yourself a week's worth of excuses to sneak away from the office during lunch.
7 Bourbon St.
West Peabody
Massachusetts
Organic Garden Cafe's vegetarian, organic dishes have earned the eatery nods in Edible Boston, Boston Magazine's "Best of Boston 2009," and Northshore Magazine's Best of Northshore Awards from 2009 to 2011. As owner Robert Reid told Edible Boston, the menu consists largely of gourmet raw foods, but has evolved to include "transitional items" such as hot soups, which widen the eatery's appeal. Pizzas on buckwheat, carrot, or flax crusts and nut butter 'squash' ravioli are heated under a food lamp, so that the food remains 80 to 90 percent raw, yet "tastes like it just came out of the oven." He's also added more seasonal and local items, working with nearby farms such as First Light Farm in Hamilton for greens and root veggies.
The café's staff also whip up smoothies at its juice bar, such as the Yoda's Jedi smoothie with strawberries, bananas, dates, and spirulina. Customers can also add a boost to their drinks with smoothie enhancers such as flax oil, maca root, bee pollen, and poltergeist sweat.
294 Cabot St.
Beverly
Massachusetts
At Maki Sushi Bar, pale yellow walls accented with a crisp, rust-hued stripe surround dark wood tables and a sushi bar where chefs artfully slice up fresh fish into eye-pleasing Japanese dishes. Before diving into main courses, stomachs warm up with a series of calisthenics and bites of starters such as the gyoza's pan-fried pork dumplings. Signature specials blanket plates with bites from the deep blue, seasoned delicately and accented with unexpected ingredients. The tuna tartare flaunts minced tuna mingling with fried red onion and avocado alongside black tobiko and a quail egg, and the seafood martini hosts salmon, tuna, and seaweed salad in an long-stemmed martini glass. To sip more liquid spirits from stemware, patrons select from a full menu of signature cocktails, such as the Crazy Makitini or the Japanese mojito. After exploring a rainbow of nigiri, sashimi, and maki rolls, tongues delight in tasting sweet bites of tempura cheesecake à la mode or crafting sweet mouth guards out of mochi ice cream.
43 Main St.
Peabody
Massachusetts
978-854-5426
Veteran executive chef, Joe Guarino of Red Rock Bistro, devised lunch, brunch, and dinner menus brimming with haute cuisine and fresh-caught seafood. Gazes wander to the restaurant's massive bay window and the expansive beachfront and picturesque skyline vistas beyond before settling on flatbread pizzas bubbling with gourmet cheeses or house-made ricotta gnocchi. Delicate sauces simmered from lemon and thyme, maple bourbon, sweet onion, and other flavors season fillets of seafood and hearty chops of steak and filet mignon. Thursday through Sunday, Red Rock celebrates life with live music, which ricochets from glasses, breaks up Super Soaker fights on the patio, and bounces out across open waters as musicians cook up the sound of blues, rock, and jazz.
141 Humphrey St.
Swampscott
Massachusetts
781-595-1414
---