Restaurants in North Tonawanda
---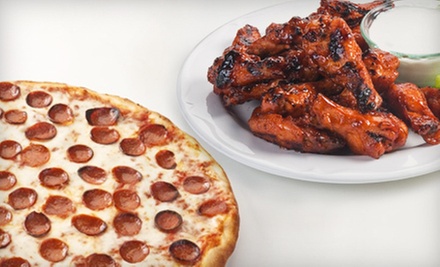 ---
Recommended Restaurants by Groupon Customers
---
Specializing in hearty Italian fare, Mama Mia's chefs whip up dishes inspired by the spirit of community and tradition valued by founding Chef Rosa, who concocted her first batch of sauce in 1958. Culinary wizards cast delectable spells upon homemade dough, prompting it to assume the form of a plump gnocchi or elongate into lanky spaghetti. Affable servers zig-zag through the exposed-brick-walled dining room as they ferry steaming plates forged from toothsome ingredients including pure semolina, fresh rosemary, homemade sauce, and thought bubbles extracted from Italian comics.
6380 Fallsview Blvd.
Niagara Falls
Ontario
The epicurean alchemists at Curry Queen draw on Indian and Chinese influences as they simmer traditional Indian fare ranging from curries to rotisserie meats. The aromas of fresh coriander, ginger, and garlic waft through the air of a bright dining room where patrons nibble kebabs and rotisserie meats or count the grains of saffron-flavoured basmati rice in biryani dishes to ensure they have enough to fill their hourglasses. Indian-style Hakka Chinese fare delights tongues with flavours such as chili-based soya sauce and mustard. Traditional tandoor ovens bake dishes only after they've marinated in spices for a full 24 hours.
4967 Clifton Hill, (Enter from Oneida Lane)
Niagara Falls
Ontario
905-353-0002
Sunlight floods through rustic stained-glass windows onto the hardwood bar and tabletops of The Oakk Room's historic dining room, which was originally an automobile shop before it was converted to a pub in the late 1980s. Surrounded by walls laden with taxidermy pieces and an antique wooden horse trained to stand completely still, servers bring forth plates of jerk chicken and freshly baked cornbread, and bartenders shake up a menu of 17 different specialty cocktails. The restaurant slakes thirst on Wednesday with $4 martini specials and throws weekly Friday fish-frying events.
1435 Main St.
Buffalo
New York
Occuping the building at Lackawanna's central intersection Nelson's ridge perfectly captures the neighborhood's charm. The eatery takes its name from nearby Our Lady of Victory Basilica's well-loved leader, Father Nelson Baker, and furthers the connection with menu names derived from religious icons. Chefs churn out classic diner fare such as burgers, hot sandwiches, and fried chicken for lunch and dinner, but the biggest crowd pleasers are their served-all-day hotcakes, stuffed with bananas and chocolate chips, blueberries, or diced apples and bacon. In true diner fashion, Nelson's feeds hungry diners at a long counter dotted with bar stools, and floor-to-ceiling windows offer gorgeous views of its namesake basilica.
2723 S Park Ave.
Lackawanna
New York
716-783-7217
The brainchild of owner Dale Ali and chef Sergio Aquino, Epic Restaurant and Lounge captures diners' interest with dishes that showcase fresh, seasonal ingredients as well as the chef's mastery of culinary techniques ranging from classic French to peasant, according to Buffalo Spree. The menu—which the Buffalo News called "ambitious" and "totally different from any other in the area"—comprises upscale dinner fare with unexpected twists: the grilled rib eye arrives with pomegranate jam, and the duck breast is flanked by a cilantro-nutmeg emulsion and rubber-ducky bodyguards.
The eatery also strives to be epic in its drink selection with a varnished wooden bar offering more than 25 imported or microbrewery beers as well as an extensive wine list. Diners can kick off the weekend with dinner, drinks, and jams every Friday night, with entertainment alternating between salsa and live bands.
431 Elmwood Ave.
Buffalo
New York
716-883-3742
Foot-high flames erupt from a tower of sliced onions, and a collective "oooooh" leaves the lips of the patrons gathered around the table fitted with a hibachi grill. Chicken, shrimp, scallops, lobster tail, filets mignon, and veggies cook right before diners' eyes before a skilled Tokyo II hibachi chef doles out each browned piece to awaiting plates. In addition to dazzling displays of hibachi meals, the eatery houses a team of talented sushi chefs who work wonders with knives, thinly slicing yellowtail and salmon and whittling plates from the trunk of an oak tree. The staff has given rolls such creative names as Black Betty, White Lilly, and Black Dragon, and the entrees it prepares includes the May Flower, a spread of 18 sushi pieces, plus a spicy tuna and tiger roll. A handful of Thai dishes—pad thai, curry, and coconut-mushroom soup—rounds out the extensive selection of edibles.
2236 Delaware Ave.
Buffalo
New York
716-877-2688
---