Restaurants in North Tustin
---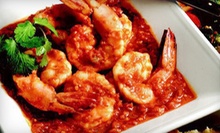 Arun Puni folds more than 38 herbs & spices into north Indian dishes with healthy twists; dining room with silk pillows & intricate artwork
---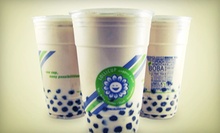 Taiwanese black teas are spruced up with creamer and chewy tapioca pearls
---
Recommended Restaurants by Groupon Customers
---
Good to Go is an enlightened living food restaurant in Huntington Beach, Ca. Serving plant based junk food created using only the freshest local produce. Good to Go has creatively constructed Americas favorite dishes at a pace and price point that is essential for today's daily life.
5930 Warner Ave.
Huntington Beach
California
US
The well-regarded executive chef at Zimzala, Vincent Muraco, worked with menu expert and cookbook author Joyce Goldstein to develop a creative menu of Mediterranean cuisine with a California tinge. They researched the 22 countries of the region, incorporating the flavors of Spain, Greece, Italy, Northern Africa, the Middle East, Alabama, and more into a collection of healthful, exotic delights built from fresh, top-quality ingredients.
500 Pacific Coast Hwy , Second Floor
Huntington Beach
California
Located on the gorgeous shores of Lake Mission Viejo and decorated with hand-painted murals, the picture-perfect hacienda features a menu packed with Mexican favorites. House specialties include carnitas (fresh, Mexican-style pork with frijoles, arroz, salsa fresca, and guacamole, $14.95) and the mole Maria (tender chicken topped with homemade mole sauce, $14.95). If you bring a Valentine's date, the platon de tacos (for two people, $26.95) gives you both ample opportunity to eat from either end of a custom-made taco and meet in the middle—a couples activity as romantic to experience as it is disgusting to watch. Seafarers will dig the marinated convergence of raw fish, lime, onions, tomatoes, and cilantro in Tortilla Flats' ceviche ($11.95) or the sautéed crab and shrimp medley of chimichanga de mariscos ($18.95), while herbivores can savor some deep-fried tostadas stuffed with veggies ($10.95). Chase it all with a dessert of fried ice cream ($6.95) or caramel flan ($4.95). Tortilla Flats also offers a respectable wine list.
27792 Vista Del Lago
Mission Viejo
California
The California Grill features a menu as big as a windmill factory. The selection is as vast as a diner's, but with an upscale twist. While waiting in line for one of the Grill's popular breakfasts, you'll have time to practice your close-up magic and perhaps meet famed Western character actor Burton Gilliam. Once seated, try the extra omelette ($9.25), an egg slab enhanced with avocado, bacon, mushrooms, sausage, and sliced onions and your choice of jack or cheddar cheese folded in the middle. For a sweeter choice, there's the french toast ambrosia ($7.45), french toast capped with a beret of seasonal fruit and whipped cream. Coffee ($1.85) is available, as are fancy blended drinks such as cappuccinos ($3.75) and an ice-blended mocha ($4.95). Breakfast is served Monday through Friday from 7 a.m. to 11:30 a.m. and Saturday and Sunday from 7 a.m. to 2 p.m.
6751 Painter Avenue
Whittier
California
562-907-7017
Head Chef Ray brings more than 20 years of culinary expertise to the kitchen of Papa Pilo's, where he champions a menu of Italian recipes that won CityVoter's 2011 Best Italian prize. Thin-crust, New York–style pizzas don toppings such as fresh tomatoes and meatballs, and specialty pies include the breakfast pizza with eggs, bacon bits, onions, canadian bacon, and a snooze button. Papa Pilo's also whips up dishes such as chicken parmesan, fettuccine in spicy fra diavolo sauce, and meat lasagna with ricotta, romano, and mozzarella.
3414 West Ball Road
Anaheim
California
714-484-9185
For more than 20 years, Noonerz' sandwichez have been handcrafted monuments to the power of fresh ingredients and thinly sliced cuts of meat. The catering menu boasts a variety of options for breakfast and lunch. Lunch boxez feature your choice of sandwich, including a veggie sandwich with grilled veggies, feta cheese, onion relish, and tomato. But floating ethereally above even its chicken-, roast-beef–, and tuna-salad–topped sandwiches is Noonerz' our favorite turkey sandwich, a melding of oven-roasted turkey, crisp bacon, avocado, onion relish, and mayo in rosemary ciabatta whose sheer deliciosity could change the world if used for good and not evil. Noonerz also offers Mexican, Greek, and Italian meals ($155) that serve up to twelve people or overstuff up to three people.
22972 Moulton Parkway
Laguna Hills
California
949-351-4000
---