North Valley, NM Drs and Health Practioners
---
Drs & Health Practitioners Deals
---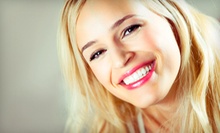 Gel and a UV-free laser light team up to whiten teeth in less than 45 minutes
---
Recommended Drs & Health Practitioners by Groupon Customers
---
Matthew Sanchez traveled all the way to Beijing in search of wisdom from the masters of Oriental medicine. He practiced advanced pulse diagnosis and herbal formulary with Master Jimmy Wei-Yen Chang for eight years and honed his acupuncture skills in the style of Master Tung. Today, Matthew is a certified diplomate and a doctor of Oriental medicine. When he isn't practicing acupuncture techniques, such as cupping and moxa, Matthew promotes healing through custom herbal prescriptions. During his sessions, he recommends that clients wear comfortable clothing with easy access to knees, elbows, toes, shoulders, and heads.
2724 Vassar Pl. NE
Albuquerque
New Mexico
505-688-0587
Doctor Jansen Donoghue and his experienced staff pore over mouths, searching for signs of disease or hints of trouble. During dental cleanings, a technician whisks away tartar and plaque before polishing teeth, reducing stains and residue. As part of the dental exam, a trained technician takes a radiographic image of pearly whites, which reveals bone loss, tumors, and cysts more effectively than traditional Etch-A-Sketch imaging. Next, a doctor examines the mouth for oral cancer or gum disease and monitors tusks for any signs of tooth decay. Finally, the doctor checks the sturdiness of restorations such as crowns, fillings, and permanent plastic fangs.
To maximize the mileage from every dental visit, the doctor elucidates proper brushing, flossing, and rinsing for patients. Alternatively, Chamisa Hills's cosmetic-dentistry practices keep clients' grins even and gleaming, with porcelain crowns, veneers, and at-home custom whitening, among other treatments.
4421 Irving Blvd. NW, Suite B
Albuquerque
New Mexico
505-821-6910
Victor Pierce believes that you are what you think. As a lifelong psychology buff and certified consulting hypnotist for the National Guild of Hypnotists, he's dedicated his life to helping people improve their habits through hypnotherapy. To unite minds with their own bodies, he assists clients in reaching a focused, meditative, and aware state. Victor then works with them to modify unhealthy habits, feelings, and core beliefs to reach a new plateau of peace unmarked by the rest stop of doubt. Victor's gentle persuasion can take on issues such as weight loss and smoking cessation, and he also employs isochronic tones to enhance alertness, creativity, and sleep cycles.
10701 Lomas Blvd. NE, Suite 119
Albuquerque
New Mexico
505-804-6552
Board-certified ophthalmologist Dr. Donald E. Rodgers spent time as a naval flight surgeon and the state surgeon for the New Mexico National Guard. He now carries over that military-trained precision to his services at New Mexico Eye Clinic. Equipped with advanced techniques and technology, Dr. Rodgers and his team conduct thorough eye exams and can treat a variety of ailments. The advanced LASIK procedure can improve impaired vision and reduce dependency on corrective contact lenses, glasses, or high-powered telescopes.
1316 Jackie Rd. SE, Suite 850
Rio Rancho
New Mexico
505-891-0880
Dr. Mark L Schwartz, DC supplements spine-saving treatments with holistic therapies and technologies. Spinal adjustment, massage, and cold-laser therapy form the core of his hands-on practice, alleviating ailments on the muscular, skeletal, and exoskeletal level. The sure hands of chiropractors also have recourse to devices that conduct spinal decompression, muscle stimulation, and water-powered massage.
4550 Eubank Blvd., Suite 107
Albuquerque
New Mexico
505-332-1006
There's a difference between being a practitioner and an ardent supporter. At Abq LASIK Specialists, Dr. Mark Walker and Dr. Eugene Iwanyk would be characterized as the latter, and the numbers show it. Together, the two men have proven their devotion to their eye-correcting art through a combined 100,000 surgeries, with Dr. Walker going so far as perform the surgery on his wife. He's also had the surgery performed on his own eyes in order to reap its benefits and understand the patient's experience more fully. A Fellow in Refractive Surgery, Dr. Walker carries into the operating room an advanced specialization in the physiology of the cornea—the area of the eye affected during LASIK. Dr. Iwanyk, on the other hand, has so much experience working with laser systems that he was selected to start a pilot program to perform refractive surgery on US Army soldiers and elite dignitaries so that treaty-signing staring contests wouldn't be ruined by lens glare. Together, their skillful procedures work to correct nearsightedness, farsightedness, and astigmatism, ridding patients of their reliance on contacts and glasses.
4600B Montgomery Blvd. NE, Suite 201
Albuquerque
New Mexico
505-889-3937
---