Shopping in North Valley
---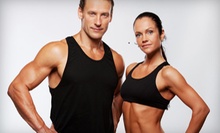 Stocked shelves of fat burners, post- and pre-workout vitamins, supplements, and essential fats for muscle building
---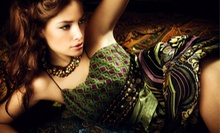 The consignment shop is stocked with purses, jewelry, and clothes for men and women that the shop's owner curates from NYC and LA
---
Recommended Shopping by Groupon Customers
---
In 1966, Jack Baillio opened his first electronics store, a TV-repair shop. More than 40 years later, he is still CEO of the company, but it has expanded to become a statewide institution. His stores' locations in Santa Fe and Albuquerque offer a vast range of services for appliances of all types. From repairing cell phones, computers, refrigerators, and televisions to supplying furniture such as TV stands and sofas, Baillio's technicians can help with many appliance-related problems. They carry big-name brands such as LG, Samsung, and Frigidaire, and the techs operate on mobile technology such as toaster ovens on wheels and smartphones, for which they can replace screens.
5301 Menaul Blvd. NE
Albuquerque
New Mexico
US
505-883-7511
One of the largest purveyors of sunny blooms and potted pokeys in the Albuquerque area, Great Outdoors dresses up local gardens with a colorful variety of flora that adjusts seamlessly to the New Mexico climate. Pile up a wheelbarrow with perennials ($8.15+) or cacti, including the compass cactus and saguaro ($12+), or give character to bland old-timey Western-movie sets with a lone tree ($32.50+). The agave, like a mohair sweater, uses its naturally absorbent qualities to sop up water while staying stylish ($15+).
10408 2nd St. NW
Albuquerque
New Mexico
Ooh! Aah! Jewelry has been garnering the gasps of Albuquerque jewelry enthusiasts since 1988. In addition to carrying traditional and contemporary jewelry designs, the store stocks sophisticated non-leather wallets ($15–$63) and handbags ($29–$198) as well as their leather brethren (prices vary). Adorn an admirably fit clavicle with a sterling-silver initial charm ($48) from the silver collection, or elevate earlobe elegance with a pair of gold-fill and vermeil dangles ($52–$98). A timely selection of watches for men and women ($115+) eliminates the need for daily sundial winding or taping cell phones to wrists. Free gift-wrapping creates an appropriately elegant vessel for each bejeweled item.
110 Amherst Drive Southeast
Albuquerque
New Mexico
---