North Valley, NM Spa and Massage
---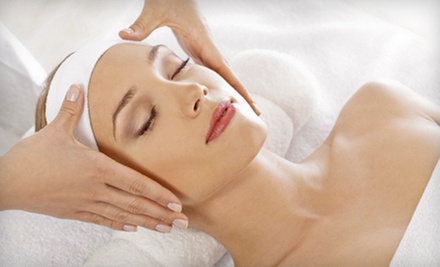 ---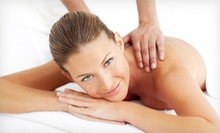 A massage therapist customizes the technique and essential oils of each 60- or 90- minute massage
---
Recommended Spa & Massage by Groupon Customers
---
Each of Planet Beach's 274 locations spread across the United States, Mexico, and other nations hums with electronic power as machines perform the delicate task of relaxing and beautifying bodies. After human attendants guide guests to their treatment rooms and help them find their preferred settings, automated tanning beds, red-light "reverse tanning" therapy beds, hydromassage tables, and cyber-relax massage chairs tirelessly tend to skin, muscle, and bone. Mental tension dissipates as lungs breathe in extra oxygen or air scented by aromatherapy candles in private relaxation rooms that shield the mind from the outside world or pitches from telepathic salesmen.
8201 Golf Course Rd. NW
Albuquerque
New Mexico
505-890-4070
Genesis Health Spa's professionals promote health, beauty, and wellbeing through treatments that are highly customized and performed in a relaxing environment. Along with facial, massage, and waxing services, the spa employs an experienced makeup artist to revamp exteriors with Jane Iredale mineral cosmetics during makeup applications, lessons, and special-occasion services for brides or eccentric ex-vaudevillians. For treatments in the tradition of oriental medicine, Dr. Heather Jones helps to balance body and mind with holistic Eastern healing methods. Acupuncture, cupping, and herbal medicine are just a few of the services offered to help alleviate bodily ailments without prescription drugs or a steady diet of sunshine, along with lesser-known services include Gua Sha––a massage-like technique that aims to release muscular tension by gently scraping animal horn, jade, or ceramic across troubled areas to release tightness.
8311 San Pedro NE, Suite 1
Albuquerque
New Mexico
505-821-1599
More than 60 Merle Norman–brand skincare and cosmetic products line the shelves of this Albuquerque hub to aide its staff of beauty advisors as they customize services for each client. The company regularly churns out new facial products that mute fine lines, quench dry skin, and teach freckles to plot out marching-band formations. The company also manufactures nine lines of foundation that beauty advisors pull from to perform complimentary cosmetics trials. During these trials, the advisors explain each step of the makeup-application process so clients can replicate looks at home or on bored pumpkins waiting for the Halloween carving season. Merle Norman Cosmetics & Spa's team also specializes in waxing, chemical peels, and haircare.
2661 Louisiana Blvd. NE
Albuquerque
New Mexico
505-881-1616
Clients can put their skin care needs in the able hands of esthetician and spa owner, Brenda Shepard Thompson. Her customized facials clean deep down into pores and refresh tired mugs with Osmosis Organic MediFacial Masks and products. Each service, including the teen clean clarifying facial, gentleman's facial, and back treatment include a thorough skin analysis, steam, extractions if necessary, and relaxing massages from her assistants, the Hamburger Helper and Thing. Brenda is also known for removing unwanted hair from hair to fuzzy piggy toes.
11930 Menual Blvd. NE, Suite 225B
Albuquerque
New Mexico
505-980-4069
---