Bowling in North Vancouver
---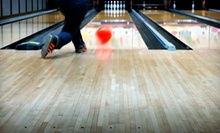 A five-pin bowling alley hosts guests for games during regular or laser bowling; a kitchen offers snacks and entrees, including breakfast
---
Recommended Bowling by Groupon Customers
---
Rolling strikes is in the Marino family's blood. The family has presided over Grandview Lanes for three generations, ever since Louis Marino established the alley back in 1947. In those days, the pins had to be set by hand, a task Louis's son, George, remembers all too well. As he told Westender reporter Mary Frances Hill, "You'd have 40 women bowling during the day (in the 1950s), and only two pin setters […]. So we'd run around like crazy."
Today, machines act as the alley's pin setters, but the Marinos are still around and running the show. George's daughter, Tammy, manages the modernized alley, where automatic scoring makes things easier for a younger generation that has never seen a real wooden pencil. Some things haven't changed though. Bowlers can still visit the lunch counter once run by George's mother, fuelling up between frames with burgers or pizzas laden with a dozen different toppings. And, of course, the game remains relatively unchanged. Downstairs, guests choose between 5-pin or 10-pin bowling, and upstairs, black lights and neon wall murals set the psychedelic stage for the sport's most modern update—glow bowling.
Aside from providing a hub for clean, family-friendly fun, Grandview Lanes actively supports the community by helping the fundraising efforts of organizations such as the Multiple Sclerosis Society of Canada and The Kensington Foundation for Animals in Crisis.
2195 Commercial Dr.
Vancouver
British Columbia
It's a Friday night at Xcalibur Bowling Centre, and the lights have gone out. As a vibrant glow overtakes the space, with balls and pins blushing in the dark and laser lights dancing across the centre's 36 lanes, it becomes clear: tonight is Xtreme Bowling. A DJ begins to spin chart-topping hits of yesterday and today—from Nicki Minaj to John Philip Sousa—and, as if on cue, the glowing orbs fly from bowlers' hands and crash against their targets. The glow-in-the-dark party is a regular occurrence at Xcalibur, taking place every Friday and Saturday night. Yet, the rest of the week is no snooze fest: "Old Skool" music blasts from the speakers on Sundays, and a video arcade waits for antsy hands every single day.
The centre's The Edge Sports Bar tempts bowlers with LCD TVs, draft beers, and a pool table, dartboards, and unopened Christmas gifts. After a few frames, underage gamers can retreat to The Grill Restaurant to quell postgame hunger with a philly cheesesteak, hand-tossed pizza, or quarter-pound burger.
12350 Pattullo Place
Surrey
British Columbia
604-580-2600
The triumphant crash of bowling balls against pins has been echoing throughout Brechin Lanes since 1956. The newly renovated five-pin-bowling alley maintains its family-friendly atmosphere by only selling soft drinks and prohibiting smoking within their walls. League banners hang over the 16-lane spread, and between turns, players cheer each other on from plastic benches or cushy seats throughout the centre. Atop whimsical bowling-pin-shaped coffee tables, players refuel their rolling arms and bragging muscles with hot dogs, poutine, and pizza made fresh to order. During weekend glow bowling, blacklights switch on, a crisp sound system booms the hits, and vampire bowlers suddenly become the brightest people in the room.
1870 E Wellington Rd.
Nanaimo
British Columbia
Since 1983, three-time Canadian bowling champion Richard Grubb has owned and operated North Shore Bowl and ensured that the lanes live up to his elite standards. The alley itself has welcomed bowlers since 1961, and offers 16 lanes of traditional five-pin bowling with open hours seven days a week. The lanes host men's, women's, and seniors' leagues, and welcome luminescent bowlers each weekend for glow bowling. North Shore Bowl also hosts a collection of classic arcade games and a party room so that groups can sing privately to cakes before eating them.
141 W 3rd St.
North Vancouver
British Columbia
---