North Vancouver, BC Outdoor Activities
---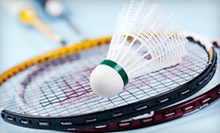 Badminton enthusiasts can drop in to play among internationally ranked coaches on 1 of 12 courts
Use Today 3:00pm - 6:00pm
---
Recommended Outdoor Activities by Groupon Customers
---
Billowing sails propel vessels in and out of the English Bay, where MacSailing strengthens sea legs with an expert-crafted sailing curriculum for everyone from novice seafarers to competitive racers. MacSailing teaches pupils to captain a wide variety of vessels in lessons for youths and adults, and also rents out sailboats for more experienced wave-tamers. Each of MacSailing's instructors is certified by the Canadian Yachting Association, which is the best illustration of nautical mastery short of wearing a souvenir T-shirt from the Bermuda Triangle.
1300 Discovery St.
Vancouver
British Columbia
604-224-7245
Harbour Cruises & Events has ferried aquanauts across the waters of Vancouver Harbour for more than a century, elucidating the city's history and granting seldom-seen views of the skyline. On the MPV Constitution, one of Vancouver's only authentic paddlewheelers, guests can enjoy views of the city on the open-air deck, or below on the A and B decks where the luxuries of a fine-dining restaurant take to sea. The Sunset dinner cruise and the Indian Arm luncheon cruise make use of such fine settings to create floating meals of beef bordelaise and fresh British Columbian salmon accompanied by live music. Fireworks cruises celebrate the waning of summer with a buffet dinner and live DJ, letting couples get close and practice their breakdancing moves when everyone else is looking to the sky.
501 Denman St.
Vancouver
British Columbia
604-688-7246
Music blares from onboard stereo systems as BC Wake Boats' 2011 Tige RZ2 tournament boats tour the scenic waters of Granville and Vancouver Island. But these boat charters aren't just limited to standard sightseeing trips or transporting goldfish into the witness protection program. Every excursion also grants access to on-water activities ranging from leisurely tubing to high-intensity water-skiing or wake boarding. Boat captains, many of whom are marine rescue experts, double as instructors and teach how to operate each piece of equipment.
This commitment to water sport education continues during BC Wake Boats' camps. Throughout each weeklong camp, counselors coach participants one-on-one as they master the art of balancing atop boards and using water skis to pick up giant pieces of sushi.
1625A Foreshore Walk, Dock J
Vancouver
British Columbia
888-987-9253
Drawing inspiration from a centuries-old German tradition, wherein people would warm away their winter blues and welcome the holiday season with uproarious festivities, the Vancouver Christmas Market fills the night air with mirth. Rows of lighted evergreens and more than 45 wooden huts lined with pine branches and twinkling lights spread out under the sky, allowing guests to duck in and examine European-themed, often handcrafted, wares. In addition to traditional German foods—bratwurst, fruitcake-like stollen, and mugs of hot mulled glühwein—the huts also house vendors slinging all manner of gifts and decorations. Woodcarvings, knitted scarves, and ornate beer steins perfectly slip into stockings, populate the space beneath a Christmas tree, or serve as spot-savers in the local hot tub, and delicate glass ornaments or nutcrackers help bring Christmas cheer into homes.
While guests peruse the collection of edible and giftable goods, they can also enjoy the sights and sounds of performances by traditional European choirs and dance troupes. At the on-site Kids' Market, a variety of age-appropriate activities entertain younger children, including a festive carousel, chocolate-lollipop-decorating stations, and gingerbread mascots.
332 East Esplanade
Vancouver
British Columbia
800-565-8735
---