Restaurants in North York
---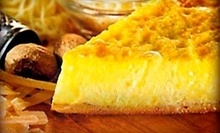 Vegetarian café's hot & cold buffets proffer vegetable & bean stews, seitan dishes & eclectic salads paired with juices & fair-trade coffee
Use Monday 11:30am - 1:00pm
---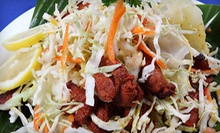 Dovercourt - Wallace Emerson
Nicaraguan chef prologues plates of black tiger shrimp & plantain empanadas with fresh seafood ceviches.
Use Friday 12:00pm - 11:00pm
---
Recommended Restaurants by Groupon Customers
---
Coral hues and sedimentary stone walls surround patrons at Amaya's Bread Bar, where the kitchen creates casually inventive Indian cuisine. Inside, a team of highly skilled and professionally trained chefs from India craft authentic dishes with a combination of authentic Indian herbs and spices. After walking between tied-back rose-and-gold curtains, parties alight at red and ochre tables and dine on starters such as beef-masala sliders and butter chicken poutine. Chartreuse plates host entrees of tamatar wali halibut seared in a garlicky tomato broth or curries such as the coastal-prawn curry, which swims in coconut milk amid spices of mustard seeds, curry leaves, and tamarind. Diners can choose to inside the dining room, where paintings hang on white walls, or sit out on the patio to catch a fresh breeze.
3305 Yonge St.
Toronto
Ontario
Beach Bird Restaurant seamlessly blends influences from Canada, America, Italy, and Southeast Asia into an elegant, eclectic dining experience. The café welcomes visitors with the scents of sizzling Madras curries, penne noodles swimming in rich vodka sauce, and herb-crusted Atlantic salmon, charming them with a cozy atmosphere and a location an artisanal pizza's throw from the lakefront. Guests begin feasts with bites of Thai spring rolls or fresh green mango salad before digging into hearty four-cheese burgers, tandoori butter chicken, or pizzas crowned with Cajun-spiced chicken.
Artfully arranged meals of colorful vegetables and marinated meats complement a vibrant, wall-sized mural of a tropical beach, and furnishings of wine-dark varnished woods and tile floors make for classy, yet casual surroundings.
1955 Queen St East
Toronto
Ontario
The pink neon rose suspended over The Rosedale Diner's front door first lit up in 1978 and hasn't shed a petal since. The owners began honing their unique worldly menu by applying modern twists to Bohemian and Israeli cuisine and later incorporating flavours from areas on other continents, such as Asia and Africa.
Inside, chandeliers cast soft glows over the rich, dark wood tables and bar, as well as the wood-and-glass display case full of artifacts from the eatery's 30-plus years of food service. Patrons can gaze out the window while seated in intimate nooks or dine on the garden patio and charge up their solar-powered digestive systems.
1164 Yonge St.
Toronto
Ontario
416-923-3122
Daily delivered seafood, hand-cut Ontario potatoes, and a housemade batter that uses not one, but two bottles of Guinness per batch. That's the essence of Chippy's Fish & Chips and the vision of owner John Lee, whose sole mission is to bring his customers the very best of classic pub food. Options such as fried halibut or panko-crusted scallops are written across the chalkboard menu inside the small eatery, where customers line up to place their order at the counter. Lee and his team then get to work, frying the fish 'n' chips to order and piling them inside Chinese-takeout-style boxes or sneaking them directly into customers' pockets. Patrons can also order the Double Dunk sandwich. This unique handheld item stuffs two cuts of golden-fried Acadian sturgeon and a pile of red-cabbage coleslaw between two pieces of deep-fried dough. The stack—along with everything else on the menu—verifies what Lee told Corey Mintz of Toronto.com while discussing plans to franchise: "Chippy's is not a heat-and-serve operation."
893 Queen St. West
Toronto
Ontario
416-866-7474
Wanting to fuse Mediterranean hospitality with modern elegance, the owners of Zemra Bar Lounge took design plans into their own hands, opening their walls and stage to local artists and musicians. Subdued light bounces off red and goldenrod walls dotted with paint, highlighting the friendly wait staff as they bustle between the dining room and kitchen. Inside the culinary chemistry lab, chefs Ghandour and Brunke prepare pastas, steaks, chops, and seafood from a menu of fine Pan-Mediterranean fare. To compliment the cuisine, the chefs recommend a variety of wines or one of the bar master's signature cocktails. Events such as the open mic on Wednesdays and live music on Fridays create a festive atmosphere while reflecting the local community, their talents, penchant for creativity, and ability to whistle in Italian.
778 Saint Clair Ave. W
Toronto
Ontario
During traditional Ethiopian meals, diners typically eschew silverware, instead using pieces of spongy, sourdough injera bread to scoop stewed meats and vegetables off a communal tray. At Ethiopiques, this selection includes spicy blends of simmered red lentils, raw or rare steak tartare with fiery chili powder, and sautéed lamb with caramelized onions and fresh rosemary.
227 Church St.
Toronto
Ontario
416-363-0884
---