Restaurants in North York
---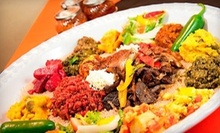 Chefs prepare Ethiopian cuisine that includes couscous served with fish & charbroiled lamb seasoned with spices
Use Monday 11:00am - 2:00pm
---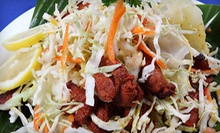 Dovercourt - Wallace Emerson
Nicaraguan chef prologues plates of black tiger shrimp & plantain empanadas with fresh seafood ceviches.
Use Sunday 12:00pm - 10:00pm
---
Recommended Restaurants by Groupon Customers
---
Table 17 uploads upscale cuisine with a seasonally changing dinner menu of fare made fresh from local ingredients and inspired by European cooking techniques such as the Denmark Dice, the Fosbury Flop, and the Ballroom Blitz. Appetizers include a white gazpacho ($8) with white grapes, fennel, and almonds, and shared plates such as the polenta ($14) and the restaurant's acclaimed hot balls ($11.50 for a full size)—namely the goat-cheese hot balls with wildflower honey—have the appetizing ability to reunite jilted lovers split over differing Inception theories. Recent entrees have included rainbow trout ($24), spaghetti pomodoro crudo ($18), and an organic black cod ($26). Leave vacancy in your stomach shelter for desserts such as the Italian classic, tiramisu ($8), and the house-made cheesecake ($8). Return wine to cool, dark quarters by downing a glass or bottle of palatable type-A grape blood.
782 Queen St. East
Toronto
Ontario
Utopia Cafe offers diners a brave new world of freshly made casual fare, with a dine-in menu of sandwiches, salads, and Tex Mex–inspired favourites. Begin your palate's perusal of Utopia Cafe with the regular poutine ($4.95), with fresh cheese curds and veggie gravy, or with the gourmet poutine ($6.75), served with sautéed mushrooms, goat cheese, and veggie gravy. Utopia Cafe's warm grilled-chicken salad ($9.95), topped with roma tomatoes and a balsamic vinaigrette, is sure to silence the grumbles of stomach-gremlins, and the grilled-eggplant quesadilla ($9.99), bedecked with cheese, green-onion mayo, and salsa, adds veggie-intake health points to the gooey dish. The steak and cheddar burrito ($10.99) makes steak cravings satiable, and the veggie souvlaki sandwich ($7.99) marinates, herbifies, and skewers soy protein in a delicate pita with onions, tomato, and tzatziki. Burger buffs wishing no malice toward cows can opt for the veggie burger ($7.50), the grilled bison burger ($8.99), or the bovine-free Kissing Cousins burger ($8.99), made with fresh ground lamb and creamy goat cheese.
586 College Street
Toronto
Ontario
Absorb the tastes and textures of gourmet Thai, Chinese, and other Asian dishes with a meal at Green Basil. Starters such as two spring rolls ($3.95) or two skewers of chicken satay ($5.25) set the stage for globetrotting gastronomy, and soup selections include Thai mushroom ($5.45) and hot 'n' sour ($5.95). In the realm of curries, Green Basil serves up varieties of the spiced dish for meat-eaters and veggilantes alike—the yellow beef curry ($10.95) and the green chicken curry ($10.25) quell carnivorous cravings, while the tofu curry ($8.95) brings eggplant-infused ecstasy to eaters of non-meat. Other Green Basil goodies include pad thai ($9.75) with chicken, shrimp, tofu, egg, and the house tamarind sauce; cashew-nut chicken ($10.25), drawing spicy strength from sweet peppers, onions, and dried chillies; and Thai fried rice with shrimp ($10.25). Lunch is served daily from 11 a.m. to 3 p.m., and a cache of cocktails, beer, and wine keeps business lunches from turning into mandatory business naps.
2120 Queen Street East
Toronto
Ontario
416-698-2120
Daytime Toronto recently featured Yummy Tummy.
1267 Queen St. W
Toronto
Ontario
Coral hues and sedimentary stone walls surround patrons at Amaya's Bread Bar, where the kitchen creates casually inventive Indian cuisine. Inside, a team of highly skilled and professionally trained chefs from India craft authentic dishes with a combination of authentic Indian herbs and spices. After walking between tied-back rose-and-gold curtains, parties alight at red and ochre tables and dine on starters such as beef-masala sliders and butter chicken poutine. Chartreuse plates host entrees of tamatar wali halibut seared in a garlicky tomato broth or curries such as the coastal-prawn curry, which swims in coconut milk amid spices of mustard seeds, curry leaves, and tamarind. Diners can choose to inside the dining room, where paintings hang on white walls, or sit out on the patio to catch a fresh breeze.
3305 Yonge St.
Toronto
Ontario
Beach Bird Restaurant seamlessly blends influences from Canada, America, Italy, and Southeast Asia into an elegant, eclectic dining experience. The café welcomes visitors with the scents of sizzling Madras curries, penne noodles swimming in rich vodka sauce, and herb-crusted Atlantic salmon, charming them with a cozy atmosphere and a location an artisanal pizza's throw from the lakefront. Guests begin feasts with bites of Thai spring rolls or fresh green mango salad before digging into hearty four-cheese burgers, tandoori butter chicken, or pizzas crowned with Cajun-spiced chicken.
Artfully arranged meals of colorful vegetables and marinated meats complement a vibrant, wall-sized mural of a tropical beach, and furnishings of wine-dark varnished woods and tile floors make for classy, yet casual surroundings.
1955 Queen St East
Toronto
Ontario
---