Things to Do in Northampton
---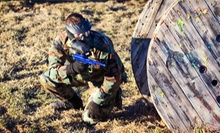 Four woodsball fields filled with wooden obstacles and three tournament fields furnished with inflatables comprise the battlegrounds
---
Recommended Things to Do by Groupon Customers
---
Fun Time Lanes sends patrons back in time for candlestick bowling sessions that predate traditional tenpin rounds. After fitting feet into rental shoes, participants launch 3- to 6-pound balls down one of 20 polished lanes toward huddled masses of slim pins. Automatic scoring, ball returns, and cash prizes to pins that fall the fastest keep frames moving swiftly along. Glow bowl sessions awash vintage orbs and lanes in radiant neon hues every Saturday night during atomic bowl. During breaks, customers can stop fantasizing about marinating a duckpin and instead recharge at Fun Time Lanes' snack bar with bites of burgers, hot dogs, or chicken tenders.
158 Elm St.
Holyoke
Massachusetts
413-536-0250
The Amherst College–owned Emily Dickinson Museum preserves the memory and work of the poet and hyphen master by maintaining the estate where she lived and composed many of her nearly 1,800 poems. The museum includes The Homestead, her birthplace and longtime residence, which stands near The Evergreens, where her brother, Austin, lived with his family. Emily and her siblings were all avid gardeners, cultivating flowers and hedges throughout their 3-acre estate. Emily herself maintained a conservatory for her collection of exotic plants, and she drew endless inspiration from her natural surroundings for her work.
The Emily Dickinson Museum welcomes field trips for groups of students and schedules events throughout the year to celebrate her poetry and role in American literary history. Interactive poetry discussion groups meet at various Amherst locations, keeping Dickinson's style relevant by communicating only in rhyming quatrains.
280 Main St.
Amherst
Massachusetts
Looking to put a new spin on a classic family activity, the minds behind Glowgolf decided to give the game a phosphorescent update. Incandescent courses place friends and family amid a tropical-fantasy golf world of neon orange, green, and violet surroundings. Players putt luminous orbs through vibrant treasure chests and glimmering windmills while negotiating tricky obstacles near walls portraying black-light-lit aquatic scenes. With more than 20 locations spread over 10 states, Glowgolf's fluorescent labyrinths challenge human players and traveling gnomes.
50 Holyoke Rd.
Holyoke
Massachusetts
Many a 19th-century summer day, William Skinner would wipe his brow with a silk handkerchief and breathe in the sweet scent of wisteria vines. His wife, Sarah, had trained the vines to grow alongside their sprawling home, which he had built in 1874 with the profits from his silk-manufacturing business. He named it Wistariahurst in honor of his wife's prized vines, which continued to grow even after the stately home passed down to the next generation of the Skinner family and, in 1959, to the city of Holyoke.
The wisteria vines have not stood the test of time alone. The home's elaborate woodwork, original leather wall coverings, and elegant columns have also remained intact. Every week, the docents at Wistariahurst Museum lead tours across the historical estate, elaborating on the Skinner family's history and showcasing collections of architectural prints and silk textiles from the family's manufacturing business. In addition to tours, staff members regularly offer workshops that teach Girl Scouts about such Victorian-era pastimes as knitting and playing parlor games with the ghosts in the attic.
In the warmer months, Wistariahurst's immaculately manicured gardens play host to a wide variety of events. Concerts and lectures remain open to the public, and private rentals allow guests to hold weddings or play ill-advised games of hide-and-seek in the minotaur labyrinth.
238 Cabot St.
Holyoke
Massachusetts
413-322-5660
Beginning with two brothers, a neighborhood full of spectators, and a helium-neon laser, Mad Science today deploys entertaining educators around the world to inject hands-on science programs with an element of fun. Nearly five million children annually enjoy accessible lessons, which may take the form of a weeklong summer day program or a birthday party that explains the physics of the Earth's revolution around the guest of honor. Schools host afterschool programs every year, which may include a NASA-approved astronomy series, a Rube Goldbergian introduction to simple machines, or an exploration into the science of toys. Living up to their promise of melding education and entertainment, Mad Science's experts have teamed up with scientists of screens large and small to produce live stage shows such as Star Trek Live, CSI: Live, and Movie Magic.
518 Pleasant St.
Northampton
Massachusetts
413-584-7243
The Blandford Ski Area has remained a family mountain for 75 years through its commitment to education and gentle terrain. Crisscrossed with beginner and intermediate trails, the basin serves as a fertile development ground for burgeoning skiers and boarders, and a venue for après-ski live music. Children as young as age 3 practice their snowplow in the Ski with Me program, and sportfolk with energy to burn hit the terrain park or stay after sundown for night runs lit by floodlights. When natural snow runs short, machines kick into gear to slick slopes in fresh powder or the corn oil favored by the Blandford alpine racing team.
41 Nye Brook Rd.
Blandford
Massachusetts
413-848-2860
---