Massage in Northbridge
---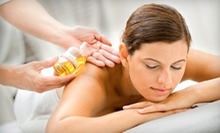 Use Tuesday 10:00am - 6:00pm
---
Recommended Massage by Groupon Customers
---
Read more about the specific benefits of each of these massages here. With the combined focus of resolving your acute pains and relieving your stress, you'll come away feeling like a new man, a new woman, or a new cylon). (And let's face it, the new cylons are awesome.) NEMM is located at 147 Milk St, 8th Floor. That's a nice location. Way better than the Crack House Medical Massage Center, whose customer testimonials are all pretty terrifying. But these NEMM's customer testimonials are like testaments in the Massage Bible. Here are a few:
147 Milk St.
Boston
Massachusetts
US
Everyone knows that Swedes use a lot of oils in their famous massages, but did you know that Sweden is the world's second-largest consumer of lubricating oils? A 2006 study in The American Examiner of Suspicious Swedish Behavior reported that Swedes annually consume 1,460 gallons of lubricating oils per person. That comes out to exactly four gallons per person per day (leap year not factored in to avoid over-complication). And taking into account that children require less oil to become slick, it appears that adult Swedes may be lathering themselves with up to 12 gallons a day.
40 Charles St.
Boston
Massachusetts
US
Massage therapist Michael Moore keeps the Boston Ballet limber. The award-winning healer has been the company's go-to bodywork provider for the past four years, and its dancers say he "truly understands the physical needs of the body." Before joining up with the ballet, Michael had plenty of experience maintaining hard-working bodies as a therapist for athletes, such as the U.S. Ski Team in Vail.
But Michael doesn't discriminate, and he gives each of his clients the same high-quality rubdown that the athletes enjoy. This attention to detail earned him Boston magazine's Best Massage Therapist award from 2006 to 2009. The magazine credited Michael with "consistently thorough handiwork that reversed our laptop shoulder and boosted our energy for days." He and former college athlete Steven Toland perform Moore Massage's treatments, which range from traditional Swedish kneads to Active Release Techniques, a patented style that aims to break up scar tissue and codependent muscles.
105 Newbury St., Floor 4
Boston
Massachusetts
US
617-424-4000
Pure Salon and Spa boasts a team of skilled aestheticians, stylists, nail technicians, and medical personnel who not only pamper their clients with top-notch services but do so with renowned Aveda products. Inside the upscale space, mane masters cloak coiffures in plant-based colors or infuse strands with treatments that remedy hair damaged by dryness or gossiping scalps. Massage therapists de-stress clients with a slate of massages that utilize Aveda's flower and plant essences, and makeup artists highlight features during makeup applications with Aveda's natural cosmetics.
155 Broadway Rd.
Dracut
Massachusetts
US
978-674-8188
Pamper yourself with today's deal: $30 for a 60-minute facial, a 60-minute natural deluxe pedicure, or a natural mani-pedi combo at Back to Basics Massage, the healing day spa located in Quincy. Back to Basics Massage specializes in using massage to improve overall health, so a soothing massage is incorporated in all of its treatments. Follow @Groupon_Says on Twitter.
373 Granite St.
Quincy
Massachusetts
US
Melt your cares into a soft, warm pool of happiness with today's transcendental deal: $45 gets you a healing, invigorating hourlong massage at Essential Bodywork and Massage, a $90 value. Ease your muscles and soothe your troubled soul with gentle, healing treatments by Essential's dedicated therapists, who all specialize in a wide variety of massage and bodywork techniques. Follow @Groupon_Says on Twitter.
846 Massachusetts Ave.
Lexington
Massachusetts
US
---