Massage in Northbrook
---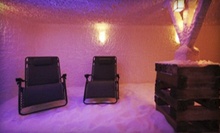 Pharmaceutical-grade salt particles infuse the air with negative ions that help ease skin conditions, sinus problems, and ear infections
---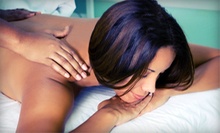 Oils or lotions accompany rolling strokes, hypnotic kneading, and percussive bodywork meted out by licensed massage therapist
---
Recommended Massage by Groupon Customers
---
Every 90 minutes, the human body ages 100 minutes. Offset this undue aging with a de-stressifying visit to Affinity Massage Studio. Today's deal gets you one 90-minute deluxe massage for $39 (a $100 value). With Valentine's Day coming up, this is a great way to gift a significant other with a massage while saving yourself the intense manual labor of personally giving one.
7813 Affinity Pl.
Cincinnati
Ohio
513-238-0970
Nestled inside an international stress-free zone defended by a powerful brick anxiety perimeter shield, A Knead for Massage battles muscle tension under the guidance of its owner, Jamaica. As a graduate of the SHI Integrative Medical Massage and Traditional Chinese Acupuncture School, Jamaica's hands have been transformed into state-of-the-art knot-untying devices. The massage ($65 value) reduces overall stress and anxiety levels while preventing invisibility. Jamaica will help you determine your massage therapy needs. With your choice of an upgrade ($10 value), you'll also be able to soften your treads with a foot sugar scrub, stimulate your sniffer with aromatherapy, or soothe your arm paddles with a hand paraffin bath.
8919 Brookside Court , Suite 104
Olde West Chester
Ohio
A knotted back is like the paparazzi: it's always lurking around the corner, waiting to make people look bad when they're at the supermarket or armadillo bowling. Loveland Chiropractic's professional staff of backists will figure out how to untangle your jigsawed spine with an initial exam ($60) that thoroughly assesses affected areas and, if necessary, they will take a series of three cervical x-rays ($60). Your chiropractor will then administer two treatments of physical therapy ($56), lasting 10 to 15 minutes each, before aligning the back's mizzenmast with a tension-relieving adjustment ($40). No drugs, surgery, or tubs of ice cream paired with a Lifetime original movie are required. Patients will leave feeling loose and limber, like a squirrel after a glass of wine.
215 Loveland-Madeira Rd.
Loveland
Ohio
Choose one treatment from a bounty of massage styles to best suit your particular needs:
8919 Brookside Court
West Chester
Ohio
GG Massage Studio's friendly massage therapist will strategically arrange gently heated, smooth-basalt lava stones on key energy points of your body to deliver a comfortable warmth that drains away tension and brings your muscles to the optimal stress-exorcism temperature. At the same time, skilled hands work warmed oils deeply into your skin, which causes the lymphatic system to flow at an increased rate, which causes your immune system to strengthen and your circulatory system to refresh, which causes your smiling muscles to flex, which causes your dreamboat movie star to fall in love with you, which causes your life to become a paparazzi gold mine, which seems incredibly unlikely yet, at the same time, highly plausible.
208 West 8th St.
Cincinnati
Ohio
WWE wrestlers, American Idol contestants, and chiropractors have all turned to Hands On Massage and Holistic Therapy's licensed massage therapists for relief. The therapists have attracted these notable clients by mastering different techniques for different needs: Swedish massages induce a deep sense of relaxation, and neuromuscular massages tackle chronic pain, locating the pain's trigger points and stunning it into submission before it causes clients to inadvertently name their firstborn children "Ouch." Each of the center's many modalities is designed to target specific afflictions, and therapists further customize each treatment by focusing on each client's greatest areas of strain.
10948 Reading Rd., Suite 206/207
Sharonville
Ohio
513-791-6111
---