Things to Do in Norton
---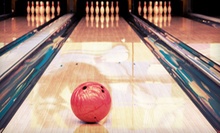 Two hours of bowling with soda for up to six; party package includes cosmic bowling, a tour of the lanes, and cotton candy for up to 10
---
Recommended Things to Do by Groupon Customers
---
Splat Paintball provides a fun and exciting outdoor environment where brave paintslingers of all skill levels can practice their marksmanship, relieve the stresses of everyday life, and alleviate the guilt of midnight refrigerator raids. With your mask securely in place, your eyes will be safe from blindness and your secret superhero identity protected from inquisitive minds. Sneak stealthily through purple mountain majesties, amber waves of grain, and blue-bespeckled tree trunks as you attempt to capture the enemy's flag. As you crawl on your belly over rocks and dash between bunkers with the whiz of small paint-filled capsules humming past your ears, open fire while tucking, rolling, and shouting in slow-motion until your enemies, best friends, or coworkers have all been decimated in a splatter of color. The game ends when a flag has been captured, despoiling opponents of the bragging rights guaranteed them by an early, paint-flecked draft of the U.S. Constitution.
3190 Patterson Rd.
North Lawrence
Ohio
Once the warm weather hits, families begin to fill the grounds of Sluggers & Putters—a sprawling family fun park built into the natural landscape. Children and adults alike tear around two tracks in single or double-seat go-karts, follow a yellow-paved path through 18 holes of old-fashioned miniature golf, and race to scale a rock-climbing wall. While parents and children fill out insurance claims after playing double-seat bumper cars and water bumper boats, other visitors practice their swing in fast-pitch and softball batting cages. On a landscaped garden patio, staff helms an installment of the local Auntie Em's Ice Cream Co., where they serve frozen treats such as hand-dipped cones and old-fashioned sundaes.
333 Lafayette Dr.
Canal Fulton
Ohio
Amid the uncertainty and complex nature of the aviation industry in the early 2000s, Denise and Mike decided to buck opposition and follow their dreams. The husband-and-wife team kept their dream relatively simple: move to northeast Ohio, secure season tickets for the Indians and Browns, and open up the world of flight to others. They soon took Mike's 35 years experience as an entrepreneur and Denise's time as a commercial pilot and turned it into American Winds Flight Academy. Today, their flight academy preps prospective pilots with FAA-approved ground courses and hands-on instruction in their fleet of Piper and Cessna airplanes and accommodating pterodactyls. The duo's 15-plus flight-training courses and fast-track program include everything from advanced flight-simulator instruction to commercial-pilot certification.
1600 Triplett Blvd.
Akron
Ohio
330-733-2500
The crisscrossed emerald landscape south of Cleveland slips silently beneath up to eight passengers in a balloon's large basket. A skilled pilot adds or releases pressure to the vessel, punctuating the otherwise still air over the stunning panoramas and placid scenes of sprawling greenery. Guests can also opt to charter private flights, allowing them to experience romantic moments or ask embarrassing questions about where clouds come from. All of HiLife Ballooning's flights take off in the early morning or evening when winds are at their gentlest, allowing the captain to set the balloons down gently.
419 Lookout Ave.
Akron
Ohio
928-486-0140
---