Music Lessons in Norwalk
---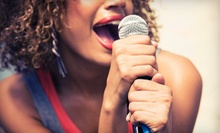 One-on-one lessons with a seasoned instructor help singers of all styles and skill levels overcome vocal obstacles and maintain pipes
Use Saturday 1:00pm - 6:00pm
---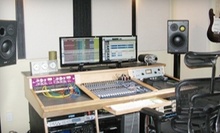 Coaches teach vocal chords to strike angelic notes & master their vibrato with tailored lessons held within recording & production studio
Use Friday 10:00am - 12:00pm
---
Recommended Music Lessons by Groupon Customers
---
Perfect your strum technique playing "Hurricane" by Bob Dylan on one NYC Guitar School's tuned and pretty-stringed guitars. This Groupon includes a guitar rental for duration of the course (a $50 value), so you don't need to bring your own (the security deposit is $189, and you get it back when you return the guitar). No prior musical experience is necessary to take a course at NYC Guitar School, and no note reading is required; one of the friendly teachers, well-tabbed in Bob Dylan, will teach you the fundamental chords, strums, and the fierce stare of a master guitarist.
251 W 30th St.
New York
New York
US
Mumbling. Speaking too fast. Nervousness. There are countless issues that can derail a public speaker. That's where Nattacia Satie and The Vocal Gym for Public Speaking come in. A musician, actress, yogi, and all-around renaissance woman, Ms. Satie uses her diverse expertise—which includes training at the University of Cambridge—to build rigorous workouts for the voice. During private sessions, she takes speakers through a four-step process that teaches proper breathing technique, incorporates core fitness exercises, and fine-tunes articulation. Ms. Satie's custom programs help her clients gain confidence and correct their specific issues by training their vocal cords to keep a steady pitch, slow down, or roll over.
310 E 6th St., Floor 4, Studio 19
Manhattan
New York
917-674-6714
Creative Music Center's skilled teachers have been nurturing musical talent in students of all ages and skill levels for nearly three decades, earning recognition for their efforts with a Best Music Lessons and Instruments award from Moffly Media readers in 2009. They achieve this high level of instruction by adapting their teaching styles to the needs of each pupil rather than insisting that everyone play Mozart or eat sheet music for breakfast. While private lessons prep students to play everything from the viola to the trombone, teachers also foster camaraderie through group lessons for piano and guitar. Students who haven't hollowed out a baguette to make their own French horn can rent or buy an instrument from the center, which stocks brands such as Yamaha and Fender.
701 Main St.
Monroe
Connecticut
800-261-7947
When Jennifer Hill was a baby, her mother sang to her. When she was 2, she began singing full songs in tune. Throughout her childhood she sang at fairs, school musicals, and local sporting events, where she would belt out the traditional pregame rendition of "Welcome to the Jungle." She went on to receive a scholarship to the University of Hartford's Hartt School of Music, and currently she's the frontwoman of the jazzy rock outfit Jennifer Hill & Co. Music has stitched through the entire fabric of her life, and for more than a decade, she has worked to help students discover the joy of creating beautiful noise.
Jennifer tailors each private lesson to the individual student and welcomes all musical styles and genres in order to encourage young artists to pursue their unique voice. Whether a student's passion is to tumble a jazzy melody across the piano keys or pen an infectious pop song, Jennifer lends students the confidence and expertise she has accumulated in more than 25 years as a performer.
14 Barwood Manor
Unionville
Connecticut
860-794-3869
A graduate of the Manhattan School of Music and Berklee College of Music, David Sklar has composed for independent films, played at Lincoln Center, and won several piano competitions of his own. But his true legacy lives on in the deft fingers of the countless protégés to attend his studio, where he helps them hone their musical expression and creativity with a mixture of technique, music theory, and ear training during fun and engaging one-on-one lessons. Specializing in a variety of styles—from classical sonatas to show tunes and pop music—David also gives students his undivided attention during voice and songwriting classes.
33 Riverside Dr., Apt. 15 E-1
New York
New York
347-920-8510
Since 2002, Rock House's system of musical instruction—which comprises DVDs, books, and Web-based lesson support—has helped aspiring rock stars to master strumming guitars, plucking basses, and tickling keyboards to a variety of different genres. Several renowned blues, rock, and metal artists have participated in the Rock House program, including members of Megadeth, The Gary Hoey Band, and Parliament-Funkadelic. In addition to their training materials, Rock House also certifies instructors at local music centers so they can conduct one-on-one private lessons tailored to enhancing students' strengths and neutralizing their weaknesses, such as the inability to destroy a guitar on the first smash.
52 Collis St.
West Haven
Connecticut
203-934-2501
---