Norwalk, CT Outdoor Activities
---
Recommended Outdoor Activities by Groupon Customers
---
Situated at the foot of the Ellenville Mountain site, Mountain Wings has readied students for safe, engine-free flying since 1981. A staff of USHPA-certified instructors shares much of its knowledge on the facility's two training hills—a grassy, gently sloped concave for beginners, and a 180-foot hill used by intermediate gliders and a handful of pretty insane paper-airplane competitors. Sprinting, stumbling, and hovering across those hills, groups practice with Condors—slow-flying, easy-to-handle training gliders that work in zero-wind zones. Upon ascending to greater heights and skill levels, students can also snag their own equipment at Mountain Wings' full-service aero-sports shop.
77 Hang Glider Rd.
Ellenville
New York
A HPA–charged Tippmann 98 marker in hand, paintballers in pursuit of their opponents' flag race among the wooden spools, barrels, and bunkers gracing the fields of Paintball Depot's wooded outdoor arena. As colors fly through the air, Helix goggles with antifogging helix lenses and face masks shield players' faces against the rainbow barrage. In addition to offering open play, Paintball Depot accommodates corporate team-building events, group outings, and airsoft games that often run on one field as paintball sessions commence on other courses.
1202 Union Valley Rd.
West Milford
New Jersey
973-584-2220
Yorktown Golf & Baseball Center is best described by its sounds: the whiffing of clubs on the driving range, the steely rattling of baseballs on batting-cage walls, and the gentle burbling of the mini-golf course's waterfalls. Surrounded by verdant greenery, the 14-acre sports center offers outlets for competitive players and casual ball-whackers alike, beginning with an 18-hole mini-golf course replete with obstacles such as waterways and feral know-it-all golf pros. Within the four baseball and softball batting cages, pitches hurl toward batters at speeds ranging from 40 mph to 85 mph. Practice shots soar from the two-tiered driving range's 36 covered hitting stations, and players hone their short games on the putting greens and sand traps. In addition to providing ample practice opportunities, the center staffs a stable of knowledgeable golfers and batters to lead private and semiprivate lessons and curate a full pro shop.:m]]
2710 Lexington Ave.
Mohegan Lake
New York
914-526-8337
A lifelong rider, instructor Patricia Hohmann spent years competing in high school and college and brings that experience to her students when teaching English- and Western-style riding lessons. She specializes in working with beginner adults and children and helps them get confident in the saddle while having fun and staying safe. This means pairing riders with horses that are friendly, sane, and thereby incapable of plotting world domination. Saddle captains as young as age 3 learn during Pony Pals lessons, which give them a private introduction to horseback riding while the horse remains safely under Patricia's control via a lead line.
290 Burnt Meadow Rd.
Gardiner
New York
845-802-3366
---
---
Outdoor Activity Deals - Recently Expired
---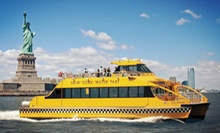 Boats tour around Lady Liberty or treat passengers to evening sightseeing; thrill-seekers hang on for 30-minute speedboat tours
---
---