Norwell, MA Spa and Massage
---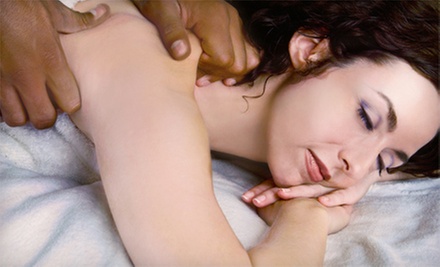 ---
Recommended Spa & Massage by Groupon Customers
---
Pamper yourself with today's deal: $30 for a 60-minute facial, a 60-minute natural deluxe pedicure, or a natural mani-pedi combo at Back to Basics Massage, the healing day spa located in Quincy. Back to Basics Massage specializes in using massage to improve overall health, so a soothing massage is incorporated in all of its treatments. Follow @Groupon_Says on Twitter.
373 Granite St.
Quincy
Massachusetts
US
Under the expert guidance of registered nurses Judith A. DiGravio and Gail S. Driscoll, the staff at Bella Derma Aesthetics harnesses the FDA-approved Zerona cold-laser technology, designed to reduce corporeal circumferences by an average of 3.5 inches. During each session, clients relax beneath a beam-slinging apparatus for 40 minutes as it glides low-light lasers over their waistline, back, hips, and thighs, emulsifying adipose tissue so that fat can sneak its way out of the body. The disintegrated lipid depots can then be absorbed by the body's obsessively tidy lymphatic system and expelled through its natural detoxification process and complex system of waterslides.
501 John Mahar Hwy.
Braintree
Massachusetts
US
Courtney and Corey Nappa complement each other's skill sets well. Courtney has a wealth of business experience and a passion for beauty, and Corey has years under his belt as a personal trainer and fitness-center manager. They realized that they could combine their skills into an ideal health-club experience, and Ten X Club was born.
On the fitness end of the business, instructors hold group Pilates, yoga, and spin classes. Cardio and weight-lifting rooms feature equipment from manufacturers such as Nautilus and Precor. A kids' playroom keeps tykes entertained while parents shed sweat. On the other end of the spectrum, the sleekly appointed salon features hair services, mani-pedis, and spray-tanning services in a quiet environment, the air perfumed with the scent of hair products. Here, too, members can send their kids to the playroom while they enjoy grownup relaxation time with beautifying services, adult conversation, and the freedom to eat animal crackers any way they choose.
412 Washington St.
Norwell
Massachusetts
781-659-6565
At Nutrapy, owner and director Jimmy Chung and his team promote internal wellness and external beauty in a tranquil, eco-friendly environment. Chung addresses physical aches and pains not only as a licensed massage therapist, but as a reiki master and certified polarity therapist, specializing in energy work designed to facilitate healing. For the well-being of their clients and the environment, he and his staff perform services using organic products wherever possible, nourishing faces with the Éminence Organic Skin Care line and pampering nails with toxin-free polish. Chung is also working on his master's degree in Chinese medicine, so it's no surprise that the center also offers Eastern-based services such as acupuncture and tai chi classes. Located in the South Shore, Nutrapy also features a raw herbal dispensary and has tested 200 medicinal herbs.
Before treatments even start, Nutrapy helps guests feel calmer and more centered as they walk into the holistic haven, which is decorated with orchids and soothing brown and blue-green earth tones. Once inside, patrons relax in pipe-less pedicure spas that resemble overstuffed recliners, or on a cushy suede couch in the candlelit relaxation room. In the corner, a small, rock-bordered pond teems with bright orange fish and features a soothing waterfall that gurgles Beatles classics.
17 Snow Rd.
Marshfield
Massachusetts
508-603-9217
From his tranquil station within First Hand Massage Therapy, licensed massage therapist Gary Edwards wields deft techniques and a soothing nature during each treatment he performs. The bodywork expert learned the ropes to massage at Spa Tech Institute in Maryland, focusing especially on the art of relaxation and sports massage. Today, his agile hands ease tension for clients in every walk of life, from office workers with tight shoulders to athletes stuck in the shape of the Nike logo.
822 WEBSTER STREET
MARSHFIELD
Massachusetts
US
Though their menu of services is succinct, the practitioners at Simply You can address a multitude of cosmetic concerns. Stylists refresh overgrown tresses with haircuts and coloring services, and nail technicians groom digits with regular and spa mani-pedis. In the spa, aestheticians use Bioelements products to create facials customized for each client's skin type and likelihood of getting pied in the face. Other specialized treatments confront acne, skin sensitivity, and signs of age.
120 Main St.
Bridgewater
Massachusetts
508-659-5215
---