Things to Do in Norwell
---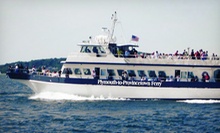 Seasoned captains pilot USCG-inspected ferry across Cape Cod Bay during speedy 90-minute trip with five-hour stopover in Provincetown
---
Recommended Things to Do by Groupon Customers
---
First established in 1913, the Plymouth Philharmonic Orchestra proudly embraces a storied history that saw the group blossom from a 30-piece ensemble to a professional symphony orchestra of 75 musicians. Steven Karidoyanes has marshaled this acoustical army as its music director since 1994, leading them in performances at venues across the state.
11 North St.
Plymouth
Massachusetts
508-746-8008
While majestic chestnut stallions, brown and white pinto mares, and blond pony hunters roam Herring Brook Farm's 28 acres of open ranch land, owner Mary Beth McGee lopes among them on a bronze steed, training juniors and adults hunter and jumper techniques for competitions and show. Spurred by a lifelong love of horses, she took up coaching more than 20 years ago, leading a number of her students to national finals while instilling the fundamentals of proper horse care in everyone she teaches. When not showing horses and their pet humans how to leap fences, brick walls, or Shaquille O'Neal, Mary Beth opens her farm to horse shows, where tenderfoot colts and wizened horses prance and pose in an indoor ring with a heated viewing room. She also raises horses for sale or lease and runs summer youth riding camps and dressage programs with the help of her capable staff.
233 Washington Street
Pembroke
Massachusetts
781-924-1933
Hingham Civic Music Theatre's members and 21-person ensemble fully realize the production with period costumes and handmade sets. Since 1948, the company has given local theater aficionados the chance to practice their craft in fully staged productions of beloved works.
210 Central St.
Hingham
Massachusetts
781-749-3400
Inside Plymouth's historic Post Office Building, the bustling of envelopes changing hands has been replaced by the sounds of steady breathing. Certified personal trainer Alicia Andreson works with her experienced staff—all of whom hold teaching certifications—to gently correct their students' alignment aboard mats and apparatuses, including the ubiquitous reformer. They guide one-on-one Pilates sessions and small-group classes that tighten cores, demonstrating classic mat poses, boot-camp-style maneuvers, and yoga stances. To complement their exercise regimens, they offer nutritional counseling and wellness programs. They develop custom healthful diet regimens that help patrons flatten their tummies more safely than standing in front of a firing cannon.
6 Main St
Plymouth
Massachusetts
508-317-6990
---