Novato, CA Outdoor Activities
---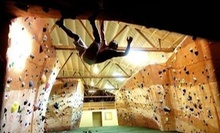 12 inches of seamless padding cushion any falls as climbers scale 18-foot-high top-out boulders and hang from an indoor cave
Use Monday 9:00am - 7:00pm
---
---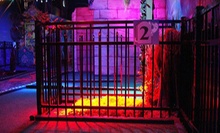 Graveyard-themed mini-golf holes wind through gothic architecture, crypts, and skeletons peppered across indoor course
Use Today 2:00pm - 9:00pm
---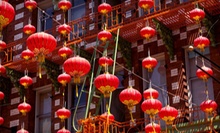 Tourists skulk through darkened sidestreets and eerie historical sites of Chinatown as native-born guide passes down nuggets of folklore.
Use Friday 4:30pm - 7:30pm
---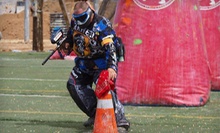 Three hours for two in a field with obstacles and bunkers; each person gets a marker, a mask, a barrel cover, 500 paintballs, and air
Use Saturday 8:00am - 12:00pm
---
Recommended Outdoor Activities by Groupon Customers
---
As a surfer and cyclist, Marcel Mijares was drawn to the Pacific Coast many years ago; since then, he's found little reason to leave. A native of Venezuela, Mijares spoke only Spanish when he made the move, but his love of the Bay Area fueled his drive to acquire the English language and graduate with honors from the Lincoln School of Business. Now, as the owner of High Trails Cyclery, Mijares combines his passion with his determination, sharing both with riders in the heart of Russian Hill. He leads a team of cycling experts equipped to repair cycles and perform tune-ups, overhauls, and bike fittings. Team members also share their expertise during maintenance classes, in which they teach students to care for their own cycles and understand the dangers of trying to change a bicycle's transmission fluid.
1825 Polk St.
San Francisco
California
415-814-3216
A charter member of the MLS, the San Jose Earthquakes played their first four seasons as the Clash before claiming the MLS Cup in 2001 and 2003. Though the team moved to Houston in '05, the franchise was reinstated in '08, bringing professional soccer back to the Bay Area. Buck Shaw Stadium serves as the team's current home, though a new stadium will shoot skyward in 2014, complete with luxury suites for fans and exhausted referees alike.
500 El Camino Real
Santa Clara
California
The friendly mechanics at Everybody Bikes nurture two-wheeled transports of all styles, helping urban commuters traverse city streets unencumbered by a car's demands. Mechanics perform services such as tune-ups, repairs, and custom bicycle builds amid racks stocked with bikes by Kona, Fuji, and Linus. To educate their customers, they also lead private and group lessons on mechanics, safety, and riding techniques. The mechanics also maintain the shop's blog, which keeps customers in the know about everything from what helmets to buy to when tricycle mating season starts.
1352 Irving St.
San Francisco
California
415-682-4439
Led by former NBA point guard and first-year head coach Mark Jackson, the Golden State Warriors charge into the second half of the season. Veteran guard Monta Ellis blows by defenders with an average of 22.2 points per game while forward-center David Lee muscles out under-the-basket rivals for an average of 9.7 rebounds per game. Rookie guard Klay Thompson keeps opponents guessing with the ability to drop shots from all over the court and the inexhaustible supply of riddles he declaims during commercial breaks.
7000 Coliseum Way
Oakland
California
510-383-4982
Today's Groupon tackles professional athletics, professional athletes, and sports hernias with a ticket to the final game of the Oakland Raiders' 2009–10 season for $26 (a $36 value). On Sunday, January 3, at 1:15 p.m., the team that once upset the entire steel industry of Pittsburgh and tamed Cincinnati's Panthera Tigris Tigris looks to end the season on a final high note against the Baltimore Ravens (featuring offensive tackle Michael Oher who is the inspiration for the The Blind Side). You'll be sitting in section 354 and have a $10 food voucher in hand.
7000 Coliseum Way
Oakland
California
US
Even before you climb inside, the GoCar is clearly a car with a personality. The petite, three-wheeled two-seater has a hood that slightly resembles an eager-to-please smiley face, and an open top that seems custom-made for letting the breeze ruffle your hair. Then the real fun begins: built with the company's own software and a compassion for the voiceless robots of America, a talking GPS system guides two-seater GoCars through the city streets of San Francisco, San Diego, Miami, Barcelona, Madrid, and Lisbon with cheerful, info-rich narration. Second only to having a knowledgeable local jog alongside your minivan, tours zip along at drivers' own pace and accommodate as many pit stops as time allows.
321 Mason St.
San Francisco
California
415-359-9299
---