Things to Do in Novato
---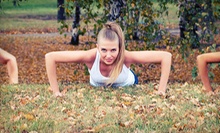 Certified personal trainer adjusts intense calisthenics, interval training and strength training exercises to suit clients of all abilities
---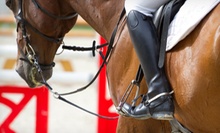 Students absorb horsemanship basics from decorated equestrian informed by more than 30 years of experience
---
Recommended Things to Do by Groupon Customers
---
Dave Johnson has been coaching golfers for over 20 years and through more than 40,000 lessons. His style is intuitive and all about connecting with the students. Enjoy the benefit of his deft professionalism during your two-hour golf lesson. Three different clinics are available for all skill levels, from high-level hobbyists to recent mini-golf graduates, and classes are capped at eight students to ensure personalized attention. Pick up multiple Groupons to attend multiple clinics.
2301 East Washington St.
Petaluma
California
Arjay Parker came to yoga as a result of an intervention to help her deal with stress in the workplace; Jefferson Parker started while seeking a way to heal his body from a crippling injury. In the practice of Bikram and Power yoga, they not only found what they were looking for, but they also found each other. Soon teamed as husband and wife, the duo trained directly with Bikram Choudhury and Baron Baptiste before deciding to open a dual yoga studio of their own. The newly christened Bikram Yoga San Rafael & Power Yoga San Rafael would boast two classrooms, each completely dedicated to one yogic form.
Today, the Parkers enlist the aid of other talented instructors they've met throughout the years to bend bodies with both kinds of yoga seven days a week. Their dedication has earned them Pacific Sun magazine's Best Yoga Studio award for five years running, as well as countless high-fives from their appreciative students.
1295 2nd St., Unit 200
San Rafael
California
415-453-9642
At Bay West Ballroom, students learn how to tango alongside their identical twin, whether they were actually born with one or not. The studio's eastern wall of mirrors stretches for 60 feet, ensuring that students' reflections are always visible as they spin on the sprung beech-wood floor. On the opposite side, windows admit sunlight and scenic views of the hills, creating an ethereal space where seasoned instructors demonstrate ballroom, Latin, and swing dance styles. Drawing from a diverse curriculum, these instructors cover a broad spectrum of disciplines that range from the cha-cha to the country two-step, encouraging practice in both the classroom and social settings. For example, lessons on popular salsa steps prepare pupils to spin at nightclubs, and wedding courses customize choreography to match a chosen song at elegant receptions.
Directors Mark and Andrea Nelson-Novak have both earned championship titles, and Andrea draws on a degree in biology to better inform her protégés on anatomy, movement, and the location of the body's rhythm glands. The pair enlists other experts—including US Country and Swing Champion Tony Gutsch and Grand National Latin Finalists Dima and Olga Sukachov—to helm specialized and regular classes. The team also hosts holiday parties each year.
1133 E Francisco Blvd.
San Rafael
California
---