Gyms & Fitness Centers in Novi
---
Gym & Fitness Center Deals
---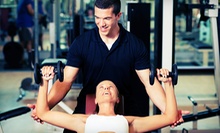 Unlimited access to cardio equipment and free weights complements personal-training sessions tailored to the clients' goals
---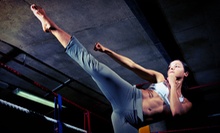 Instructors help students perfect their punching and kicking form before fusing the two kinds of strikes into devastating combos
---
Recommended Gyms & Fitness Centers by Groupon Customers
---
What began in 1975 as one inner-city gym in Highland Park, Michigan, has since evolved into a global health-club organization with locations in 17 different countries. Powerhouse Gym equips weightlifters and cardio bunnies alike with all they'll ever need to keep—or create—a tight and toned physique. The gym offers equipment outfitted with personal TVs as well as a cast of certified and knowledgeable personal trainers. Depending on location, members will also have access to group fitness classes, such as yoga, Zumba, and Les Mills BodyPump, as well as 24-7 turnkey access to the facility.
400 E Brown St.
Birmingham
Michigan
248-885-8909
Spanning across 3,000 square feet, deep-red hardwood floors give way to padded black floors, both spaces teeming with energetic exercisers and knowledgeable instructors. Students are led through a variety of group classes for all fitness levels, with high-energy cardio workouts to be found in the Zumba classes or coed kickboxing classes that pummel 20 hanging kickboxing bags. Other classes, such as Booty Buns, focus on sculpting specific muscle groups. A high-tech sound system blasts motivating tunes as guests work out in groups or at their own pace, using the free weights, Bosu balls, and step benches as tools for chiseling their physiques.
170 E Main St.
Northville
Michigan
248-924-2705
Fitness-minded visitors sweat their way through The Sports Club's more than 100,000 square feet of equipment, group exercise classes, and workout-enhancing amenities. Patrons who thrive on camaraderie can get energized during group classes in one of five practice rooms, and lone wolves can try their hands, limbs, and cores at weight machines by Cybex, Hammer Strength, and Life Fitness. Seventy cardiovascular machines fill the rest of the floor space, each equipped with a personal television that can play any home-brought DVDs, CDs, or flip books. During the warmer seasons, staff members uncover 2 of the 3 pools and 5 of the 14 indoor tennis courts, creating open-air recreational opportunities that earned the facility Hour Detroit magazine's_ award for Best Outdoor Tennis Court in 2008 and 2009. Employees can keep an eye on guests' youngsters in the childcare room, which brims with age-appropriate activities for toddlers and stuffed-animal focus groups.
6343 Farmington Rd.
West Bloomfield
Michigan
248-626-9880
Each day at Hines Park CrossFit, trainers lead students through a fresh Workout of the Day—or WOD—each of which focus on broad, varied, and functional fitness. Unlike the emperor's socks, workouts constantly change, but often entail exercises such as rowing, running, pull-ups, Olympic-style weight lifting, and gymnastics-inspired moves. By nature, the CrossFit regimen is broad and inclusive for practitioners of all size, age, and skill level.
7707 Ronda Dr.
Canton
Michigan
Comfort, convenience, and personal attention power Vital Performance Fitness, a 24-hour fitness studio owned by a friendly mother-daughter team. Here, calories melt and muscles ripple in a 3,000-square-foot studio equipped with fresh towels and free bottled water. Personal-training sessions teem with custom-built workouts and nutrition resources, which can help clients lose weight, build muscle tone, or enhance athletic performance. During group workouts, certified trainers guide up to three clients toward fitness goals with Power Plate machines and TRX equipment. TRX suspension straps gravity-powered bodyweight exercises that can be tailored to different levels of fitness. Power Plates' vibrating platforms help muscles contract 25–50 times per second, the frequency at which hummingbirds sneeze. As workouts wind down, the machines shift into massage mode, congratulating muscles on a job well done. Three recommended sessions a week can serve as a substitute for a regular exercise routine or a tumble inside a dryer.
29536 Northwestern Hwy.
Southfield
Michigan
248-327-7195
Renaissance ClubSport amplifies muscle-expanding potential with group classes in a 75,000-square-foot facility boasting top-notch weight-training and cardio equipment, an outdoor lap pool, and six indoor squash and racquetball courts. With an array of more than 110 classes held each week, ClubSport citizens can road race on the never-ending pavement in a cycling class or shake lead-lined maracas in Brazillian Booty Camp's strength-and-conditioning workout.
3617 W. Maple Road
Bloomfield Hills
Michigan
US
---