Restaurants in Oak Harbor
---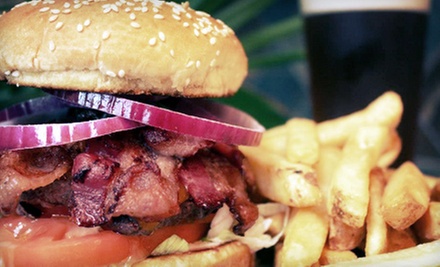 ---
Recommended Restaurants by Groupon Customers
---
Meals at The Spice Jammer come to your table in one of four ways: mild, medium, hot, or extra hot. True to its name, the restaurant won't skimp on the spice in its East African-style Indian cuisine, but it can also accommodate guests with more sensitive palates or irrational grudges against turmeric. The menu emphasizes home-style cooking methods, with chefs roasting meats in a traditional tandoori oven or simmering them in zesty gravies. Plates of prawns, chicken, and lamb follow openers of samosas or stuffed naan, and vegetarian curries pack equal amounts of flavour into meat-free morsels of spinach, peas, and potatoes. Inside the dining room, the leafy fronds of tall, decorative plants offset the warmth of red and cream-coloured walls.
852 Fort St.
Victoria
British Columbia
250-480-1055
For patrons bound for Steeples Bar and Grill, the experience begins before the restaurant comes into view. A scenic drive over the Malahat and through Goldstream Provincial Park offers a feast of vistas, and then the restaurant's steeple—an artifact of the restored church where it has taken up residence—peaks through the trees like a giant toddler playing hide-and-seek.
Beneath it, beams that were hand-hewn generations ago hint at present-day staff members' attention to detail. Amid casual, cozy surroundings including shuttered windows, guests dine on upscale dishes such as steak encrusted with black peppercorns, seared tuna, and creamy tarragon fettuccine replete with king prawns. The drink menu complements meals with daiquiris, martinis, and draft beers.
2744 E Shawnigan Lake Rd.
Shawnigan Lake
British Columbia
250-743-1887
When Jordan Brown took over the breakfast cart of a local diner in 2010, he couldn't help but notice that waffles sold like hotcakes. He spent the next few months creating his own batters, from regular and gluten-free waffles built with buckwheat to a sugar-free recipe that satisfied his diabetic diet. His creations were a hit, and within a few months, he was able to transition from a mobile business to a brick-and-mortar eatery, West Coast Waffles.
Adding local and organic ingredients to his batters, he's developed a menu of inventive waffles that fall into one of three categories: traditional real-fruit waffles coloured with clusters of raspberries and banana slices or cranberries and chocolate; sweet waffles that are decidedly decadent—the Yummy Gummy is decorated with gummy bears and whipped cream; and savoury waffles, including the Mexican Sunrise with scrambled eggs, spinach, salsa, and cheddar. Since the recipes defy the waffles-as-breakfast notion, the restaurant is open through dinner each night and until 2:30 a.m., Thursday–Saturday.
1235 Broad St.
Victoria
British Columbia
Mad Magazine's freckled mascot, Alfred E. Neuman, once said: "We are living in a world today where lemonade is made from artificial flavours and furniture polish is made from real lemons." This quote can be read at the top of Sauce Restaurant and Lounge's menu, whose many dishes, which span small and large plates meant for sharing, serve as evidence of the eatery's commitment to serving natural, seasonal ingredients from local sources. The evening tapas menu hits every major food group: startch, beef, veggies, poultry, and seafood. Guests share bites of phyllo wrapped brie and a bistro chicken sandwich, which stars the poultry of island farmouse in cowichan bay. The kitchen also prepares brunch every Sunday, fortified by steaming mugs of Oughtred Coffee.
1245 Wharf St.
Victoria
British Columbia
250-382-8662
Sporting the half-timbered siding and narrow windows of the traditional English Tudor style, the Tudor House Pub provides a nostalgic neighbourhood meeting place for diners and revellers. The kitchen staff concocts traditional English and Scottish recipes, which grace tables alongside dishes with American, Thai, and Japanese influences in an eclectic mélange as multicultural as the contents of the U.N.'s vending machines. Traditional pub snacks sate small appetites, and dishes containing high-profile ingredients such as AAA sirloin beef assuage more persistent hunger pangs. Sports games regularly grace TVs, and the pub's space hosts live DJs on Wednesday and Friday nights, free-for-all karaoke on Thursday, and live bands playing varied musical genres on Saturdays. Tudor House Pub's adjacent licensed liquor store stocks bottles of spirits and grants discounts to active and retired military members.
533 Admirals Rd.
Victoria
British Columbia
250-382-5625
Situated inside the Travelodge Duncan, Sequoia Kitchen + Buffet satisfies families of travellers and locals alike with a menu of elegant comfort foods. Chefs wield a gourmet touch when creating such dishes as lobster mac 'n' cheese or pulled-pork sandwiches cut into the shape of a giant truffle. The kitchen also serves breakfast daily and sets out lunch, dinner, and Sunday brunch buffets that feature 14 hot dishes, two soups, and a salad and dessert bar.
140 Trans Canada Hwy.
Duncan
British Columbia
---