Concerts & Events in Oak Hills
---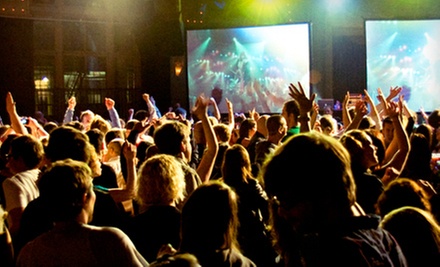 ---
Recommended Concerts & Events by Groupon Customers
---
Hosted by the Rose City Rollers, who dubbed it the Bridgetown Brawl, the 2011 Western Regional Tournament for all-female, flat-track roller derby sends the top three leagues to the WFTDA championships. The ninth bout caps Saturday's brawl bracket with a one-hour avalanche of speeding limbs, determining a contender for the tournament's championship round and, ultimately, WFTDA's domination of every doll-parts factory in the world. Like a turf war on skates, these ferocious femmes use their concrete-inspired blocking skills to get the team's lead jammer from the back to the front of the pack, evading elbow thrusts, hip checks, and both literal and metaphorical clotheslines.
300 N Winning Way
Portland
Oregon
US
Today's side deal gets your feet rolling on a long-deferred New Year's resolution: for $40, you enroll in a half-marathon training course at Foot Traffic University ($85 value). Training begins at 8 a.m. on Saturday, January 30, at the Northeast Foot Traffic store for runners and walkers committed to participating in the Foot Traffic Flat Half Marathon. Weekly meetings vary throughout Lake Oswego, Downtown Portland, and Northeast Portland. Along with a 10% discount at any of Foot Traffic's stores, you'll get $15 off admission to the race itself (up to $60 fee).
4020 NE Fremont St.
Portland
Oregon
US
1219 SW Park Ave.
Portland
Oregon
The "From Darkness to Light" program presents a somber yet sonorous journey from the darkness of Gregori Frid's The Diary of Anne Frank to the luminous heights of Beethoven's soaring Seventh Symphony. Soprano Ani Maldjian takes the tragic titular role, accompanied by the Portland Symphonic Girlchoir and a special screening of Shelley Jordon's hand-painted animation Anita's Journey. Friday's performance takes place at Hillsboro's Venetian Theatre and Bistro, where live music and theater are a constant inspiration to the gondola-steering waitstaff. Tying into the eighth grade's current curriculum, Saturday and Sunday's shows are hosted at the Catlin Gabel School.
253 East Main Street
Hillsboro
Oregon
Today's side deal gives the human ear three opportunities to experience contemporary musical compositions presented by Cascadia Composers for $10. The three-day nonprofit festival takes place on Wednesday, March 10, at Sherman Clay and Moe's Pianos and March 11 and 12 at The Old Church as the works of more than 25 national musical minds are performed by the unflappable fEARnoMUSIC contemporary music ensemble and a series of lectures are given by composers.
1422 SW 11th Ave.
Portland
Oregon
Buy here for Thursday, April 8, at 7:05 p.m. vs. the Sacramento River Cats.Buy here for Friday, April 9, at 7:05 p.m. vs. the Sacramento River Cats.
1844 SW Morrison Street
Portland
Oregon
---