Restaurants in Oak Park
---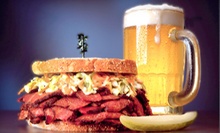 Irish & American pub fare such as egg-roll-style Reubens, pulled-pork sandwiches & shepherd's pie served alongside beer & cocktails
Use Tuesday 1:00pm - 5:00pm
---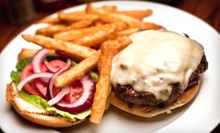 Irish suds & traditional pub grub sail across 140-year old mahogany bar in Irish pub evoking owner's boyhood in Belfast
Use Wednesday 5:00pm - 7:00pm
---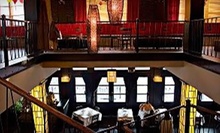 Opulent, two-level lounge indulges tastebuds with minimalist Chinese cuisine & sleek martinis.
Use Monday 11:00am - 5:00pm
---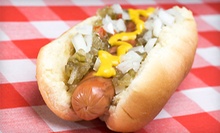 Skilled grillers pile relish, onions, tomato wedges, peppers, celery salt, pickles & mustard upon juicy Vienna Beef hot dogs
Use Tuesday 5:00pm - 7:00pm
---
---
Recommended Restaurants by Groupon Customers
---
Behind the waterfront restaurant's brushed-metal façade, a tempting bill of fare enraptures taste buds with gourmet burgers and wraps, fresh seafood, and shareable appetizers. During warm months, diners lounge upon the open-air patio, gazing across the stone-clad banks of the Chicago River while canvassing passing seagulls for fish recommendations. Inside, a warmly lit spread of sleek polished woods, slate walls, and cityscape vistas frames meals with an elegant, cosmopolitan touch. An impressive beer and cocktail list accompanies mouthwatering finger foods or main plates of pasta, while burgers satisfy appetites and consciences with sustainable and hormone-free beef from Niman Ranch.
100 South Wacker Drive
Chicago
Illinois
312-546-6177
Perched on Michigan Avenue, Sweetwater Tavern and Grille's expansive windows draw diners into a cozy interior lined with exposed brick, high ceilings, and deep leather booths. More than 70 craft-brewed beers lubricate social interactions, including local favorites such as Goose Island, Two Brothers, and Al Capone's Empty Safe. Sweetwater's menu of upscale tavern fare includes salads, sandwiches, and entrees, including what CBS named one of Chicago's Best Build-Your-Own Burgers in 2010, made with 100 percent sustainable Niman Ranch beef. On Saturdays and Sundays, servers dish out a delectable brunch menu, which includes a bloody mary bar and tasty twists on traditional favorites. Twenty-three flat-screen televisions captivate observers, and an outdoor patio in spring and summer enable the wait staff to thank diners with impromptu victory pyramids.
225 North Michigan Avenue
Chicago
Illinois
312-698-7111
Located in a historic brick building in Little Italy, Hawkeye's Bar & Grill is a casual locale where neighborhood folks and UIC pupils gather to wet their whistles, nosh on a menu of comfort fare, and absorb local spectator sports in high definition. Diners sup on Black Angus burgers, chicken pot pie, and signature meatloaf while gazing at more than 20 HDTVs that broadcast Bears, Hawks, and Bulls games, as well as UFC fights and competitive hopscotch matches. Hawkeye's event shuttle ferries fans to select home games and concerts for a modest fee, and the bar's free parking lot spares personal vehicles from facing arena traffic. DJs fill ears with music and inspire legs to dance, and the outdoor sidewalk café serves warm sunshine chasers in the summer months.
1458 West Taylor Street
Chicago
Illinois
312-226-3951
Born of a desire to provide healthy, upscale alternatives to traditional fast food, Flavor 180 centers its quick-service cuisine on turkey-based dishes that incorporate fresh ingredients and 100% extra-virgin olive oil. Divided into two factions, the menu offsets its Nice section of turkey dogs and grilled fish with a Naughty branch laden with catfish nuggets and jerk-chicken tacos. Track lighting spills over vivid red walls in the eatery's interior, where the glow of a wall-mounted flat-screen TV glints off glasses of wine and beer and the bodies of off-duty RoboCops.
1511 South State Street
Chicago
Illinois
312-291-0800
With today's Groupon, $5 gets you $10 worth of fresh salads, calzones, and veggie-stuffed bread pockets at Pockets. With 14 locations in the Chicago area, you're sure to find a Pockets near your home, work, or favorite mailbox. Because Pockets is a healthy, tasty alternative to other quick bites, this Groupon is perfect for workweek lunches or a light dinner when you're pressed for time. Follow @Groupon_Says on Twitter.
205 East Ohio Street
Chicago
Illinois
312-923-9898
For more than 60 years, the staff at Joe Boston's Italian Beef has piled buns with thinly sliced morsels of slow-cooked beef. Featured on America's Best Bites, the eatery has drawn praise for its italian-beef-and-sausage-combo sandwich, whose recipe hasn't changed since its inception in the Jurassic period. To achieve tender, juicy meats, the beef professionals control every step of the process onsite: they trim fat from hunks of raw meat before roasting them for hours in a medley of oregano, onions, and savory juices. They then slice the beef into paper-thin sheets that get piled onto crusty italian rolls or sewn together as pages for books of poems.
2932 West Chicago Avenue
Chicago
Illinois
773-486-9536
---