Schools & Tutors in Oak Park
---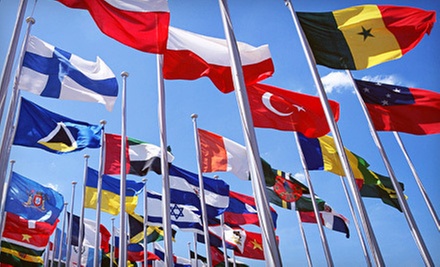 ---
Recommended Schools & Tutors by Groupon Customers
---
Chicago School of Thai Massage co-founders Paul Fowler and Paul Weitz lead a band of experienced instructors to impart the ancient art of Thai massage in accessible, friendly classes. Skills acquired during the school's six-month diploma program—the first steps toward becoming a registered therapist—give students a solid boost into the healing, compassion-driven realm of Thai theory. To further hone movements, the massagery also leads annual expeditions into the heart of Thailand for expert instruction and a solemn high-five from a traditional Thai healer. CSTM puts its skills to work during massage sessions, which patrons can request from students, graduates, or the directors themselves.
2528 West Armitage Avenue
Chicago
Illinois
312-361-0034
On a trip to Chicago from his native Italy, young Mario Tricoci changed his life forever. The fledgling hairdresser stopped in at a prestigious salon, where he impressed the owner with his impeccable display of skill and landed himself a job. The next six decades brought strings of industry awards and the opening of his very own salon, which soon exploded into 26 locations in four states. With his styling prowess proven both to the industry and to the clients he encountered each day, the coiffeur decided to share his gift with others. In 2004, he established Tricoci University to foster a new generation of cosmetologists and spa technicians trained to thrive in the luxury-spa industry.
Throughout the Midwest, Tricoci protégés study a rigorous curriculum in high-end salon and spa surroundings to learn how to create beautiful hairdos, choose skin-flattering cosmetics, and beautify nails and skin. A team of experienced industry professionals readies pupils for the beauty world with in-depth classes, and outside education arrives via video demonstrations and guest-artist lectures on Vidal Sassoon's Wedge-Bob Postulate. More advanced students get a preview of their career to come by beautifying real people during instructor-supervised treatments, which lend the stylist essential experience as the client enjoys a pampering session at a discounted rate.
5321 North Harlem Avenue
Chicago
Illinois
773-467-1900
By combining thorough education services with modern technology, Babbel's interactive learning tools help students speak a second language by connecting with potential friends and business contacts across the globe. Babbel offers programs for 11 languages, including French, Brazilian Portuguese, Swedish, German, and Spanish, with integrated speech-recognition tools and review managers that adjust exercises according to each learner's progress. The online lessons can be accessed from home computers. Babbel's Web-based software also connects users to an online community of learners and native speakers who offer assistance by chatting with users, commenting on writing exercises, and posting obituaries for dead languages.
600 W Chicago Ave.
Chicago
Illinois
When training for your dream job, all too often the gap between learning and doing is interminably large. In its venture with Robert De Niro's global media company Tribeca Enterprises, Tribeca Flashpoint Media Arts Academy is able to close that gap by immersing students in the actual experiences they'll face in the professional arena. The academy's intensive two-year program is helmed by seasoned educators and real media industry professionals who expose students to real-world tasks and industry-standard equipment from their very first semester on campus. The ACICS-accredited college splits its programs among five basic fields: Film + Broadcast, Recording Arts, Animation + Visual Effects, Game + Interactive Media, and Design + Visual Communication. The school continually updates each unique curriculum to ensure students are up-to-date when it comes to the frequently changing tools, demands, and handshake conventions of the workplace.
The institution also organizes peripheral classes and camps for high school students interested in film, studio recording, animation, video game design, or graphic design. Seasoned instructors give burgeoning media gurus fun, yet practical, hands-on experience and the opportunity to work with the latest technologies in their field of interest.
28 N Clark St. , Suite 500
Chicago
Illinois
312-506-0646
A student of Native American, Peruvian, and Siberian shaman traditions, Rhonda Day-Kooy spreads her passion for medicinal plants through the green products, classes, and events offered at Blue Feather. Some of Day-Kooy's customers come to the botanical boutique for aromatherapy certification, and others stop in to purchase eco-friendly skincare products by Babo Botanicals and whimsically flammable wares from Flying Wish Paper. In the Healing Hut, Rhonda and her therapists lead spiritual therapies, including guided meditation, chakra balancing, and foot-based reflexology treatments.
19 West Harris Avenue
LaGrange
Illinois
708-352-8481
---