Things to Do in Oak Park
---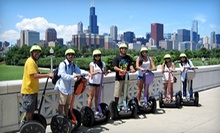 Segways roll past Chicago's famed sites such as Soldier Field, Buckingham Fountain, and Grant Park
Use Today 8:30am - 2:30pm
---
Recommended Things to Do by Groupon Customers
---
3627 N Sheffield Ave.
Chicago
Illinois
US
Creativity, collaboration, and carbs. The owners of Bespoke Cuisine advocate all three. According to their company manifesto, they also believe "eating well is a life skill," "a little fat never hurt anyone," and "anyone can cook delicious food." The staff expounds on these and other company principles at public and private cooking parties, which give visitors a glimpse inside Bespoke's commercial kitchen on Randolph Street's Restaurant Row without stowing away in a gravy vat. During these BYOB events, chefs help guests construct their own meals and teach basic cooking skills before the group retires to the dining room to eat the fruits of their labor. For those who prefer a hands-off experience, Bespoke also caters events or hosts them in a chic private-event space.
1358 W Randolph St.
Chicago
Illinois
Peering directly over Wrigley Field's right-center-field wall, 3639 Wrigley Rooftop unites Cubs baseball with stunning views of the historic diamond and refreshments. Rather than resorting to such desperate measures as donning a ghillie suit and hiding in the outfield ivy, fans can kick back in comfy stadium-style seats and enjoy the action from high above Sheffield Avenue.
3639 Wrigley Rooftop's multilevel facility, located between the foul poles, is fully stocked with 40 high-definition TVs. During the game, burgers and brats hit the sweet spot from a loaded menu that also features desserts and soft drinks. An elevator ferries guests among the three levels, and two large, open-air decks and a climate-controlled clubroom help mitigate Chicago's alternating five-minute heat waves and blizzards.
3639 N Sheffield Ave.
Chicago
Illinois
312-382-9100
Use today's Groupon for a "try 'n' buy": attend a wine tasting and sample six wines (normally $12), decide on a favorite, then purchase a bottle (normally $17). Or skip the tasting and simply put your Groupon toward wine. Vintner's offers a broad selection of wines in all colors of the winebow to perfectly suit your moods and needs:
2048 W Belmont Ave.
Chicago
Illinois
US
From the first televised presidential debates between Kennedy and Nixon to Neil Armstrong using his smartphone to check-in at the moon, some of society's most formative moments are products of major advances in communication technology. In its collection of nearly 100,000 hours of digitized television and radio broadcasts and more than 1,800 artifacts—including the camera that broadcast the Kennedy-Nixon debate—the Museum of Broadcast Communications immortalizes the progression of media formats and their place in history. Besides historic newsreels and pivotal artifacts, the museum's curators have equally embraced the light-hearted side of communications, with collections of puppets and props from classic children's television shows and a compendium of television commercials dating back 60 years. Those who grew up in the Chicagoland area will recognize artifacts from locally filmed WGN programs such as Bozo's Circus and Garfield Goose and Friends. Several characters from The Ray Ranyer Show spark fond memories, most notably his beloved canine puppet, Cuddly Dudley. Additionally, a compendium of television commercials dating back 60 years.
Elsewhere, a 17-foot tall neon and steel media tower makes for great King Kong reenactments, and features 36 monitors as well as vintage control room equipment. The interactivity continues in the television studio, where visitors can tape their own newscasts. While museum guests are free to explore permanent exhibits in the National Radio Hall of Fame, which houses artifacts from The Jack Benny Program and the original ventriloquist dummies from The Charlie McCarthy Show, they're also encouraged to check out new summer exhibits such as The Life & Times of Gary Coleman.
360 N State St.
Chicago
Illinois
US
312-245-8200
---