Shopping in Oak Park
---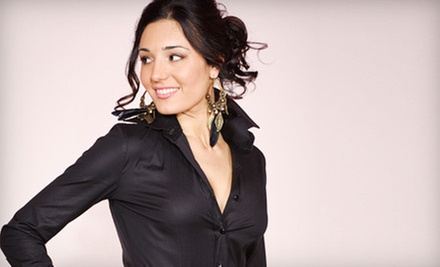 ---
Recommended Shopping by Groupon Customers
---
Though Data Center has been around for nearly a decade, its pristine new location on Telegraph Road feels like it was opened yesterday. Staff members stock shelves with an epic selection of hardware and software for PCs and draw upon 20 years of experience as they stay ahead of every twist, turn, and barrel-tossing ape on the information superhighway. Server parts and accessories fortify desktops and laptops, and the Center's certified techs can purge hard drives of harmful viruses and malware and retrieve lost files from the far reaches of a malfunctioning motherboard or tightfisted HAL 9000. Active Solutions Group, the parent company of Data Center, specializes in IT solutions for businesses, including network cabling, workflow processing, and security.
410 N Telegraph Rd.
Dearborn
Michigan
Modern Skate & Surf's alternative-sports shop was founded in 1979 and has since hosted events frequented by Olympic and professional athletes—including superstar Tony Hawk—as well as earned a feature as Best Snowboard Shop in 2012 from Real Detroit Weekly. In Modern Skate Park's world-class, 60,000-square-foot Royal Oak skate park—one of the largest facilities of its kind in the US—skateboards grind across rails or glide over jumps, and inline skaters whiz over obstacles and BMX bikes hang in midair. Customers can build on their extreme-sports skills in clinics and lessons or rent out the facility for parties or high-speed chases. Committed to supporting the next generation of extreme athletes, Modern Skate Park offers discounts to students who bring in report cards sporting A's and B's.
In addition to the skate park, Modern Skate & Surf also maintains a East Lansing store that stocks snowboarding, skateboarding, wakeboarding, skating, and protective gear to facilitate exciting adventures.
29862 Woodward Ave.
Royal Oak
Michigan
248-545-5700
In business for 35 years, G&G Jewellery and Coins stocks a vast inventory of new and pre-owned jewellery, luxury and vintage watches, and precious metals in the form of coins or bullion. Shoppers can adorn ears, wrists, fingers, and necklines with baubles crafted from 10k-24k gold, silver, diamonds, and gemstones. The company's jewelers also appraise patrons' coin collections, resize rings, and repair watches and jewellery.
28 University Ave. E
Windsor
Ontario
519-256-0712
The daring design duo of Michael Byzewski and Dan Ibarra creates meticulous screen-printed posters. Utilizing their mastery of the three key senses—sight, touch and paper-cut evasion—the crafty companions fabricate award-winning designs that garner attention from publications such as Rolling Stone and Print magazine. Their mutual appreciation of music and design has propelled their poster-making prowess and allowed them the opportunity to create posters for acts such as Josh Ritter ($10+), The Decemberists ($30), and The Dead Weather ($25+). Supply dull walls with interesting conversation points with a poster from Surlyfest 2010 ($20) or the Fifth Annual No Coast Craft-O-Rama ($20), or show affection for the second dimension with a Flatstock 12 poster ($20).
30405 12 MILE ROAD
FARMINGTON HILLS
Michigan
US
248-888-9700
Featured on ESPN, MTV, the Today Show, and numerous other media outlets, Fathead's high-definition images of athletes, team logos, mascots, and stadiums turn vertical surfaces into full-fledged fan meccas. Unlike posters or framed photographs, the images' high-grade tear- and fade-resistant vinyl adheres directly to the wall without the need for nails or tape. The low-tack adhesive that backs each Fathead makes it easy to remove and relocate stars such as Tom Brady to any smooth surface, allowing his likeness to infuse game rooms with playoff excitement or act as a scarecrow during troublesome Baltimore Raven infestations. The store's stock even goes beyond athletics, as Fatheads of musicians, cartoon characters, and artistic images add personalized flair to kids' rooms or living areas.
Attn: Accounts Receivable Fathead LLC 1046 Woodward Avenue
Detroit
Michigan
US
---