Oak Ridge, FL Health and Fitness
---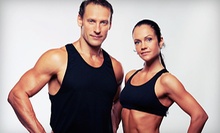 Exercisers use suspension trainers and their own bodyweight to practice resistance and stability training while toning their entire bodies
Use Wednesday 9:15am - 12:15pm
---
Recommended Health & Fitness by Groupon Customers
---
[[m:####Nova Cosmetic Center
"The ability to change one's self-esteem and life is one of the main reasons I enjoy being a plastic surgeon," says Dr. Jan V. Karlin, medical supervisor at Nova Cosmetic Center. "There is nothing better than seeing the smile on my patients' faces when they come in for office surgery checkups." Dr. Karlin and his team elicit these satisfied grins with a full menu of cosmetic and reconstructive surgeries, as well as slimming and rejuvenating spa treatments. He regularly attends conferences and all-surgeon hoedowns to stay abreast of developments in the field, such as laser technologies, anti-aging hormones, and less invasive liposuction. All his safe aesthetic procedures are done with the goal of helping clients look beautiful and feel confident.:m]]
7600 Dr. Phillips Blvd., Suite 58
Orlando
Florida
US
407-226-0609
Helmed by Dr. Kenneth Pyle, a general and cosmetic dentist with a penchant for tooth technology, Orlando Dental Group keeps choppers healthy and helps them look their best. Scientific advances such as Invisalign tooth straightening and Cerec restorations bolster the clinic's service menu, which teems with furbishing options such as bonding and veneers. Caring technicians guide patients through routine cleanings, sharing oral-hygiene tips, and steering them toward educational videos on brushing, gum-disease prevention, and management of wisdom teeth. Digital x-rays minimize radiation as they search for cavities, and friendly schedulers makes appointment-setting easier than getting stuck in a puddle of quicksand. View some of Orlando Dental Group's FAQs here.
7221 Chancery Ln.
Orlando
Florida
407-855-0474
Act Now Wellness Center strives to create deep, permanent change by blending elements of Eastern and Western medicine. Licensed hypnotherapists journey into the subconscious to spur positive change, whereas nutritionists counsel clients on creating a healthier body and mind through a structured diet. The multidisciplinary center also empowers patients through self-defense training and heals physical pain through acupuncture, massage therapy, and bio-energetic healing.
2750 Taylor Avenue
Orlando
Florida
407-309-6104
Orlando Acupuncture's clinicians are all national-board certified and possess upward of 4,000 hours of training in traditional Chinese healing treatments. Specializing in a 2,500-year-old form of acupuncture, the staff targets ailments such as chronic pain, allergies, and digestive symptoms while customers relax on plush beds flanked by calm lighting and plant life. The acupuncturist sets to work stimulating the necessary pressure points through the use of hair-thin, sterile, disposable needles. Additionally, the well-versed clinicians supplement their services with nutrition advice, reign in maverick symptoms with laboratory-tested herbs, and loosen and recharge tight backs with therapeutic acupressure treatments that act as adequate stand-ins for a pair of AA batteries.
1890 Semoran Blvd., Suite 237
Winter Park
Florida
407-673-6700
---