Massage in Oak Ridge
---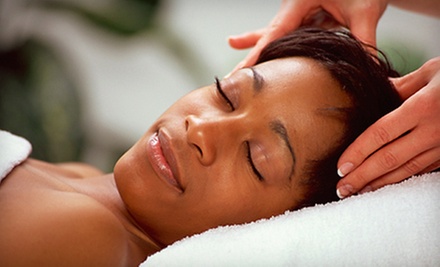 ---
Recommended Massage by Groupon Customers
---
Licensed massage therapist Dorothy Mallett has been soothing sore backs for long enough to understand that no two are the same. In order to heal the wide range of ailments she confronts on a daily basis, she integrates several ancient massage techniques into her sessions. Though her targeted strokes are effective enough on their own, Dorothy often enhances them with warm oils and creams, hot stones, and moist heat to melt away tension and prevent friction. Massages aren't the only spa treatments she has mastered. Her organic facials tend to skin above the shoulders by removing oil from pores and embarrassing traces of mom's lipstick from cheeks.
311 Maitland Ave.
Altamonte Springs
Florida
Jai Michael Barry's massages are as relaxing as the new-age music he loves to create. That's because the founder of Ancient Art Massage & Bodywork, who has recorded three albums and played numerous benefit concerts in his other life as a songwriter, gets the little details right: the massages take place on heated tables and incorporate treatments ranging from ayurvedic aromatherapy to egyptian ear candling. It's also because his repertoire is so broad. Jai can spend a session relieving stress with Swedish techniques, treating head and back pain with craniosacral therapy, or manipulating the body's energy with reiki. He also leads meditation sessions on the night of each full moon.
515 E State Rd. 436, Suite 1018
Casselberry
Florida
321-438-3726
If the body is an instrument, then Doctor Albertina Logan is a professional tuner of corporeal pegs. With a background in chiropractic and massage, her office treats areas of chronic pain and tension, marrying a medical understanding of anatomy with alternative medicinal approaches. She believes that prevention is the best medicine when it comes to injuries, so she provides education to help patients understand their bodies both through her website and her Outreach Program.
11364 S Orange Blossom Trail
Orlando
Florida
US
407-240-0606
Leveraging a collective average of more than 15 years of experience, the licensed and certified massage therapists at Altamonte Springs Massage tend to all manner of sore muscles and soft-tissue maladies. To begin each session, the staff listens to clients' needs and pairs them with the therapist best qualified to treat their conditions. The therapists then blend a variety of techniques—Swedish, deep-tissue, trigger-point, sports, and neuromuscular massage—to provide relief that's otherwise unattainable from a single modality or a series of slap fights.
702 Grandview Avenue
Altamonte Springs
Florida
407-312-9295
Gio Sport Massage's therapist Sergio Rivero calls on a full arsenal of tools to help him during massages, from aromatherapy scents and bamboo sticks to hot and cold stones and honey. The massage strokes themselves blend conventional and holistic approaches as a Swedish massage's gliding motions deliver deep relaxation, and reflexology's manipulation of the soles of feet target the traditional pressure points of eastern healing.
Sessions take place both in Gio Sport Massage's office and on location, recreating a spa atmosphere in homes, offices, and hotel rooms. Corporate massages take place in the specially designed chair that Gio brings along to workplaces, giving workers a break from the day-to-day grind of tapping out emails and screaming into Dictaphones.
16135 State Hwy. 50, Suite 204
Clermont
Florida
407-459-0002
A Healing Massage Room's Leslie Heinricher goes where she is needed. Some days, she whisks to an injury clinic to assist car-accident victims; others, she appears at spas, robed in the aromatic mist of essential oils. Leslie wards off pain and suffering with therapeutic strokes honed at the Florida School of Massage. Her Swedish massages fight tension with gentle taps and circular motions that dislodge knots and boost blood flow. She custom-blends soothing techniques including neuromuscular therapy and myofascial release to ease pains associated with whiplash, sports injuries, carpal tunnel syndrome, and other ailments. Leslie also specializes in energy treatments such as reiki and polarity therapy, which clear blockages and toll booths interfering with the body's energy pathways.
2901 Curry Ford Rd., Ste. 2
Orlando
Florida
321-652-3693
---