Nightlife in Oak Ridge
---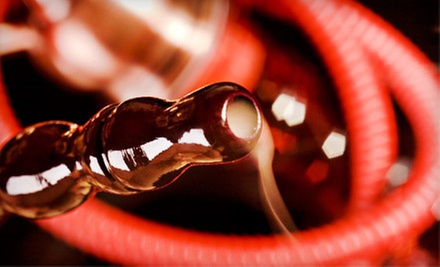 ---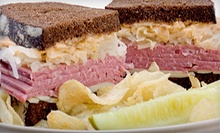 Traditional pub grub and liquid libations are served inside an Irish-inspired pub or outdoors on an expansive patio
---
Recommended Nightlife by Groupon Customers
---
As Tommy, one of Howl at the Moon's piano players, explains on the club's website, "Every night…we try and throw a party, regardless of whether it's a Tuesday night or a Saturday night." The bar's trademark dueling pianos serve as the epicenter of these nightly celebrations; patrons submit their favorite songs on slips of paper for the pianists and backing musicians to recreate. If the website's playlist is any indication, the bands can handle popular songs from all genres and eras, from Bon Jovi's "Livin' on a Prayer" to Kanye West's "All of the Lights." The performances are spirited: colorful lights splash upon a stage where servers, guests, and chairs that have somehow developed mobility all dance along to the music.
Fueling the celebration is the bar's indulgent selection of drinks. Servers stand over patrons to plunge jello injectors into their mouths, and revelers grab colorful straws to help drain 86-ounce booze buckets filled with sangria or other fruity libations. Pomegranate liqueur and honey-infused whiskey sweeten specialty cocktails, and local beers add depth to coolers stocked with Stella Artois and Dos Equis.
8815 International Dr.
Orlando
Florida
Corona Cigar Company welcomes all types of cigar lovers, from casual smokers to rolled tobacco connoisseurs to four-star generals in need of chomping sticks. The shop's friendly atmosphere encourages ample browsing, which is made easy by a stock of millions of premium in-store cigars that patrons can savor as they sit back, relax, and enjoy a rare spirit, cocktail, or glass of wine at the bar.
1130 Townpark Ave.
Lake Mary-Heathrow
Florida
407-333-3453
Beautiful waitresses clad in plaid mini kilts crisscross Tilted Kilt Pub & Eatery, hoisting trays of Celtic-themed pub fare as sports fans catch games on high-definition TVs. Almost a decade old, the Tilted Kilt franchise originated in Las Vegas, where restaurateur Mark DiMartino first conceived of a sports bar with Irish touches—an idea that has since spread across the country. Patrons can stay out late at the pub, spending the night sipping on beers while sampling burgers, fish 'n' chips, or shepherd's pie filled with beef and veggies. On a weekly basis, musicians enliven the already party-like atmosphere, strumming tunes or throwing up fistfuls of counterfeit money on the eatery's patio.
7653 International Dr.
Orlando
Florida
407-226-6886
When The Original First Turn Steakhouse opened in 1984, it was so close to the Daytona Speedway that diners could almost feel the breeze of the checkered flag as it signaled the end of a race. In those days, the Hilliard family's hand-cut steaks and chicken wings drew professional drivers and racing teams straight from the track. Though the Hilliards have since relocated their restaurant, they have maintained the same racing memorabilia, all-American menu, and regular customers—some of whom helped with the move by stuffing as many rib eyes as they could into the trunks of their stock cars.
If one of those drivers was to take a detour through the kitchen today, he would find chefs grilling USDA Black Angus steaks and coating wings in 12 different flavors of sauce, from mild honey barbecue to the so-called "suicide sauce." Diners seated on the sprawling 5,000-square-foot deck can order oysters from the raw bar and drinks from the tiki bar, raising their voices to be heard over the live bands that perform five nights a week.
5236 S Ridgewood Ave.
Port Orange
Florida
386-788-5434
Don't let the shepherd's pie, fish 'n' chips, and draft beers fool you. Though Tilted Kilt Pub & Eatery snatches up the best cultural fragments of Scotland, England, and the Emerald Isle, the eatery started in Las Vegas. Restaurateur Mark DiMartino sought to combine the communal, rousing feel of pubs in the British Isles with the campy fun of American sports bars, pairing hearty food and traditional trappings with televisions and waitresses clad in mini kilts and alluring plaid halter-tops modeled after William Wallace's eveningwear.
Since its founding, Tilted Kilt locations have popped up in 25 states and two Canadian provinces, serving all manner of hybrid dishes such as the Scottish cheese steak, the Sloppy Jane made with sliced turkey or shaved rib eye, and the Tilted Guilt, an ice-cream sundae perched atop a cookie.
11650 UNIVERSITY BLVD.
Orlando
Florida
US
407-781-5458
Conceived by Las Vegas restaurateur Mark DiMartino, Tilted Kilt Pub & Eatery evokes Ireland by way of Vegas, with waitresses dressed in plaid mini kilts shouldering trays of chilled beer and pub fare. Like an enchilada stuffed with four-leaf clovers, the eatery's Irish nachos interpret a south-of-the-border classic in a Celtic way, slathering potato chips in cheese sauce and seasoned ground beef; alternatively, pot roast and vegetables simmer traditionally in the Olde Dublin Irish stew's Guinness-infused beef stock. Barkeeps pour a full bar's worth of wine, cocktails, and beer, which surfaces in bottles, bombers, and multi-brew mixes such as the Blue Moon and Guinness combination. High-definition TVs glow with a ceaseless parade of professional and college baseball, basketball, and hockey, and live bands add to the entertainment smorgasbord on Friday and Saturday nights.
11650 UNIVERSITY BLVD.
Orlando
Florida
US
407-781-5458
---