Oak Ridge, FL Outdoor Activities
---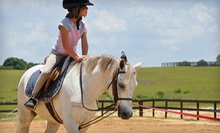 Accomplished instructors lead riders through 30 minutes of trots and jumps during this private lesson held amid 25 acres of scenic stables.
Use Friday 9:00am - 5:30pm
---
Recommended Outdoor Activities by Groupon Customers
---
During 29 years of drifting through the Florida skies, Orlando Balloon Rides had already amassed an impressive fleet of gargantuan flying inflatables when a new balloon arrived. The product of an ambitious factory in Spain, the newcomer holds more than 400,000 cubic feet of hot air and stands as tall as an 11-story building. Four times the size of the average hot air inflatable, it's among the most massive hot air balloons currently flown in the United States.
Now reigning as a popular vessel for the company's sunrise tours, the mammoth balloon can fly away with a basket of 24 passengers as it commands the skies, dwarfing most clouds and giving the Goodyear Blimp an identity crisis. From any of Orlando Balloon Rides' baskets, passengers take in high-altitude views of Walt Disney World and the city's skyline, sights visitors rarely get to see from above. Each of the company's hot air balloons is piloted by an FAA-certified pilot who also serves as a knowledgeable narrator of the scenery below.
6375 W Irlo Bronson Memorial Hwy.
Kissimmee
Florida
888-629-8459
During a round of golf in this region, it's not uncommon for players to see the occasional alligator sunning itself on the banks of a fairway pond. The same, however, cannot be said for miniature-golf courses, unless you're playing at Congo River Golf, where the civilized sinking of putts coexists with the visceral carnage of live-alligator feedings. More than 25 alligators wait for patrons to feed them morsels of gator food in an exhibit beside the course. Though the course offers no chance for an encounter with the ancient, scaly species, it enchants players with waterfalls, safari-themed artifacts, and towering rock faces. In addition, Congo River Golf encompasses an indoor arcade and a gemstone-mining station, where guests dig through dirt for fossils, arrowheads, and Neanderthal's kindergarten time capsules.
6312 International Dr.
Orlando
Florida
407-352-0042
Perched on the banks of the Intracoastal Waterway, Paddleboard New Smyrna Beach populates Florida's placid waves with professional-grade standup paddleboards and kayaks cared for by expert guides. Whether leading beginners' lessons in a protected lagoon or explaining the nuances of vehicle control before sending guests on a free-wheeling rental, the team prepares guests for jaunts around the waterway's palm-lined shores. Pushing off from the center's North Causeway dock, two-hour tours find the guides in their natural element, shepherding guests toward wildlife areas saturated with manatees, dolphins, and wrestlers practicing for the alligator bonus round at the next big meet.
Ollie Ave.
Winter Park
Florida
In 1963, lifelong friends Billy Long and Frank Scott Jr. uprooted themselves from their Virginia homes and plotted a 100-acre farm in central Florida. In the half-century since, as most independent farms have been sold to ruthless rabbits, Long & Scott Farms has stayed in the family, expanding to a prosperous 1,200 acres brimming with Zellwood sweet corn, pickled cucumbers, and cabbage. Each fall, the farm cultivates a new corn maze to complement a 60-foot slide, hayrides, and another maze made from more than 1,000 ligustrum trees. The farm's country cafe offers breakfast and lunch, and the nearby market and produce club feature locally grown produce as well as Long & Scott's own line of jellies, syrups, jams, and relishes.
26216 County Rd., 448A
Mt. Dora
Florida
---