Things to Do in Oak Ridge
---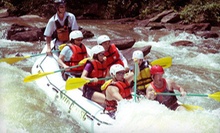 Guides lead rafts down Ocoee River on half-day adventures; rapids up to Class IV provide options for first-time and skilled rafters alike
---
Recommended Things to Do by Groupon Customers
---
Thirty-two lanes with electronic scoring conduct a thunderous symphony of crashing pins and cheers of victory at Oak Ridge Bowling Center. After completing frames, bowlers mingle in Spare Time Lounge to toss darts or watch sports on one of three LCD TVs. Hungry guests can grab a table and a burger at Ten Pin Grille, while gamers test hand-eye-coordination at billiards, skee ball, and air hockey tables in the arcade. Organized league play and private parties are offered as well.
246 S Illinois Ave.
Oak Ridge
Tennessee
At Wheat Union Station, volunteers restore and maintain the Southern Appalachia Railway Museum's four diesel engines. Authentically outfitted conductors and staff keep one shiny shoe firmly in the past as air-conditioned coach cars and an open-air baggage car rumble past Poplar Creek, Watts Bar Lake, and Highway 327. The museum conducts seasonal rides and theme rides, including dinner trains and murder mysteries. Secret City Scenic Excursion train rides chug along rail lines that stretch out from K-25, a site of World War II's Manhattan Project.
2010 Hwy. 58
Oak Ridge
Tennessee
865-241-2140
The Nantahala River rushes through Class II rapids and higher, but it also runs through the stories of the countless people who've dared its churning waters and tumbling falls. One such story centers on Steven and Sue, who met at a Hendersonville summer camp and soon fell in love with each other and the Smoky Mountain air. Eight years later, the Matzes sold off the trappings of corporate-Atlanta life and founded Adventurous Fast Rivers Rafting with their two children, four dogs, and more than a dozen wilderness-loving employees.
These instructors—certified in First Aid and CPR—ready groups for each guided or unguided exploration by teaching proper raft and boat control, as well as describing techniques for crew coordination. A hand-painted map points out routes through the Nantahala Gorge that avoid interview-hungry nature documentarians. Adventurers have just as many rafting options as routes, including Aire and Hyside self-bailing inflatable rafts, funyaks, sit-on-top Torrent kayaks, and traditional bucket rafts. After either disembarking at the riverside outpost—recognizable by the tree growing through its center—or preparing for a final plunge down the Nantahala Wesser Falls, river-farers dry off and examine photos taken during the plunge down the Falls. The outdoor picnic area's park-style charcoal grills make it easy to throw a post-river barbecue.
14690 Hwy. 19W
Bryson City
North Carolina
The energetic pastors and staff at Friendship Church seek to help others discover their spiritual faith in an atmosphere reminiscent of a nondenominational church. They reach out to community members of all ages through youth and adult ministries and small discussion groups, constantly working to place theological debates within a modern context. For nearly a decade, they've augmented their main mission with a range of summer camps for children of all ages. Staffers of the church's tech camps, which build appreciation for the outdoors and technology more effectively than challenging a bear to a game of Super Mario Bros., educate children through the use of robotics, video production, and video games and immerse them in outdoor games and activities such as waterslides and trampolines. They also hold competitive gaming weekends for all experience levels.
8307 Ball Camp Pike
Knoxville
Tennessee
865-693-1031
In 2003, longtime friends Joe Hornsby and Lisa Moore opened Liza Moz' Pottery Studio—the name adapted from a nicknamed bestowed on Lisa by her family. Lisa has since passed the business on to Joe solely, and creativity continues to flourish under his direction. Joe keeps the shop stocked with a variety of unfinished bisque ceramics cast into animal shapes, tiles, plates, and mugs, each available to be painted by visiting artists. After choosing a piece to work on, visitors may paint freehand or find inspiration by consulting the shop's library of stencil collections and idea books. Artists then sketch their designs and paint their pottery with a choice of more than 50 hues. The studio's instructors also guide students through other artistic projects beyond ceramics, such as painting canvases, tiling mosaics, and making candles. Groups holding parties can bring their own snacks and drinks to the studio, and summer camp sessions guide children through creative projects with clay, glass, or paint.
7600 Kingston Pike, Suite 1456
Knoxville
Tennessee
865-531-7329
The noble squires at Sir Goony's Family Fun Center engineer amusement with a sprawling facility dedicated to outdoor recreation. Towering, inflatable slides draw guests' eyes upward at the splash zone, where voyagers shatter the sound barrier in a near-vertical plunge before braking softly in a pool of water mixed with the joyful tears of Isaac Newton's supporters. An enclave of absurd obstacles—including a professorial owl and an irate tree—await to disrupt putts at the Center's two 18-hole miniature-golf courses, which runs alongside scenic water features and other cheerful decor. At Sir Goony's 800-foot go-kart track, racers hug the tire-cushioned rails, weaving in and out of fellow drivers in single or tandem karts. Guests can soothe itchy trigger fingers and don their favorite pair of sequined protective goggles at the paintball course, which promotes fast-paced action with a relatively open field populated by inflatable obstacles that supply minimal cover.
10925 Kingston Pike
Knoxville
Tennessee
855-675-3262
---