Things to Do in Oak Ridge
---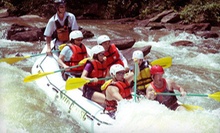 Guides lead rafts down Ocoee River on half-day adventures; rapids up to Class IV provide options for first-time and skilled rafters alike
---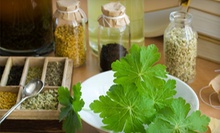 Demo classes teach students how to create all-natural beauty products and herbal health remedies or growing and using herbs in the kitchen
---
Recommended Things to Do by Groupon Customers
---
After its construction in 1928 as a grand movie palace in the Spanish-Moorish style, the Tennessee Theatre gradually fell into disrepair, its ceiling cracking and its colors fading. A $23.5 million renovation completed in 2005 restored the venue to its Roaring Twenties glory, starting with a complete repainting that restored the rich reds and golds of the proscenium, the baby blue of the ceiling, and the original '20s graffiti in the alley that reads, "Talkies are a fad." Grand chandeliers cast glittering light across the lobby and the meticulously restored, burgundy velvet seating cradles showgoers in downy comfort. Filling the space with a wall of pipe-produced sound, the 17-rank Mighty Wurlitzer pipe organ that acts as the theater's centerpiece stands at the ready, recently disassembled, refurbished, and restored it to its wall-shaking prime.
612 E Depot Ave.
Knoxville
Tennessee
Larry Schmittou, a renowned minor-league coach, executive, and overall baseball legend, traded diamonds for lanes to become president and co-owner of Strike & Spare Family Entertainment. Bowlers, gamers, and bar-goers can convene at locations across four states, each booming with the thundering sound of balls clashing against pins and confused children tap-dancing down the alley. The center is open 365 days per year, with lights and music enticing adults into the bar for a drink or snack, all while the arcade's bells and whistles distract young ones until the lanes close. A bowling-rewards card incentivizes trips to the alley with credits for future purchases.
213 Hayfield Ln.
Knoxville
Tennessee
A man runs through the forest, pausing briefly to take in his surroundings: rolling mountains and verdant trees as far as the eye can see. Suddenly, a twig cracks, breaking the silence, and the pristine view dissolves within a cloud of paint. The game is over.
At its outpost within the mountains, Smoky Mountain Paintball has converted the area's natural terrain into outdoor paintball fields. Here, players weave between trees and peak over walls in search of enemy combatants. The simulated battlefields are also a strategist's dream; referees take requests, and will set up almost any type of game provided that players adhere to the rules and don't require a human-sized chessboard.
Away from the colorful warzone, a pro shop brims with camouflage and Tippmann markers, In addition to paint-fueled grudge matches, combatants can also settle scores with Smoky Mountain Paintball's expanded arsenal of Airsoft and laser-tag battles.
12240 Chapman Hwy. 441/411
Seymour
Tennessee
865-577-7074
Two miles might seem like a negligible distance when you're driving a car. But when you're skydiving from two miles above the earth, you relish every foot that separates you from the ground. As the only safety net for their patrons, Skydive East Tennessee's licensed instructors escort divers up to 11,000 feet into the sky, where they enjoy aerial views of the Smoky Mountains, make white beards out of fluffy clouds, and embark on 45-second freefalls. Before ever stepping foot into the company's aircraft, the seasoned staff goes over all the details of the trip, ensuring jumpers know exactly what to expect as they leap from the plane and finish their fall with a scenic 5-minute parachute ride. A camera crew can document the whole experience, from the instruction period to the landing, and assembles the footage into a keepsake DVD set to music.
1542 W Dumplin Valley Rd.
Dandridge
Tennessee
In 2003, longtime friends Joe Hornsby and Lisa Moore opened Liza Moz' Pottery Studio—the name adapted from a nicknamed bestowed on Lisa by her family. Lisa has since passed the business on to Joe solely, and creativity continues to flourish under his direction. Joe keeps the shop stocked with a variety of unfinished bisque ceramics cast into animal shapes, tiles, plates, and mugs, each available to be painted by visiting artists. After choosing a piece to work on, visitors may paint freehand or find inspiration by consulting the shop's library of stencil collections and idea books. Artists then sketch their designs and paint their pottery with a choice of more than 50 hues. The studio's instructors also guide students through other artistic projects beyond ceramics, such as painting canvases, tiling mosaics, and making candles. Groups holding parties can bring their own snacks and drinks to the studio, and summer camp sessions guide children through creative projects with clay, glass, or paint.
7600 Kingston Pike, Suite 1456
Knoxville
Tennessee
865-531-7329
Nothing But Bounce entertains children with an arsenal of inflatable playgrounds, including castles, animal-themed slides, and sports-themed games. The expansive indoor gymnasium and its friendly staff host fun frenzies year-round, from birthday parties to company picnics to family reunions. When weather permits, visitors can participate in outdoor recreational activities, which include cruising down a 45-degree slip 'n' slide and a 45-degree water slide. A three-way rock wall provides climbers with a variety of paths and holds guaranteed to keep children and their imaginary pet mountain goats busy.
8307 Ball Camp Pike
Knoxville
Tennessee
864-710-5236
---