Things to Do in Oak Ridge
---
Recommended Things to Do by Groupon Customers
---
Ripley's has enthralled audiences for more than nine decades with its dedication to revealing odd and unexplainable rarities from around the globe. But it all began with one man: Robert Ripley, a wildly successful and eccentric character who rose to fame during the first half of the 20th century. After selling his first cartoon to Life magazine at age 14, he set out on a quick-paced career of drawing sports cartoons for the New York Globe. During a slow day at the office, he sketched nine unusual sporting events and finished his work with a title: "Believe It or Not!" It became immensely popular, allowing Ripley to travel the world in search of more bizarre stories to put into his comic strips. While visiting relatively unknown areas in locales such as India, China, and the inside of his neighbor's chimney, he picked up a slew of unbelievable souvenirs that later became fixtures in several of Ripley's museums, or as they're affectionately called today, Odditoriums. Ripley's now encompasses publications, attractions, a television show, and a blog, all of which carry Ripley's tradition of reporting on the world's curiosities.
88 River Rd.
Gaitlinburg
Tennessee
By engineering an indoor, upwards-facing wind tunnel, the brilliant minds behind Flyaway Indoor Skydiving have managed to recreate the adrenalized thrill of freefalling sans the previously required airplane. In the studio's unique flight room, ersatz divers hover several feet above ground as wind-powered force neutralizes the effects of gravity around them. While a typical outdoor skydive lasts only about a minute, Flyaway delivers a minimum of three straight minutes of simulated freefall, ensuring massive endorphin rushes and flashbacks to past lives spent as a Canadian goose. Before liftoff, the facility's experienced trainers fill visitors in on everything they need to know about body control, safety procedures, and effective screaming techniques. Classes begin every 30 minutes and operate on a first come, first serve basis. Height and weight restrictions apply.
3106 Parkway
Pigeon Forge
Tennessee
In addition to cultivating a rich assortment of herbs, Erin's Meadow Herb Farm welcomes visitors into its greenhouses, fields, and classrooms to learn the best uses for its multitudinous varieties of herbs. Inside, visitors can peruse a variety of gifts and products made using all-natural ingredients, or drop in for classes that include demos, spa-centric herbal recipes, and the recipe for creating a love potion disguised as peppermint tea.
132 England Ln.
Clinton
Tennessee
865-435-1452
The energetic pastors and staff at Friendship Church seek to help others discover their spiritual faith in an atmosphere reminiscent of a nondenominational church. They reach out to community members of all ages through youth and adult ministries and small discussion groups, constantly working to place theological debates within a modern context. For nearly a decade, they've augmented their main mission with a range of summer camps for children of all ages. Staffers of the church's tech camps, which build appreciation for the outdoors and technology more effectively than challenging a bear to a game of Super Mario Bros., educate children through the use of robotics, video production, and video games and immerse them in outdoor games and activities such as waterslides and trampolines. They also hold competitive gaming weekends for all experience levels.
8307 Ball Camp Pike
Knoxville
Tennessee
865-693-1031
At abc Art, brushes flick across canvas, a quiet swishing sound that serves as a backdrop for chattering students and clinking wine glasses. While pupils sip brought-in drinks, artists lead the class in painting images that have included cupcakes, landscapes, and abstract scenes. Tucked beneath arms, the paintings leave with proud students and are ideal for hanging over holes accidentally smashed in a refrigerator. The studio space also hosts private parties, which let guests bring in food and drinks to paint the evening away.
355 Gill St., Suite 103
Alcoa
Tennessee
865-249-7950
One runner tucks his laser gun under his arm as he ducks behind an obstacle. Just before he's out of sight, his sister shoots at him from afar, settling the score with her sibling without having to deflate the tires on his bicycle. Within Battlefield Knoxville's 36,000-square-foot arena, up to 10 players, armed with a selection of futuristic and realistic weaponry, go toe to toe at once. During play, groups embody fantasy action scenarios during games of Capture the Flag, Base Assault, and Rescue the Hostage. The facility also includes a gaming center where players give their limbs a rest at 13 flat-screen gaming stations that offer group bouts on Xbox 360 and PlayStation3 consoles.
9329 Kingston Pike
Knoxville
Tennessee
---
---
Things to Do Deals - Recently Expired
---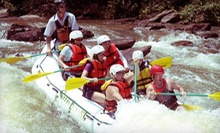 Guides lead rafts down Ocoee River on 3.5-hour adventures; rapids up to Class IV provide options for first-time and skilled rafters alike
---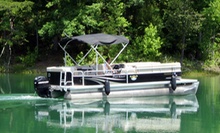 24-foot late-model pontoons tow tubes & let up to 12 people explore Norris Lake's tree-lined waters.
---
---