Things to Do in Oak Ridge
---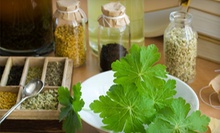 Demo classes teach students how to create all-natural beauty products and herbal health remedies or growing and using herbs in the kitchen
---
Recommended Things to Do by Groupon Customers
---
After its construction in 1928 as a grand movie palace in the Spanish-Moorish style, the Tennessee Theatre gradually fell into disrepair, its ceiling cracking and its colors fading. A $23.5 million renovation completed in 2005 restored the venue to its Roaring Twenties glory, starting with a complete repainting that restored the rich reds and golds of the proscenium, the baby blue of the ceiling, and the original '20s graffiti in the alley that reads, "Talkies are a fad." Grand chandeliers cast glittering light across the lobby and the meticulously restored, burgundy velvet seating cradles showgoers in downy comfort. Filling the space with a wall of pipe-produced sound, the 17-rank Mighty Wurlitzer pipe organ that acts as the theater's centerpiece stands at the ready, recently disassembled, refurbished, and restored it to its wall-shaking prime.
612 E Depot Ave.
Knoxville
Tennessee
A man runs through the forest, pausing briefly to take in his surroundings: rolling mountains and verdant trees as far as the eye can see. Suddenly, a twig cracks, breaking the silence, and the pristine view dissolves within a cloud of paint. The game is over.
At its outpost within the mountains, Smoky Mountain Paintball has converted the area's natural terrain into outdoor paintball fields. Here, players weave between trees and peak over walls in search of enemy combatants. The simulated battlefields are also a strategist's dream; referees take requests, and will set up almost any type of game provided that players adhere to the rules and don't require a human-sized chessboard.
Away from the colorful warzone, a pro shop brims with camouflage and Tippmann markers, In addition to paint-fueled grudge matches, combatants can also settle scores with Smoky Mountain Paintball's expanded arsenal of Airsoft and laser-tag battles.
12240 Chapman Hwy. 441/411
Seymour
Tennessee
865-577-7074
Two miles might seem like a negligible distance when you're driving a car. But when you're skydiving from two miles above the earth, you relish every foot that separates you from the ground. As the only safety net for their patrons, Skydive East Tennessee's licensed instructors escort divers up to 11,000 feet into the sky, where they enjoy aerial views of the Smoky Mountains, make white beards out of fluffy clouds, and embark on 45-second freefalls. Before ever stepping foot into the company's aircraft, the seasoned staff goes over all the details of the trip, ensuring jumpers know exactly what to expect as they leap from the plane and finish their fall with a scenic 5-minute parachute ride. A camera crew can document the whole experience, from the instruction period to the landing, and assembles the footage into a keepsake DVD set to music.
1542 W Dumplin Valley Rd.
Dandridge
Tennessee
Nothing But Bounce entertains children with an arsenal of inflatable playgrounds, including castles, animal-themed slides, and sports-themed games. The expansive indoor gymnasium and its friendly staff host fun frenzies year-round, from birthday parties to company picnics to family reunions. When weather permits, visitors can participate in outdoor recreational activities, which include cruising down a 45-degree slip 'n' slide and a 45-degree water slide. A three-way rock wall provides climbers with a variety of paths and holds guaranteed to keep children and their imaginary pet mountain goats busy.
8307 Ball Camp Pike
Knoxville
Tennessee
864-710-5236
Ski Scuba Center is an aquatic activity hub where undersea sojourners purchase gear and learn to reach new oceanic depths. With more than 50 years of diving experience among them, instructors prepare flippered feet to scuba, swim, and lifeguard, edifying water-goers and offering certification during private and group classes. The Center also sends its snorkel constituents to Florida and the Caribbean on scuba trips and presents a number of tips on equipment-servicing treatments, such as filling tanks with air and feeding sugar cubes to well-behaved goggles.
2543 Sutherland Ave.
Knoxville
Tennessee
865-523-9177
The energetic pastors and staff at Friendship Church seek to help others discover their spiritual faith in an atmosphere reminiscent of a nondenominational church. They reach out to community members of all ages through youth and adult ministries and small discussion groups, constantly working to place theological debates within a modern context. For nearly a decade, they've augmented their main mission with a range of summer camps for children of all ages. Staffers of the church's tech camps, which build appreciation for the outdoors and technology more effectively than challenging a bear to a game of Super Mario Bros., educate children through the use of robotics, video production, and video games and immerse them in outdoor games and activities such as waterslides and trampolines. They also hold competitive gaming weekends for all experience levels.
8307 Ball Camp Pike
Knoxville
Tennessee
865-693-1031
---