Museums & Galleries in Oakdale
---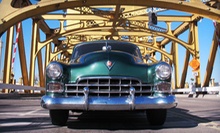 Visitors explore 72,000 sq. ft. of classic cars
---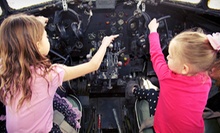 Hands-on exhibits, flight simulators, and aircraft from the 1940s to now explore the history of flight and look to future of space travel
---
Recommended Museums & Galleries by Groupon Customers
---
Make up for the ill-fated model-train competitions of your childhood by celebrating National Train Day in style. You'll board the locomotive in full Victorian regalia at the Sacramento Southern Railroad ticket office in Old Sacramento and embark on an epic 40-minute journey through the central California wilderness. Amid the train's historic 1920s-era El Dorado luxury car, your 6-mile round-trip ride will transport you along the edge of the Sacramento River in the style of politicians and highfalutin VIPs of bygone days. The air-conditioned cabin boasts plush ruby sofas and expansive windows for taking in the panoramic views while enjoying complimentary lemonade and cookies.
Front St., Between J St. and K. St.
Sacramento
California
Visitors traveling through Challenger Learning Center's exhibits may feel they've fallen down Alice's rabbit hole. One moment, they're as tiny as a nanobot as they gaze at nanotechnology components developed for medicine, electronics, and space elevators. The next, they're giants who could bat the whole planet around with one well-aimed jump—that is, if the planet is the NASA projection globe across whose surface features of the sun, moon, and Earth flow in vivid color.
Other exhibits take visitors far out, with images snapped by the Hubble Space Telescope or deep inside, with the Body Plaza's skeletons, x-rays, and organ models. A wide slate of interactive programming engages youngsters' problem-solving and teamwork skills with activities such as simulated space missions, where they keep the astronauts entertained over the radios at mission control or assemble probes in the spacecraft while hurtling toward Mars.
3460 Challenger Way
Atwater
California
209-726-0296
---