Things to Do in Oakdale
---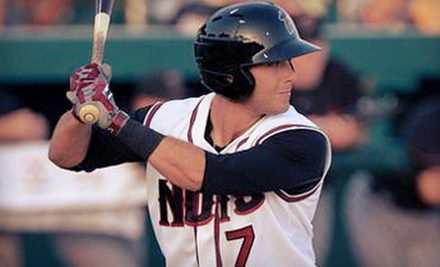 ---
Recommended Things to Do by Groupon Customers
---
Just 2 miles from the southern entrance of Yosemite National Park sits a post that passed from homesteader to cowboy to Mike and Sherry Knapp, who dubbed it Yosemite Trails Pack Station 70 years ago. Since then, three generations of Knapps have run the station, but it remains as isolated and wildlife rich as it was in 1966. Today, Larry Knapp and his team still raise cattle as well as american quarter and american paint horses in the Sierra Nevada mountains, getting them acclimated to the rocky terrain so that they can safely carry patrons on trail rides. Trails wind through Big Creek, the Vista Pass, and even venture into Yosemite's Mariposa Grove, thick with millennia-old redwood trees. Days on horseback often culminate in cowboy cookouts with hot dogs, s'mores, and photos of ex-boyfriends roasted over the campfire. When summer fades to winter, guests can still enjoy the mountain-lined horizon on sleighs drawn by belgian draft horses.
7910 Jackson Rd.
Oakhurst
California
559-683-7611
The owners of 7Star Rental wield more than 20 years of boating experience to equip ocean and lake adventurers of all levels for an active day on the water. Knowledgeable staffers can harness equipment such as wakeboards and inner tubes to all-fiberglass Tigé and Centurion-brand boats, or loan out a fishing vessel with plenty of storage space for bait and tackle. Events such as fishing trips and wakeboarding lessons help watersports newbies get their feet wet. In addition, Sea-Doos carry wave wranglers through California's many lakes, delta waterways, and Guinness World Record–breaking goldfish bowls.
1287 N De Lima Rd.
Lathrop
California
855-887-1712
For more than 25 years, the paddling captains at Sunshine Rafting Adventures have navigated the Stanislaus River's collection of rushing haystack rapids and shady straight-aways. The team specializes in low-risk, family-oriented rafting trips, and they organize packages that equip guests with necessary paddles and life jackets. To begin each 8-mile float, the team launches rafts near the historic Knights Ferry covered bridge—the longest covered bridge west of the Mississippi River. Guests then paddle along various features, including the Class II Russian rapids, the sharp turns of the Throw Rapids, and the lava cliffs of The Two Bluffs, where cliff swallows build hundreds of mud nests each summer. In addition, Sunshine Rafting Adventures orchestrates yoga trips and retreats along the riverbanks, pairing the exercise of paddling with the serene feeling of doing headstands with squirrels.
18210 Sonora Rd.
Knights Ferry
California
209-848-4800
Visitors traveling through Challenger Learning Center's exhibits may feel they've fallen down Alice's rabbit hole. One moment, they're as tiny as a nanobot as they gaze at nanotechnology components developed for medicine, electronics, and space elevators. The next, they're giants who could bat the whole planet around with one well-aimed jump—that is, if the planet is the NASA projection globe across whose surface features of the sun, moon, and Earth flow in vivid color.
Other exhibits take visitors far out, with images snapped by the Hubble Space Telescope or deep inside, with the Body Plaza's skeletons, x-rays, and organ models. A wide slate of interactive programming engages youngsters' problem-solving and teamwork skills with activities such as simulated space missions, where they keep the astronauts entertained over the radios at mission control or assemble probes in the spacecraft while hurtling toward Mars.
3460 Challenger Way
Atwater
California
209-726-0296
A lone runner emerges on the horizon, covered completely in mud that falls from his arms in chunks. He soldiers up a hill, stopping only briefly before throwing himself between hanging car tires swaying from ropes. He's smiling a big, goofy grin as he's battered by the tires and exhausted by the distance—but he wouldn't be here if he wasn't up for the challenge. Sierra Recon's muddy courses traverse 4-, 7-, and 11-mile stretches with walls, beams, nets, and ice awaiting runners between the starting line and the after party. The race, which boasts at least two such creative obstacles each mile, attracts both daredevils and their enthusiastic entourages, who holler their encouragement from a dry deck with views of the course. Runners can choose both their difficulty and distance for the race, though all routes promise mud and creative obstacles built by licensed contractors.
1111 Sierra-at-Tahoe Rd.
Twin Bridges
California
A flock of mallards swoops over the lake, while in the hills above, california valley quail forage in the brush. Each year, gamekeepers release thousands of fowl onto Camanche Hills Hunting Preserve's 1,500 acres, all of which is meticulously designed to re-create the birds' natural habitats. Overseeing a licensing program that prevents crowding in each zone, gamekeepers open the grounds for daily hunts and can even supply hunting dogs with handlers. To help sportsmen refine their hunting skills, instructors lead safety courses and show outdoorsman the most stylish ways to wear hunter orange. The preserve also encompasses three 10-station sporting-clays course, as well as a grouse bunker, two lighted five-stand courses, and a range for trap and skeet shooting.
A clubhouse gives guests a place to relax, and a kitchen opens for breakfast and lunch—days vary depending on the season. It also houses a pro shop, complete with a gun maker experienced in the English tradition of gun fitting, as well as a sporting gun engraver. The preserve also neighbors the Camanche North Shore Recreation Area, which offers lodging, campgrounds, and further outdoor recreation such as horseback riding and fishing. Other nearby attractions range from historic gold rush sites to vineyards.
2951 Curran Rd.
Ione
California
US
209-763-5270
---