Dance Lessons in Oakdale
---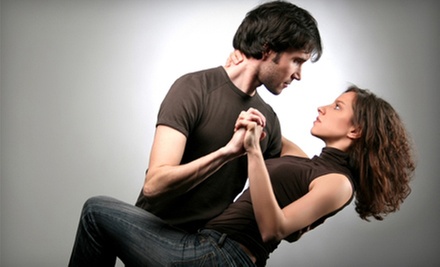 ---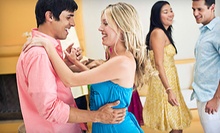 Use Monday 4:00pm - 7:00pm
---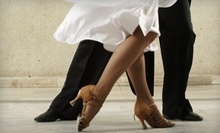 Ladies light up dance floor with Latin-inspired routines that draw from samba, rumba & cha-cha techniques
Use Saturday 12:00pm - 3:00pm
---
Recommended Dance Lessons by Groupon Customers
---
Dance Tonight instructors conduct introductory lessons that introduce the basic step for 6-8 dances of your choice. Students might practice the salsa and the foxtrot in a single afternoon, or segue from swing into an elegant waltz, all the while developing a preference for those moves that resonate with their bodies. After they've completed these classes, a basic program further hones their focus. Group sessions and parties enable them to rehearse alongside fellow learners, all of whom benefit from the studio's welcoming, judgment-free vibe.
Though the instructors keep the mood smooth and groovy, they're constantly channeling professional experience; owner Francesca Spumoni and her partner Jacek Kozdroj have competed nationally in American Style Ballroom. They can also assist with special events at their venue or on-location, hosting wedding receptions, school dances, and other celebrations.
4748 Nicollet Avenue South
Minneapolis
Minnesota
612-825-0077
Mambo101 Dance Studio—founded by Omar Martinez—comprises two separate dance spaces that constantly pulse with the rhythms of salsa, mambo, and other Latin-style dances. Despite ample square footage, instructors only ever host one class at a time in each studio, ensuring that students can focus on the music as they learn the steps. They teach men's and women's steps with equal grace, partnering with students of either gender to show them the appropriate moves. Students need not come equipped with a partner either, as they'll rehearse with the same group of individuals week after week, learning to dance with all their fellow students. Since shimmying, twirling, and sashaying can be sweaty work, the studio has showers where students can pretend it's raining inside.
4748 Nicollet Ave. S
Minneapolis
Minnesota
US
Out in a Limb Dance Company & School's professional instructors introduce kids and adults to styles as various as classical ballet, modern dance, acrobatics, and hip-hop. School performances let students show off what they've learned to family, friends, and Barbies whose legs refuse to plié, while summer intensives let young bundles of energy immerse themselves in the choreography of a full-scale musical production. Ballroom classes help casual students get comfortable for wedding-mandated whirls about the dance floor and nights out at salsa clubs. Teachers come from backgrounds including the sets of musical theater productions, the Moscow Ballet, and training with Paula Abdul, and all work to create a disciplined, distraction-free environment by asking that students adhere to a formal code of etiquette.
1535 W Larpenteur Ave.
Falcon Heights
Minnesota
US
651-644-3802
The consortium of professional instructors at Fred Astaire Dance Studios, which was cofounded by the legendary toe tapper himself, shepherds students of all ages and skill levels through lessons that span the style spectrum. Low-pressure private sessions allow enthusiastic teachers to fine-tune individual students' techniques and form, using their expert eyes and mechanical dancing shoes preprogrammed to do the Charleston. Patrons can learn how to cavort through classic waltz and foxtrot romps or swivel through the modern steps of salsa, swing, or samba. For dancers hoping to hoof it up in a social setting, the group practice parties provide a one-night extravaganza of instruction, demonstrations, and amateur firewalking.
1975 Seneca Rd., Suite 700
Eagan
Minnesota
US
651-451-6300
Little did Arthur Murray know when he opened the Arthur Murray Dance Studio in 1912 that it would play an integral part in history. It was a dance studio that helped revolutionize direct mail advertising and led Murray to be the first person in the world to broadcast live dance music on the radio. By the 1930s, he had his instructors teaching new dances including "The Big Apple," followed by the "Teeny Banana" on first-class steamship cruises. His instructors moved from steamships to big screens, teaching actors dance moves and starring in such films as Dirty Dancing and Saturday Night Fever. By then, the studio had inspired the hit song "Arthur Murray Taught Me Dancing In A Hurry" by Betty Hutton and the Jimmy Dorsey Orchestra. Today, the studio's name appears on the pages of Vogue, Martha Stewart Wedding, and Sports Illustrated.
Aside from remaining a presence in media and cities around the world, the Arthur Murray Dance Studio gets feet moving by teaching popular dances that include the cha-cha, fox trot, salsa, samba, and swing. The studio instructs on a variety of dances that help people look cool at bar mitzvahs, nightclubs, crosswalks, and anywhere dance is popular.:m]]
5041 France Ave. S
Minneapolis
Minnesota
US
612-920-1900
---