Oakdale, MN Outdoor Activities
---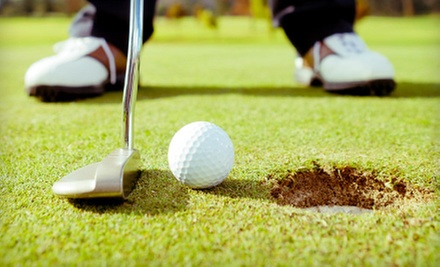 ---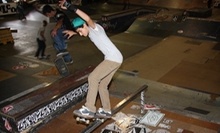 Robbinsdale - Crystal - New Hope
Skilled cement surfers teach budding skateboarders basic skills & tricks
Use Saturday 9:00am - 12:00pm
---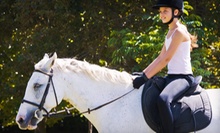 Horses gallop across large indoor and outdoor arenas during private lessons for all riding abilities
Use Friday 9:00am - 5:00pm
---
Recommended Outdoor Activities by Groupon Customers
---
Discover your inner Davy Crockett with today's Groupon. For $5, you get admission to the 40th Annual Minnesota Sportsmen's Show any day from Wednesday, January 13, through Friday, January 15, at the Saint Paul River Centre. Gawk at great outdoorsy goods (RVs, motor homes, travel trailers, fishing boats), attend free fishing and hunting seminars, plan your next excursion, and witness a water-skiing squirrel purchasing a motor home.
175 W Kellogg Blvd
St Paul
Minnesota
US
Held aloft by 35 years of family tradition, Stillwater Balloon sends intrepid explorers skyward from a port just off the scenic St. Croix River. Friendly FAA-certified pilots operate each craft and readily answer any questions that passengers may have as they float through gorgeous views of the surrounding valley. The billowy, multicolored behemoths cruise at treetop level, allowing travelers to shake hands with monkeys. Private and semiprivate flights are the business's forte, but Stillwater Balloon also accommodates custom flights for backyard surprises or ultimate school pickups.
135 Saint Croix Trl. N
Lakeland
Minnesota
651-439-1800
Long rumored to be the home of eerie happenings, a lonely stretch along Highway 61 has begun to attract even more sinister attention with the arrival of The Haunting Experience on Highway 61. Drawing from the site's fabled past—including tales of cannibalism and mysterious disappearances—three haunted houses illicit goose bumps by way of deranged clowns, men with chainsaws, and ghosts plagued by unfinished business and half-completed doctoral theses. While waiting to enter the spooky abodes, guests can fortify their spirits by a bonfire and munch on snacks from the Ghoulish Grill and frosty mugs at the beer tent. Aside from these terrifying attractions, guests seeking a tamer experience can venture through a corn maze during the daytime, solving clues hidden within its paths to win prizes.
10900 E Pt. Douglas Rd.
Cottage Grove
Minnesota
In 1905, the Minnesota State Capitol building opened to the public; more than a century later, it continues to welcome more than 120,000 visitors each year to the home of the state government's three branches. Designed in the Beaux-Arts style by acclaimed architect Cass Gilbert, the building lays claim to world's second-largest self-supporting marble dome, a title the dome maintains by working a second job as the back-up roof of the Metrodome. Within the white Georgia marble and Saint Cloud–granite exterior of the edifice, 67 senators and 134 representatives wrangle with politics while striding through stately corridors and chambers decorated by murals, sculptures, and paintings carefully selected by Gilbert to complement the building's elegant style. Hand-painted arabesques and local flora swirl overhead on the vaulted ceilings, and the brushstrokes of John LaFarge depict legal concepts above the bench of Minnesota's supreme court. Visitors can drop into the rathskeller café, which evokes a German eating hall with restored murals, for a bite to eat and a toast to the health of the state's royal family.
75 Rev. Dr. Martin Luther King Drive
St. Paul
Minnesota
651-296-2881
Several years ago, Ken Smith and Chase Williams were typical door-to-door salesmen. In need of a gimmick to boost sales and a quicker mode of transport, the duo tried riding Segways and immediately fell in love. Eventually, they turned their love for the two-wheeled transporter into their current venture, All American Segway. Their company provides all manner of Segway engagement, including guided Segway tours that offer rolling educations in local history and wildlife. Customers can also discover the revolutionary devices on their own by renting out Segways for recreational use, private parties, or as a friend for a lonely office chair or shopping cart.
804 Laurel St. W
Stillwater
Minnesota
507-206-0988
Home to the state's largest freestanding bouldering island, New Jersey Rock Gym houses 12,000 square feet of vertical terrain to climb as well as 41 top roping stations. Armed with either day passes or membership, guests scamper up the gym's synthetic summits, hoping to ask questions of the learned ceiling light sequestered at the top of the mountain. While gear is included with some membership options, guests can opt to bring their own materials or rent the individual shoes ($5), harnesses ($4), or chalk bags ($2) they need from the pro shop. New Jersey Rock Gym offers a collection of educational course work in the vertical arts, teaching belay technique to beginners or advanced skills to adults. Children can also take advantage of youth climbing programs, mini camps, and birthday parties before retiring to private refreshment chambers to absorb bottles of electrolyte-infused refreshment. The nearby pro shop outfits climbers with name-brand gear for purchase, while a WiFi lounge transmits terabytes of data into nearby electronic devices or unsecured cyborg brains.
7424 E Point Douglas Rd. S
Cottage Grove
Minnesota
US
651-458-5565
---