Oakland Park Automotive
---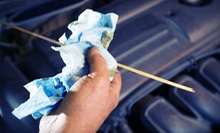 Technicians lubricate engines with up to 5 quarts of oil, remove and reinstall tires to maximize mileage, and check vehicles for problems
Use Saturday 8:00am - 6:00pm
---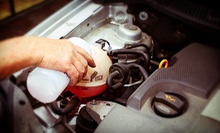 ASE-certified mechanics remove and inspect transmission pans before replenishing fluid according to manufacturers' specifications
Use Today 8:00am - 5:00pm
---
Recommended Automotive by Groupon Customers
---
Superior Tint's technicians possess more than 30 years of combined experience outfitting automobiles and homes with protective, energy-saving, and aesthetically pleasing upgrades. Automotive services call on seasoned trunk rattlers to professionally install thumping speakers, touchscreen command modules, and advanced GPS accents. The Solar Gard–authorized installers use computer-cut tints to coat windows in opaque hues and dress up auto bodies with smoked taillights and custom urethane paint protectors. Technicians also hit the road with a portfolio of mobile services as well as home window tinting designed to insulate against cold weather, prevent shattering and glare, and let houses peek over their darkened panes like sardonic, sunglass-wearing cartoon cats. At the shop, barely there wait times go unnoticed with the help of complimentary WiFi hot spots.
3201 N Dixie Hwy., Bay 1
Boca Raton
Florida
561-338-7711
Since 1979, E F Tire and Auto Repair's team of techs has restored vehicles to road worthiness with fresh sets of tires and deft repairs. Treads from manufacturers such as Bridgestone, Firestone, and Kelly keep wheels firmly attached to the road, fresh oil helps pistons pump smoothly, and diagnostic tests pinpoint the root problem with engines that only hum when the radio plays. While their cars are under reconstruction, patrons can still stay on the move with rides on the shop's complimentary shuttle.
3725 N Federal Hwy.
Pompano Beach
Florida
US
Gabriel Mejia lathered his first car in 1985—a modest attempt that soon blossomed into a full business serving Boca's prestigious clubs and neighborhoods. As his clientele increased, his number of arms didn't, so he taught a small crew how to perfectly replicate his hand-wash technique by strengthening their muscles with lead shoulder pads. Today, Gabriel's 12 mobile technicians perform washing and detailing services around town with the help of 10 fully equipped vans. When they aren't polishing roadsters, they also re-dye leather, remove dents, and block UV rays with window tinting.
134 NW 16th St., Suite 12
Boca Raton
Florida
561-395-8182
Oil changes, details, and window tinting are just a few of the services offered at Boca Auto Service. Its team of ASE-certified technicians shoulders the workload, relying on years of training, experience, and being raised by a pack of wild cars to repair and maintain rides. As testaments to its customer service, the shop offers a shuttle service for car-less clients, as well as a nationwide warranty program, and Saturday appointments.
303 NW 1st Ave.
Boca Raton
Florida
561-750-2200
The experienced technicians at ExotiCarSpa work around their clients' busy lifestyles by coming to their homes to hand wash and detail vehicles. Roaming South Florida in white vans, these detailers make pit stops to clean up cars of all kinds—a celebrity's Bentley, a pro athlete's Lamborghini, a magician's invisible Pinto. They also soap up motorcycles and boats, and provide protection and restoration services to keep bugs from sticking to grilles and remove all traces of chickens that never got to the other side.
440 NE 4th Ave.
Fort Lauderdale
Florida
US
954-268-5409
Inside the 120,000-square-foot warehouse of Ideal Automotive & Truck Accessories, a dedicated staff tricks out autos with practical and attractive electronics and gear. They treat more than 10,000 autos each year to a cache of customized services including, installing security systems, accenting sedans with mesh-grille overlays, or accessorizing truck beds with toolboxes and a pair of matching earrings.
6560 Powerline Rd.
Fort Lauderdale
Florida
US
800-621-6464
---