Beauty & Spas in Oakland
---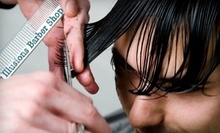 Use Saturday 9:00am - 4:00pm
---
Recommended Beauty & Spas by Groupon Customers
---
A member of the Society of Permanent Cosmetic Professionals, Deborah Barrolaza prides herself on adding a lifelong glow to her patients' faces via permanent-makeup application. She applies color to the eyes and lips, and can shape eyebrows so clients never look shocked no matter how many times they walk in on their parents reading Twilight. She also offers camouflage treatments as an option for those who wish to hide scars or alter previous cosmetic makeup.
2829 Bridgeway, Suite 203
Sausalito
California
415-331-0663
The vibrant pink walls of this salon complement the dazzling hues painted on finger- and toenails, meticulously groomed and embellished by a skilled staff. The technicians tend to natural nails or enhance their surfaces with acrylic, gel, or reinforced-steel sets. When they aren't buffing nails, the crew can smooth skin with face and body waxing services.
3288 Pierce St., Suite D118
Richmond
California
US
510-809-5553
Nina and Sonny oversee a popular set of pedicure chairs at Bayview Salon. The husband-and-wife team began working together 22 years ago, when Sonny left his job in technology and decided to pursue a more personable profession. He learned his trade fast, and when he talks about life in the salon it's with an infectious enthusiasm. "I like the social life. I come and talk and do nails for the ladies."
Sonny's colorful personality is matched only by CND Shellac, OPI, and Gelish polishes that make up the salon's collection, which is more than 180 shades strong. He and his wife beautify and polish acrylic, natural, and stainless-steel nails to a mirror-like finish and can even leave fingers extra fancy with silk-wrap nails or Sonny's signature French fills. Their services don't skimp on the extras, either: shiatsu-massage chairs knead tension from backs during pedicures, which may also include detoxifying green-clay masks, hot-stone massages, and skin-softening lemon-sugar scrubs.
3001 Bridgeway, Ste #6
Sausalito
California
US
415-331-3636
In a world of solemn responsibilities and stern rules, Flirt Nail Lounge stands as a haven of whimsical femininity. Bright pink walls, purple shag carpets, and signs declaring, "A princess sits here" cast off the grownup world to let guests revel in luxurious nail services elevated by a host of pampering extras. Nail techs sit on plush pink ottomans as their clients melt into tufted white armchairs above them, their feet dangling in the warm water of sinks set into the floor. In addition to performing manicures and pedicures with OPI polish and no-chip Shellac lacquer, the techs specialize in painting ornate designs—replete with 3-D accoutrements such as gemstones, gold accents, and can openers—on natural nails or acrylic extensions. The lounge also features a private room for waxing treatments and a boutique that brims with bath oils and cupcake bath bombs by Sugar Rush.
3411 E 12th St.
Oakland
California
US
415-735-4780
Licensed aesthetician Katy Brassfield uses all of the resources at her disposal to make sure each client achieves the paramount level of pampering. She approaches each service armed with more than 12 years of experience while beautifying her clients' skin with facials, peels, and other skincare services. Her treatment rooms are warmed with brown and gold tones, and her complimentary mugs of steaming tea allow clients to slip into a state of inner peace even as they wait. During skincare and waxing sessions, she turns the dial up on a table warmer to keeps clients as toasty and cozy as a kitten napping on the belly of a napping labrador.
2881 Castro Valley Blvd, Suite 3H
Castro Valley
California
US
925-297-7470
Part salon and part spa, The Total Package staff weaves myriad body-beautifying services into its comprehensive aesthetic offerings. Stylists twist and turn hair into braids and updos or straighten and color locks with chemical procedures. Aestheticians turn their trained eyes to the body's finer details by waxing away unwanted hair or tending to wrinkles and pores with rejuvenating facials or spare Halloween masks. For nails, technicians are also on hand to manicure and polish each digit until it shines.
1122 B St.
Hayward
California
US
510-247-9115
---