Education & Classes in Oakland
---
Education & Classes Deals
---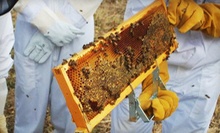 Honey makers impart beekeeping knowledge to students in hands-on classes that provide all equipment and full-body keeper's suits
---
Recommended Education & Classes by Groupon Customers
---
Fashion-knit owner Jeanine Johnson has the art form stitched into her family history. Her grandmother sewed upscale garments for Saks Fifth Avenue, and her mother received her fashion degree from New York's Fashion Institute of Technology. Johnson's passion for knitting is evident in the colorful sweaters she crafts, as well as in the classes she offers to knitters of all skill levels. In addition to hands-on sessions, Johnson brings knitting experts to the store for workshops, where they share tips on how to enhance projects or how to re-create favorite attire if one's closet spontaneously combusts.
675 Ygnacio Valley Rd., Suite B102
Walnut Creek
California
925-943-3994
Revere Glass School equips students of all experience levels with up-to-date glassworking gear from Glass Torch Technologies and Delta Elite. Six feet of working space at each workstation provides ample room for glass blowing and fusing or pipe making, while ventilation systems whisk away meddling ghosts. Experienced instructors aim to foster a noncompetitive working and learning environment through up to six levels of classes, guiding each glass-wielding neophyte along on his or her distinct artistic journey.
Courses span principles of practical foundations, creative techniques, and establishing an artistic business. Themed workshops feature international guest artists who lead intensives in methods that they've mastered, such as crafting holiday ornaments that double as single-use baseballs.
1345 8th St.
Berkeley
California
510-233-3473
The skilled instructors at Inspire Music Center encourage students to express themselves through song during beginner, intermediate, and advanced lessons in a variety of instruments, including electric guitar, cello, French horn, and voice. Its ensemble of music graduates and seasoned performers uses its extensive musical knowledge and collection of 20 different instruments to teach aspiring musicians proper playing techniques, practice methods, theory, and how to topple glass houses with high notes. In addition to honing students' music-playing skills, instructors prep advanced pupils for professional auditions, instrumental competitions, and concerts.
1241 Taraval St.
San Francisco
California
415-504-7921
When he was a ceramics student, Bryan Goldenberg was struck by the softness of hot glass and the clean lines that resulted from shaping it. He switched his artistic focus in 1995 and has been creating glass art ever since, settling down in 2006 in the 2,300-square-foot Slow Burn Glass studio he designed and built. The themes of color and lines are a steady thread throughout his work, whether he's exhibiting hand-blown glass bowls in galleries throughout the country or demonstrating how to mold a multihued light fixture out of glass and firefly essence during hands-on classes.
2690 Union St.
Oakland
California
510-832-2007
---