Oakland Health and Fitness
---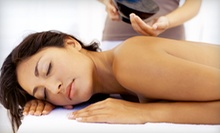 One-hour massages suit range of needs, including aromatherapy, hot stone, deep tissue, Swedish, jet lag & mother-to-be massages
Use Tuesday 10:00am - 6:00pm
---
Recommended Health & Fitness by Groupon Customers
---
A California-licensed naturopathic doctor, Robert Paul Duplain addresses health issues through a combination of natural medicine and Western medical science. Instead of treating individual symptoms, Dr. Duplain susses out the underlying causes behind these symptoms, employing physical medicine, clinical nutrition, homeopathy, botanical medicine, hydrotherapy, and counseling to remedy acute and chronic conditions. As guests enter the health center, Dr. Duplain walks them through the naturopathic process, speaking about health goals and symptoms before conducting a physical exam to explore what might be interfering with their overall well-being. Dr. Duplain and his patients then work together to form a treatment plan that promotes recovery through noninvasive measures.
2820 Seventh St.
Berkeley
California
510-408-6516
As an award-winning acupuncturist and professor of integrative medicine who was raised in a family of Western medical practitioners, Bina Jangda views wellness from a range of perspectives. Bina specializes in women's health, blending the millennia-old traditions of Chinese medicine with modern techniques to address her patients' gynecological, reproductive, and aging concerns. She also merges these disparate traditions to help men and women lose weight and detoxify their bodies with the help of custom diet plans and regular acupuncture treatments. Meanwhile, the Lifecycles program tailors acupuncture, herbal medicine, and nutrition regimens to the needs of women at every stage of their lives, from adolescence to pregnancy to grounding their own adolescents.
1738 Solano Ave.
Berkeley
California
510-393-7565
Not only is licensed acupuncturist Sharone Franzen a San Francisco native, she also stayed in the area to study. After earning an undergraduate degree from San Francisco State University, she received a master's from the American College of Traditional Chinese Medicine in San Francisco, where she is now an instructor. Armed with a wealth of knowledge in traditional Chinese medical practices, she treats patients with acupuncture and herbal medicine to help induce the body's natural healing processes. By combining these techniques she treats a variety of maladies, working to prevent disease, control pain, calm the mind, and strengthen the body more effectively than eating salads made of free weights.
2636 Ocean Ave.
San Francisco
California
US
415-572-1797
Certified members of the National Guild of Hypnotists, the husband-and-wife team of James D. and Lynn C. Swearingen have been tapping into patients' subconscious since 2006. The duo delves into clients' minds to discover causes of anxiety, low self-esteem, and emotional trauma before taking steps toward behavioral change. Their treatments also help guests quit smoking, navigate 12-step counseling, or overcome their fear of taking tests while submerged in a shark tank. During each personalized appointment, the Swearingens train patients in self-hypnosis, which requires a minimum of four 50- to 90-minute sessions to master.
870 Market St., Suite 615
San Francisco
California
US
415-923-7611
---