Restaurants in Oakland
---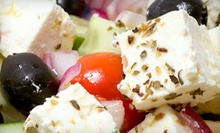 Use Saturday 2:00pm - 5:00pm
---
Recommended Restaurants by Groupon Customers
---
Hanging lampshades and flat-screen televisions cast a warm glow on Knuckles at the Wharf's chic interior, a snazzy setting scattered throughout with svelte wooden tables and padded purple chairs. Lively lunch and dinner menus of bar fare, seafood, and sandwiches go hand in hand with sports games, and a long list of craft brews and cocktails helps patrons toast to the memories of groundbreaking food fights past. Every morning, a breakfast buffet greets the sun as it rises over Fisherman's Wharf with classics that include bacon, sausage, eggs, and pancakes with blueberry syrup.
555 North Point Street
San Francisco
California
415-563-1234
Antipasti selections include inventive small, sociable plates such as a Tuscan take on hummus, with white beans and crispy, dippable hunks of rosemary focaccia bread ($11.95), and caprese di bufala con pomodori rossi arrostiti ($14.95), with imported buffalo mozzarella, roasted tomatoes, and basil-flavored extra-virgin olive oil. A wide variety of properly prepared pizza pies please palates like a well-formed tongue twister, including a Mediterranean-inspired pie with caramelized onions, feta, tomatoes, black olives, olive oil, and garlic ($14.95). Meatier fare includes wood-oven-roasted, organic, free-range Cornish hen ($22.95) and grilled New York steak served Tuscan style with roasted potatoes and garlic spinach ($26.95). Reunite your meal with its long-lost pair with a selection from Credo's wine and cocktail menu.
360 Pine Street
San Francisco
California
The Starlight Room evokes an ideal atmosphere for the glitz and glam of a drag show. Windows present a 360-degree view of San Francisco's numerous landmarks, and warm tones, velvet booths, glittering chandeliers, and silk drapes crank up the opulence to critical majesty. The weekly Sunday drag show, now in its fifth year, takes this 1930s mystique and races with it in a saucy nod to the variety shows of yesteryear. Hosted by blond bombshell Donna Sachet, the 45-minute shows provide visitors a chance to kick back and enjoy a variety of stand-up routines, female-impersonation acts, and lip-sync performances.
450 Powell Street
San Francisco
California
Beneath the yellow tablecloths that brighten Judy's Café, tables groan under the weight of homestyle breakfast, brunch, and lunch dishes loaded with organic ingredients. The menu of recipes devised by owner Charles Bain's mother has satisfied the stomachs of San Franciscans, tourists, and celebrities who gaze down from photographs and cryogenic capsules. Breakfast poses a choice of overstuffed three-egg omelets and cut-to-order fruit, while lunch presents appetites with sandwiches of Dutch Crunch bread and nine-grain wheat toast enclosing Cajun, Italian, and American cargo. House-made salsa graces the contents of Mexican wraps before heading off to make an appearance at a high-profile fiesta.
2268 Chestnut Street
San Francisco
California
415-922-4588
The neighborhood eatery offers a fresh menu of authentic Italian fare for lunch, dinner, and weekend brunch. Start with an order of oregano-, lemon-, and olive-oil-marinated olives ($6), savoring the flavor-infused spheres while a herbivorous tablemate noshes on the grilled polenta cakes with Manchego cheese, mushrooms, and red-wine sauce ($8). Personal pizzas, such as the prosciutto pie with gorgonzola cheese and balsamic reduction ($12), please orbital eaters, while plate-bound diners can feast upon house-made pastas, such as the butternut-squash ravioli with brown butter, sage, and mascarpone ($14). Other entrees include a decadent pork osso bucco ($18) with potato puree and aromatic vegetables under a port red-wine sauce and a filet of sole with veggies and mustard-seed and caper-berry aioli ($18).
602 Hayes Street
San Francisco
California
415-252-1200
Dunya melds Mediterranean-inspired meals from fresh, local ingredients to give San Francisco stomachs an ever-changing selection of delicious eats. A recent dinner menu from Dunya demonstrates the organic slant of its offerings, with starters such as Capay Farms organic greens caked with creamy goat cheese, white balsamic vinaigrette, and gold beets ($5), and crispy ahi tuna tartare paired with avocado salsa and goat cheese sauce ($9). For a main course, Captain Nemos may opt for the pan-roasted fresh scallops, embedded on fresh fettuccini with salmon, organic veggies, and tomato sauce ($16), while meat-meisters can feast on the grilled pomegranate barbecue Kobe sirloin with prosciutto, roasted potatoes and veggies, and dashed with pink salt ($17). Dunya also serves brunch and lunch, with items such as a free-range chicken omelette ($8), Kobe hamburgers with onion marmalade and prosciutto ($8), and seafood pasta ($11), which brings together contentious sea-siblings salmon and prawns in harmonious edibility.
1609 Polk Street
San Francisco
California
415-400-5770
---