Oakland Spa and Massage
---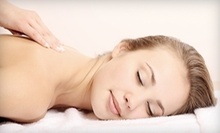 Deluxe Massage combines, aromatherapy with salt glow, hot stone & hot towel therapies into one soothing session of relaxation & relief
Use Today 7:00am - 10:00pm
---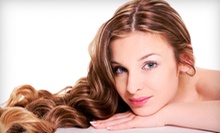 Facial using Dermalogica & Artistry products employs steam to soften skin before extractions, massage, mask, toners & SPF treatment
Use Monday 10:00am - 9:00pm
---
Recommended Spa & Massage by Groupon Customers
---
The staff at Creekside Spa & Salon likens their serene environs to a cozy living room free from the stresses of work, traffic, and toppling bunk beds. Every licensed massage therapist, cosmetologist, and stylist is board certified, and each practices their respective fields with a combination of authority and personalized care. Clients can amble into the steam sauna after engaging in one of seven massage modalities, which call upon techniques from Europe and ancient China to ease pain and stress. Skincare professionals lavish faces in myriad nutrients to help them forfeit blemishes and regain their luster, and stylists whittle away at overgrown strands, wax away body hair, and assist clients with makeup and cosmetics.
1377 Newell Ave.
Walnut Creek
California
US
925-945-6812
Inside Touch of Zen Day Spa, tightened muscles succumb to the gentle strokes and deep kneads of full-body massages, and faces find balances in skincare treatments. Dead-Sea salt exfoliates away dead skin cells and anoints younger, healthy cells with essential oil. The spa services clients seven days per week and stays open until 10 p.m., prepping clients for a peaceful sleep regardless of the sandman's delivery schedule.
548 Contra Costa Blvd., Suite E
Pleasant Hill
California
925-321-9775
A spa in the traditional Asian style, Zen Springs spa both accommodates guests on a single-appointment basis for massages, body treatments, and skincare services, and rents private suites for more extended pampering. The private rooms feature luxurious amenities, including swirling hot tubs, glass steam-shower rooms, yoga platforms, and bath sandals and towels. Guests can linger in one of the romantic spa rooms from one hour to an entire evening. Between stays of any duration, Zen Spring's staff thoroughly disinfects each tub with fresh batches of non-chlorinated water sieved from filtered panda tears.
1010 Jefferson St.
Oakland
California
US
510-272-9895
Surrounded by coral walls and flickering candles, Caramella Skin Couture's aestheticians pair tranquility with technology. Traditional European spa treatments, such as Ionothermie Body Detox wraps, join the clinical cosmetic therapies of a med spa. Treatments such as chemical peels intensively refresh patrons from head to 11th toe before beauty masks and brow sculpting add final, professional touches.
133 Kearny St., Suite 304
San Francisco
California
US
415-391-0305
During the summer of 1970, Moscow State University math student Mikhail Brodsky traveled to the Konda River in Western Siberia to log trees. While there, he visited his first banya—a public Russian bathhouse—and tried Siberian steam bathing. He became enamored of the practice, but didn't get to experience it again until visiting another Siberian town four years later. He soon started traveling throughout the world to study all the baths and hot springs he could find, earning the nickname Archimedes—for the ancient Greek mathematician—due to his habit of helping bathhouse staff members solve problems.
After moving to California, Mikhail decided to open his own bathhouse. Though design and construction took 12 years, he and a group of international friends finally opened Archimedes Banya, a coed public bathhouse that blends the aesthetics and traditions of Greek, Turkish, German, and Russian bathhouses with modern amenities. Spa staffers usher guests into steamy hardwood saunas and cold swimming pools on four themed floors, each decked out in warm cream-colored tiles or cool blue and silver accents. Deck chairs populate the rooftop patio, where visitors take in views of the bay and excise any remaining stress by screaming at boats. In private spa rooms, therapists knead guests' muscles during Russian platza massages and soak them in natural herb and mineral baths. The bathhouse and its restaurant stay open as late as midnight on weekends.
748 Innes Ave.
San Francisco
California
US
415-206-9000
Whenever new clients enter Renew Face & Body Wellness, owner Penny Christie greets them with a smile and then just listens. It's only after she fully understands their goals that the aesthetician and massage therapist starts to work on a custom plan for treatment, which might incorporate facials or massage modalities such as hot stone. A certified prenatal therapist and mother of five, Christie also designs facials and massages for expectant mothers, which address many of the changes in the skin and body that can accompany pregnancy. During the A Star Is Born prenatal massage, her signature treatment, she kneads sore muscles and loose joints as clients lie face-down on a special table that supports the baby and all of his or her prenatal furniture.
2121 Ygnacio Valley Rd.
Walnut Creek
California
US
925-938-3400
---