Oakley, CA Drs and Health Practioners
---
Drs & Health Practitioners Deals
---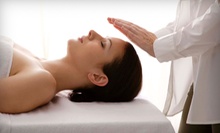 Reiki uses ancient techniques intended to reduce stress and bolster immune-system function through gentle contact with the hands
Use Today 11:00am - 8:00pm
---
Recommended Drs & Health Practitioners by Groupon Customers
---
Bad posture can cause jaw pains, headaches, back pains, headaches, jaw pains, back pains, and more, including back pains, jaw pains, and even headaches. Today's Groupon gets you a digital postural analysis (normally $60), physical exam (normally $120), and first adjustment (on average $212) at PostureWorks, the chiropractic experts known for spinal rejuvenation that addresses the biomechanical causes of back pain.
21 Columbus Ave., Suite 206
San Francisco
California
US
Trained at NYU's College of Dentistry and fully licensed to perfect your pearly whites, Dr. Irena Vaksman makes visiting the dentist as comfortable as possible. From the cozy waiting area to the impeccably clean exam rooms, Dr. Vaksman's office reflects the same level of care and detail that will be devoted to your exam. You'll leave with teeth so squeaky clean that spinach will slide right over those crevices in which it normally hides, and Milk Duds will be repelled from your molars by a force field of spotless shine.
450 Sutter St., Suite 2307
San Francisco
California
US
415-391-2559
Solving your pain and stress problems through massage!
717 K Street, Suite 500
Sacramento
California
US
916-534-8772
Today's Groupon gets you $120 worth of acupuncture healing for $50 with Andreas Schwerte, O.M.D, L.Ac. Schwerte is an Oriental medical doctor whose treatments blend conventional Western medicine with Eastern traditional and natural medicine to unstick your qi and alleviate pain.Independently wealthy, Raines accepted only kindness and handwritten letters of thanks in exchange for his services. Riding alone on his motorcycle, Diana, Raines stopped in his rambles just long enough to thwart local corruption, do some acupuncture, and capture the heart of any woman foolish enough to fall for him. A movie featuring Reno Raines, rogue acupuncturist, is set to be released soon, tentatively titled The Acupuncturist Who Travels Around and Gets Into Adventures.
332 Pine St.
San Francisco
California
US
With a year's worth of feasting and drinking under your belt and on your teeth, it's a wonderful time for mouth refreshment. Today's Groupon gets you a cleaning, x-rays, and an oral exam at North Capitol Dental Care for $49 (a $170 value). Now you can use your smile as a flashlight while digging holes at night in your backyard.Follow @Groupon_Says on Twitter.
1902 N Capitol Ave #1
San Jose
California
US
Health is more than the absence of disease; it's the overall well being of the physical, psychological, and emotional biospheres. With today's Groupon, greet the new decade with enough health points to definitively settle the Schleswig-Holstein Question. For $20, you get an acupuncture session at the Natural Health Center in Milpitas, a $100 value. Once you have your Groupon, call ahead to schedule an appointment or to get exciting tips on how to halter-break foals.
485 Los Coches St.
Milpitas
California
US
---