Oakville, MO Health and Fitness
---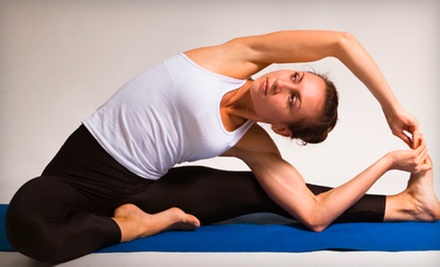 ---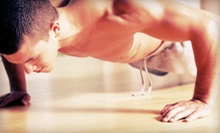 One-hour, full-body workout broken down into four 15-minute cycles of calisthenics, plyometric drills, running, and resistance-band training
Use Saturday 6:30am - 9:30am
---
Recommended Health & Fitness by Groupon Customers
---
From his earliest days watching his father work at his dental practice, Dr. Kyle Schmitz has been interested in helping people improve their health and well-being. Now, the father-and-son duo work practically side by side with offices in the same building. Dr. Schmitz the younger brings a holistic approach to his ministrations, pairing spinal realignment with ache-reducing massage to release endorphins and promote circulation, and doling out nutrition advice to stave off diet-related maladies. As a Titleist Performance Institute–certified golf-fitness instructor, he also helps patients fine-tune their golf swing, maintain proper club handling, and adjust their golf bag's spine.
1502 Prehistoric Hill Dr.
Imperial
Missouri
636-464-8828
Located on the Barnes-Jewish Hospital campus, BJC WellAware Center is home to a highly trained staff of fitness professionals. They all have bachelor's or master's degrees in health- or exercise-related fields, most hold certifications from the American College of Sports Medicine, and many specialize in functional training, which is the exact opposite of holding a planet on your shoulder to get ripped. Their years of training are put to work on the facility's top-of-the-line equipment and during a slew of programs, including group fitness classes, personal-training sessions, and nutritional counseling.
600 S Taylor Ave., Suite 110
St. Louis
Missouri
314-286-0525
There are only 417 associate fellows of the American Academy of Implant Dentistry. University Dental Care's Dr. Samir Ruvinov is one of them. He and Dr. Shirley Dillard combine 46 years of experience, and they put that experience to work delivering patients the most comfortable and pain-free treatments possible. To do that, they employ the latest tools available to them, such as rotary endodontics, which is an electrical handpiece that allows them to accomplish root canals more efficiently and with less discomfort. They also capture 360-degree views of the mouth, head, sinuses, and bones with Panorex, giving them the advantage of identifying oral-health concerns with greater ease than standard x-rays. Specializing in everything from implants to whitenings and Invisalign's clear plastic teeth aligners, they perform all manner of general, surgical, and cosmetic dentistry—unlike a Blu-ray edition of C-SPAN's Book TV, their technology does not go to waste. For patient convenience, the dentists offer Saturday office hours and online appointments.
7843 Olive Blvd.
University City
Missouri
314-260-9800
Inspired to found Gregory's Healthy Alternatives by her multitalented uncle's commitment to healthy living, certified colon therapist Trish Gregory endorses bodily balance through a medley of wellness treatments. Colon hydrotherapy treatments, conducted with FDA-registered equipment and a focus on safe and sanitary procedures, help rid the body of unwanted waste and doppelgangers hidden in the intestinal tract. Cleansing dips in the Aqua Chi ionic detox footbath and spa seek to eliminate impurities by generating a mix of positive and negative ions, which attach to oppositely charged impurities and atoms with similar online dating profiles. Other treatments, including ear candling and nutritional supplements, further aid patrons in reaching new levels of wellness.
517 N Taylor Ave.
St. Louis
Missouri
314-367-5553
---