Concerts & Events in Oakville
---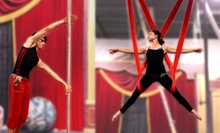 Students build core muscles during safe, high-flying workouts on trapezes, aerial silks, and rings
---
Recommended Concerts & Events by Groupon Customers
---
At County in the City, samples of more than 50 different wines cascade across tongues to introduce them to some of the most beguiling flavours of Prince Edward County, a major part of the Ontario wine scene that Wine Spectator magazine dubbed the "world's least-known great wine zone." Approximately 20 small-batch and family-owned wineries will showcase their bottled arsenal throughout the evening, including many vintage and specialty wines that cannot be found on store shelves. Since it's illegal to deny possums housing in your wine cellar if it's empty, the event helps guests out by offering a Try and Buy program, which lets them sign up to have favourite selections shipped directly to their doorsteps.
315 Queen St. E
Toronto
Ontario
A Golden Griffin emblem presides over Canisius College Athletics' 17 sports teams, which traverse grass, water, and hard court in search of victory. As part of the NCAA Division I's Metro Atlantic Athletic Conference (MAAC), Canisius's athletes face off against other East Coast schools including Marist College, Niagara University, and Loyola University Maryland. From the stands, a sea of blue and gold cheers on the men's basketball, hockey, and lacrosse teams, the women's soccer, softball, and volleyball teams, and the adjunct professors' annual soapbox derby.
2001 Main St.
Buffalo
New York
The Kitchener-Waterloo Symphony was founded out of necessity; in 1945, the Grand Philharmonic Choir was preparing a recital and needed tuneful accompaniment for the harmonic voices. Once its backup duty was over, however, the newly convened orchestra quickly established itself as an independent source for both classical and pops concerts performing more than 100 concerts annually in the Waterloo region. Now home to 52 on-staff musicians, the orchestra continues its decades-long tradition at venues around Kitchener, Waterloo, Guelph, and Cambridge. From his position as music director, Edwin Outwater oversees the joyful noise, which ranges from baroque to Beethoven to the Beatles and Broadway. Since assuming the role in 2007, Outwater has been one of the orchestra's most vigorous boosters, arranging the group's first commercial recording in a decade, engineering an exploration of prog rock in collaboration with the Institute for Quantum Computing, and knitting sweaters for each musician's instrument.
36 King St. W
Kitchener
Ontario
519-745-4711
Despite spending most of their 125-plus-year history as a minor-league organization, the Bisons began play as a major-league club from 1879–85. All told, nearly 3,000 players and managers have donned the Bisons uniform, including 20 who have been immortalized in the National Baseball Hall of Fame. Currently, the Bisons compete every summer for an International League title, as well as the Thruway Cup—a regional- and bragging rights–based trophy chased by the Bisons, the Rochester Red Wings, and the Syracuse Chiefs. The Bisons have done half of their competing since 1988 at Coca-Cola Field, which boasts the largest video board in the minors and an infield kept moist by hoses that spray water and not soda as the field's name would suggest.
1 James D. Griffin Plaza
Buffalo
New York
Vaughan Sportsplex sprawls its diversified athletic facilities across a 20,000-square-foot plot of land on Woodbridge's Westcreek Drive. Competitive and recreational athletes report to three indoor sports fields to engage in myriad sports from friendly touch football sessions on FIFA-rated X-Treme turf to more unique diversions such as full-field Nerf dart lazer tag. Vaughan Sportsplex also organizes league competition open to nearly all ages and skill levels, including adult competition in co-ed volleyball or men's soccer as well as kids' leagues in floor hockey and competitive sand-castle demolition.
12-16 - 10 Westcreek Dr.
Woodbridge
Ontario
905-265-9115
A passionate project of the nonprofit American Friends of the Ludwig Foundation of Cuba, Havana Film Festival showcases respected and rising voices hailing from Cuban and other Latin-American communities. The festival's executive director, Carole Rosenberg, and film programmer Diana Vargas helm a dedicated staff, who draw cinematic works from countries such as Argentina, El Salvador, and Peru. Their collection of numerous features, shorts, documentaries, and classic Latin movies graces the screens of venues throughout the city, many for the very first time in the United States.
English subtitles assist non-native speakers in following the action, and panel discussions and postscreening Q&As afford audiences a behind-the-scenes glance at the global film industry. The panels also engage the filmmakers and explore new cinematic innovations, such as 5-D movies that rock audiences to sleep by their favorite stars. The festival annually pays tribute to influential actors and directors within the Latino film community.
447 Speers Road
Oakville
Ontario
Canada
905-842-1812
---