Restaurants in Oakville
---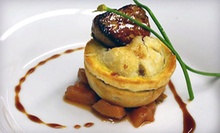 Hyper-seasonal ingredients create dishes such as Atlantic salmon with corn pancakes or pork loin stuffed with snow crab
---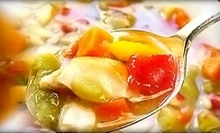 Chefs sling buffet of salads, soups & gourmet thin-crust pizzas in styles such as chicken & bacon, veggie, pulled pork & dessert pies
Use Tuesday 11:00am - 2:00pm
---
Recommended Restaurants by Groupon Customers
---
Rawlicious skips such ingredients as wheat, meat, dairy, and refined sugar to put together a healthful menu of animal-free fare in a café setting. All Rawlicious items are cooked below 118 degrees Fahrenheit to ensure that enzymes, vitamins, and minerals are naturally preserved. Load up on living food with the nacho-platter appetizer ($12), Rawlicious' nacho chips served with the tasty troika of guacamole, "sour cream," and salsa, or un-muzzle your inner Red Kangaroo by grazing on the sprout salad ($8), a mix of fresh, organic sprouts. Rawlicious' "rawitch" ($8) skyscrapes with fresh veggies, sprouts, and guacamole stacked high on onion bread, while the special pasta Bolognese ($12) melds marinara, pesto, and crumbled faux-meatballs. Between wellness-boosting bites, guests can seductively sip on a 16-oz. smoothie ($6), available in such flavors as Raspberry Bliss and ChocoMinty, or toast to Pierre-Simon Laplace's theory of tides with a pot of green tea ($5).
3092 Dundas Street W
Toronto
Ontario
HOMEMADE ITALIAN FOOD GOOD PRICES GOOD SERVICE
1423 Yonge St.
Toronto
Ontario
416-966-3999
Absorb the tastes and textures of gourmet Thai, Chinese, and other Asian dishes with a meal at Green Basil. Starters such as two spring rolls ($3.95) or two skewers of chicken satay ($5.25) set the stage for globetrotting gastronomy, and soup selections include Thai mushroom ($5.45) and hot 'n' sour ($5.95). In the realm of curries, Green Basil serves up varieties of the spiced dish for meat-eaters and veggilantes alike—the yellow beef curry ($10.95) and the green chicken curry ($10.25) quell carnivorous cravings, while the tofu curry ($8.95) brings eggplant-infused ecstasy to eaters of non-meat. Other Green Basil goodies include pad thai ($9.75) with chicken, shrimp, tofu, egg, and the house tamarind sauce; cashew-nut chicken ($10.25), drawing spicy strength from sweet peppers, onions, and dried chillies; and Thai fried rice with shrimp ($10.25). Lunch is served daily from 11 a.m. to 3 p.m., and a cache of cocktails, beer, and wine keeps business lunches from turning into mandatory business naps.
2120 Queen Street East
Toronto
Ontario
416-698-2120
Daytime Toronto recently featured Yummy Tummy.
1267 Queen St. W
Toronto
Ontario
Aggie Martin transports the traditions of French cuisine into Ontario's taste buds with a dinner menu of freshly made fare celebrating France's various culinary regions. Starters include escargots ($9.50), prepared ìn the style of Arles, and roasted brie ($12) bedecked with wildflower honey and cracked black pepper; classic French-onion soup ($9.50) and a soup of the day ($7) are available for spoon-dependents. Entreewise, Aggie Martin slings main courses delving into steak, seafood, and more. Keep cows with moon-jumping dreams realistic with a 10 oz. strip-loin steak finished in a peppercorn sauce ($29.50), or net ambitious upstreamers with the fresh catch of the day accompanied by seasonal vegetables and potato. Other appetite appeasers include a savoury vegetable crêpe ($17) and a rack of lamb with a mustard crust ($29.95). Aggie Martin's vast selection of wines, with labels from such countries as France, Italy, South Africa, Portugal, Canada, the U.S., and Australia, provides luxurious libations for discerning tannin-tasters.
15 Main St. North
Brampton
Ontario
The chefs at Thai Breeze concoct a unique, housemade sauce for every dish that leaves their kitchen, joining complementary flavors such as mint sauce for grilled racks of lamb and a spicy basil sauce that permeates every nook of the eggplant stir-fry. The restaurant takes special pride in its vegetarian creations, using only fresh veggies and fruits. Chianti and merlot wines wash down balanced bites along with smoothies and bubble tea, which fuses coconut with the likes of green apple, honeydew, lychee, and taro—also known as the exact ingredients needed to build a rainbow at home.
1466 Kingston Rd.
Scarborough
Ontario
---