Oatfield, OR Beauty and Salons
---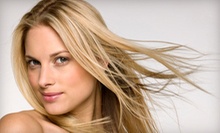 Use Saturday 10:00am - 5:00pm
---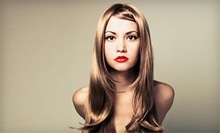 Use Friday 9:00am - 7:00pm
---
Recommended Beauty by Groupon Customers
---
Bask Tanning & Airbrushing functions not only as a tanning salon but as a destination for spa-style pampering. Through the sleek, black-and-tan lobby, visitors head to rows of private rooms where airbrush technicians mist bodies from head to toe with all-natural, organic tanning solution. You'll also find a variety of UV beds. Meanwhile, aestheticians armed with products from Yonka Paris deep-cleanse skin during facials to lessen the appearance of fine lines, hyperpigmentation, and lingering evidence of no-hands pie-eating contests.
7117 Sw Macadam Ave
Portland
Oregon
US
503-452-0344
A healthy dose of pampering would have dominated Maslow's hierarchy of needs had he felt the luxury of a lathery shampoo or soothing footbath. Today's Groupon invites you to experience what Maslow never did with a rejuvenation package of hair and body treatments at AfterGlow Salon and Day Spa for $40 (a $132 value). Physical rejuvenation frees the mind, encouraging mental salvation and increasing the chances you're elected vice president of anything you want. Day Spa: Relaxing massage treatments Night Spa: Gosh darn vampires everywhere
4247 SW Corbett Ave.
Portland
Oregon
US
As you prepare for Y2010K by gathering nuts, sealing windows, and weatherproofing your pleasure barge, winterize your head with today's deal to Fancy! Salon, where a stylish haircut ($35 value), deep conditioning ($25–$35 value), and $50 worth of skin services are yours for $55. Enjoy the snip-snippy prowess of stylist Brenda, guru Kelly, or wunder-cutter Alicia as they moisturize and tame your frizzy, winter-cap matted mane.
1125 SE Division St.
Portland
Oregon
US
Emerge Medical Spa's state-of-the-art laser was sent back through time and re-sent to the present to terminate unwanted hair reliably and safely, using tough yet gentle pulses that harmlessly pass through the skin and directly impact hair follicles for long-lasting hairlessness. An experienced and certified doctor is always on hand to administer and monitor treatments, and lasers are calibrated for empathy and small talk.
7455 SW Bridgeport Rd.
Tigard
Oregon
Dedicated to delivering quality services and products in Portland's hip Hawthorne dist. We carry Bumble and Bumble.
1437 SouthEast 40th Avenue
Portland
Oregon
503-230-7155
For Ariel Fauley, beauty and health are inextricably linked; she's worked for San Francisco Medical Research and has studied the connection between beauty and wellness for more than 25 years. And unlike an anarchist congressman, she lives her philosophy—the treatments she offers include beauty rituals such as 24-karat gold facials and wellness services such as detoxifying weight-loss body wraps. These treatments make use of organic products from brands such as Éminence Organic Skin Care and Bare Escentuals, many of which contain 99% active ingredients.Inside Ariel's Skin Care, independent beauty professional Katie Hermsen wields holistic and organic products to rejuvenate all skin types. Before she was pampering faces, Katie explored the aquatic underworld of the Pacific Ocean as a scuba instructor in Maui, Hawaii. Her passion for nurturing natural beauty soon led her to Portland, where she attended the Aveda Institute Portland. After several years of catering to clients at a busy day spa, Katie brought her talents to Ariel Skin Care, where she polishes, peels, and waxes with products such as Hydropeptide, Visual Changes, and Dermalogica. Much like Ariel, Katie loves to share her knowledge, too. During complimentary 30-minute consultations, guests can experiment with Bare Minerals makeup or new skincare products. They can also visit the full bar of samples to try products before they commit to purchasing a pony keg of lotion.
4515 NE Fremont St.
Portland
Oregon
503-281-4760
---